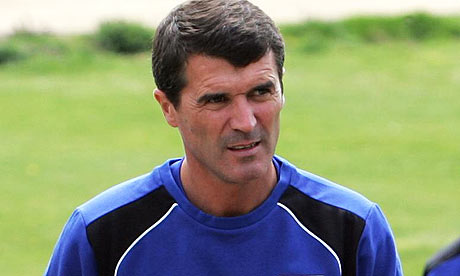 With a triple header coming up against Arsenal (no that's not a double intender) it's perhaps an apt time to launch our "Old Trafford Legend" series, a collection of articles that will review iconic or defining moments in the clubs history, starting with the infamous Roy Keane and Patrick Vieira tunnel incident at Highbury in 2005.
It may seem untrue to many but this was the final time the two would ever cross swords in Premier League action but perhaps that lends an air of greater nostalgia to the event. After several years of blood and thunder encounters this game marked a change in the pattern of the fixture – more recently acknowledged as probably the finest footballing clash in the country.
So let's give a little background information. United were still smarting from Arsenal's unbeaten season, and Arsenal were still smarting from United ending that unbeaten run in acrimonious circumstances the previous October. That game itself had a little extra curricular activity, with Cesc Fabregas showing early signs of his simply charming personality by (must say 'apparently' here) throwing pizza of all things at Sir Alex Ferguson.
There was a 3 month long media whirlwind stoking the fires for the return fixture and the dangerous fuse didn't take long to ignite – we didn't even have to wait until the first whistle. During the warm up Vieira approached Gary Neville and told him he thought Neville "kicked all Arsenal players" when he played against them, a claim he re-stated in the tunnel, in reference to what he perceived to be harsh treatment of Spanish hard man Juan Antonia Reyes in the previous game. Of course there is no indication of how aggressively Vieira approached Neville as the United player has never revealed this – however, Keane heard the second comment and took umbrage at the mid 6 footer finding the smallest player on the opposition side and singling him out for intimidation.
Of course Keane actually stands an inch shorter than Neville and this made the following scene all the more comical – Sky cameras caught it live, Vieira walking hurriedly and sheepishly to the front of the players in the tunnel with an angry Keane getting louder and louder in the background, restrained by Graham Poll – when he became audible the phrases "I'll see you out there" and "Thinks he's a nice guy" were uttered and became part of United folklore.
What happened next was a breathtaking display of football – word had obviously reached the terraces of the incident as the atmosphere was at fever pitch, almost boiling over when Ashley Cole dived in the box after 3 minutes, scandalously trying to get a penalty. This incident is conveniently forgotten by myopic Gunners who concentrate on the (admittedly 30/70 in their favour) penalty incident at Old Trafford. It was an incident soon forgotten by United too as Vieira headed in the opener before fading into anonymity, save for one incredible dive in an attempt to get Wayne Rooney sent off.
Keane set the tempo for a resurgent and stunning comeback and after a breathless 90 minutes which saw 6 goals and a red card for Mikael Silvestre, United were clear and deserved 4-2 victors with a comprehensive footballing masterclass.
Vieira had wilted under the psychological battle that he himself had created, and although we didn't know it at the time, an era defining game was being played out before us.
Arsenal had simply lost their bottle and by the end of the game had no leg to stand on – where people had previously tried to claim that they were the superior footballing side, the game they had witnessed left no spectator in doubt that the claim was fraudulent.
The pre-match incident was a microcosm of Keane and Vieira's approaches to the game – Vieira's attempt to wind up Neville being the equivalent of a woman bitching about the colour of someones hair, and in truth this was indicative of Vieira as a player, a strong commanding athlete whose tendency to be a sneak and a diver not only defied sense but also let him down. Keane on the other hand defied his relatively small physique and for all his faults – his temper and penchant for holding a grudge usually apparent – it was his unswerving honesty that brought him the respect that his approach commanded.
The two did have one more showdown, in that years FA Cup Final, with Vieira seemingly happy to be overrun for 120 minutes in midfield, as were the Arsenal side, as United threw wave after wave of ultimately fruitless attack at the Gunners, who became the first side to win the trophy on penalties – predictably, Vieira scoring the winning penalty with what turned out to be his last kick for the club (the equivalent of being beaten up on the last day of school, only to sneak in a kidney punch before running home!).
Keane himself left United in the autumn of that year under controversial circumstances, meaning that the game at Highbury took on added significance as it seemed to indicate one last round between two battle weary world champion boxers, paving the way for new blood but also illustrating the mammoth task they had in filling the shoes of their predecessors – yes, it is widely acknowledged that Keane had "won" that last battle, and probably the war, too, but it is a true acknowledgement of such an outstanding opponent in Vieira that gives the greater feeling of significance.
The Highbury Tunnel incident is probably the single greatest reference to the Keane/Vieira clashes and it was fitting that such an event should be their parting shot – even with some of the same players in both sides, the bad blood that was around 4 years ago has passed, even between the managers – probably moreso from Ferguson who has stated on more than one occasion that appreciation between the clubs is "a one way street".
On the day Keane just had too much for his worthy opponent, and this was a fair analogy for the near-decades worth of battles prior – but although fans today enjoy the footballing spectacle of todays clashes, there are a few of us who look back on those equally encapsulating encounters with more than just a few fond memories.
Watch the incident again in all its glory
Source: (Yolkie)