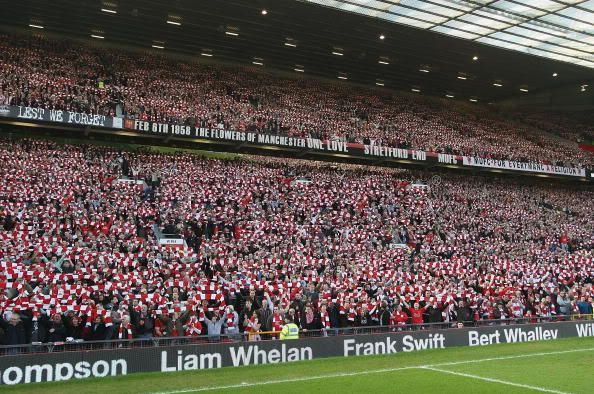 Once again United find themselves in the Semi Final of the European Cup, this time up against familiar English opposition Arsenal. As the expectation levels rise its important that WE as supporters do not let our tension get to the players. EACH and EVERY supporter has a role to play on Wednesday night, as we re-create that passionate atmosphere that helped inspire the team to a famous win over Barcelona in last years semi-final.
Whilst it might be your normal matchday routine to arrive in your seats as the game kicks off, UNITED'S PLAYERS, MANAGEMENT and ourselves at SEF are calling on supporters to take their seats that bit early, as WE look to build up the atmosphere into a crescendo of noise as the teams emerge from the tunnel. Supporters are encouraged to take up their seats by 7:30pm in the build up to kick off.
YOU are encouraged to bring along your own flags and scarfs, creating the colour within Old Trafford.
But more importantly, dont forget your singing voices!
Just like last year, SEF have arranged for two mosaics to be in place.
The East Stand will once again be the setting for the BELIEVE mosaic, the inspiration and meaning which carried the team to last years success in Moscow.
The Stretford End will be the setting of a EUROPEAN CUP MONTAGE mosaic.
SEF will have in place 9 TIFO flags, which will be waved on the pitch by SEF members. These flags will be spread out along the two goal lines and along the touchline in front of North Stand
If you could give it a mention it would be much appreciated, wether you use the full messege or not it doesnt matter any mention of getting in early/bringing your own flags/scarves will be great.