You may also find these links interesting: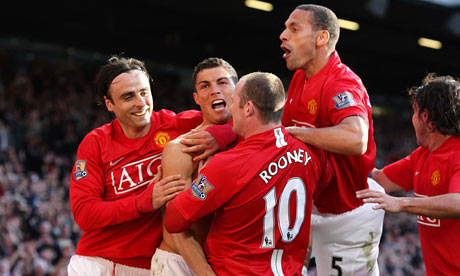 Manchester United took an almighty step towards  lifting a third successive Premier League title with a quite dramatic comeback against Tottenham Hotspur.  Cristiano Ronaldo and Wayne Rooney scored four goals between them with boo boy Dimitar Berbatov rounding the scoring off.
United knew that Liverpool had beaten Hull City 3-1 prior to kick off, which kept the challengers on top by goal difference, and it was essential that United obtained the three points at home to Spurs.  Considering Spurs had not won at Old Trafford since December 1989 – United would have been confident in heading into the fixture.
Berbatov was back in at the expense of Giggs, whilst Fletcher and Carrick were brought back into replace Scholes and Anderson.  Sir Alex obviously looking ahead to the Champions League clash with Arsenal on Wednesday decided it would be best to rest both Scholes and Giggs whilst giving players like Nani a chance to make an impression.
United's first half performance was distinctly average without any great urgency in the passing or movement.  This lack of urgency gave the visitors confidence and the North Londoners settled with some good football, which had United on the back foot at times.  United conceded the first goal in the 29th minute when Ferdinand and Vidic failed to deal with a cross from the right and the fortuitously fell to Spurs' number 10 Darren Bent who smashed it past Edwin Van Der Sar.
It didn't get any better three minutes later when Aaron Lennon, who put in a superb first half performance against Evra, dropped a cross in from the right to the back post where an unmarked Modric placed a left footed shot past the stranded Van Der Sar.  Modric was left unmarked as young Brazilian fullback Rafael was caught out of position – which gave the Croatian an easy finish.
Cristiano Ronaldo had a number of set pieces, which were dealt with by the error prone Tottenham goalkeeper Gomes.  The Spurs stopper also made a quite remarkable save from a Ronaldo half volley.  United's number seven struck a free kick into the wall which bounced back to the Portuguese winger who proceed in smashing the ball towards the top corner.  The ball looked destined for the back of the net, with the Stretford End on their feet, the Spurs goalkeeper somehow managed to get his finger tips to the ball.  United went in at half time 2-0 down with much to do in the second half.
Ferguson's intentions were obvious with the inclusion of Carlos Tevez for the ineffective Nani.  Tevez was deployed up top alongside Dimitar Berbatov, with Wayne Rooney operating from the left hand side.  Tevez's introduction lifted both his teammates and the crowd as the industrious forward closed down the ball from all over the pitch, making the Tottenham players rush their play.
United's break through came on the 57th minute when Gomes was alleged to have brought down Michael Carrick after a superb Wayne Rooney pass.  Howard Webb immediately gave the penalty without hesitation, however it was clear from television replay's that the Tottenham goalkeeper had touch the ball before bring Carrick down.  Ronaldo didn't care though and stepped up to score his 22nd goal (in all competitions) for United this season – smashing the ball down the centre.
Tottenham were clearly rattled by the decision, which gave United the confidence to search for more.  They were rewarded ten minutes after the first when Wayne Rooney, who was quite simply breathtaking in the second half , scored a right footed shot after a good pass from Carlos Tevez.  Wayne Rooney may get frustrated in not playing in his favourite position more often (as a main striker), however he will have to stop proving to be such a versatile player – he was at times unstoppable.
It was Rooney who then setup the third goal a minute later when he crossed for Cristiano Ronaldo who proceeded in heading the ball past Gomes.  Cue the Old Trafford eruption, with Ronaldo celebrating erratically with his team mates.  In the space of twenty three minutes United had taken the lead after being two goals down at half time.
It got worse for Tottenham three minutes later when Ronaldo returned the favour, from the right side though this time, by picking out Rooney who was lurking at the far post.  Rooney took a touch before placing the ball past the keeper.  Ex Manchester City defender Corluka tried in vain to stop the ball crossing the line – however his momentum took him over the line, closely followed by the ball – 4-2.
This remarkable comeback was rounded off by Dimitar Berbatov, who had been booed by some United fans, when Wayne Rooney swung in another delightful cross from the left.  United's number ten checked onto his right foot, waiting for the right moment, before placing a inch perfect pass onto the head of Berbatov.  The Bulgarian's header was saved by Gomes, however Berbatov bundled in the rebound – giving United a 5-2 lead.
United's win brought back memories of Steve Bruce scoring at Sheffield Wednesday in 1993, Chris Eagles scoring at Everton in 2007 or more recently Federico Macheda scoring against Aston Villa at the Stretford End.  United performance was much better than recent matches and Sir Alex Ferguson will be hoping the result will spur his men on for Wednesday's clash with Arsenal – with United knowing they have an amazing opportunity to retain the double.  Make no mistake this is a massive win that, although was clouded in controversy, is a massive step towards the title.  Ten more points from a remaining fifteen will give United a third successive title and eighteen titles all in all.