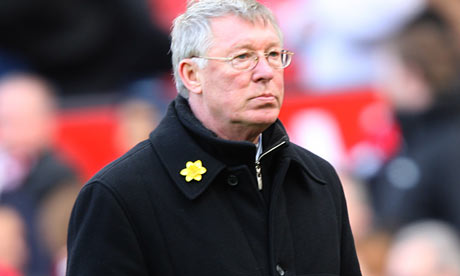 Wow, its been quite a depressing week for most Reds – which could get even worse if Liverpool overcome Aston Villa at Anfield tomorrow. Last weekend was soul destroying – whilst today's performance indicates that United are starting to feel the heat. Is it something to be concerned about? Of course! Losing two games in succession isn't something we're used to – in truth we have been spoilt. However, how much of an impact will this have on the remainder of our season?
Lets look at the negatives first before venturing down the positive path:
Poor performance in the Champions League
Lost to our title rivals 4-1
Lost 2-1 to a side we'd thrashed two weeks previous
Yes – these things are hard to take, however it happens to all teams throughout the course of a season. Every side hits dodgy patches and I guess we are just in one of those. Look no further than Barcelona – who were cruising in La Liga – destroying Real Madrid in the process, lost two games recently (to Espanyol and Atletico Madrid) to 'blow the title race wide open'. Barca are now six points clear of their title rivals – can they be caught? Of course they can but it will take one hell of a push from Madrid to overcome the deficit.
So to the positives and there are plenty of them – trust me:
United played poorly against Internazionale but still won the game
Chelsea lost to Tottenham Hotspur today
Even if Liverpool win tomorrow United will be four points clear – providing that game in hand is won of course.
United are still on course for five trophies
I think the last point speaks volumes. United could well win five trophies this season and our fate is still in our own hands across the board. We have a favourable draw in Europe – whilst will be pleased with Everton in the FA Cup. Also, like I said, we have a decent gap in the Premier League also. Remember when Chelsea blew away everyone in 2005/06? What we would have given for a four point lead at this stage of the season – considering the run in.
So the point of this blog is to reassure any Red that feels like everything is slipping away – this happens during a season. Sometimes it happens for the worse (1992 and 1998 spring to mind), whilst other times it is a mere poor patch – like when we lost to Portsmouth in the April of 2007 for instance. We are still in all the major trophies and lets face it – topping last season in terms of awards and performances was always going to be a major task.
United will not self implode – the only thing that may come into play is fatigue and how well the United players can cope towards the end of the season. For once I agree with Arsenal manager Arsene Wenger who claimed United 'looked tired' against Liverpool. I'm hoping this International break will do the lads well – whilst we must claim three points against Villa on the 5th April.