You may also find these links interesting: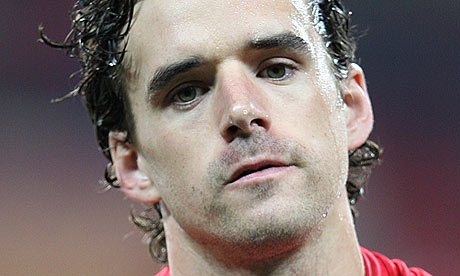 Prior to the World Cup in Germany back in 2006 – the name of Owen Hargreaves wouldn't get the heart pumping that fast if your club was linked to him with a transfer. Hargreaves used to be ridiculed in this country as Sven's fall guy and sentence to the embarrassing group of Michael Ricketts, Stuart Downing, Kevin Davies and Jermain Jenas. I was a little more optimistic about Owen in the early and middle part of this decade – however I was unaware of what a good footballer he actually is.
Now like most people in this country – i'm not a massive watcher of German football, except when they play in the Champions League and United aren't playing. However, when I did watch him play at full back or in the middle of the park – I always thought he was a decent player and when you win a Champions League medal, four Bundesliga titles and three German Football-Federation Cup's – you know that you have to have some quality.
United were linked for a long time to Owen Hargreaves – with Bayern Munich reluctant to sell on many occasions. The transfer eventually went through in July 2007 and United had landed that industrious midfielder than many fans were crying out for since the departure of Roy Keane in 2005, however some weren't convinced due to the much inflated price tag. There were many players linked with United since Roy Keane's exit including Gattuso, Mascherano and Senna – however Fergie opted to the Bayern Munich man once it appeared Senna was unavailable for transfer.
Hargreaves qualities as a player are evident. Firstly, he is versatile and can play either in the middle of the park or on the right. When in the middle, he is at his best when occupying one of the two deeper midfield berths when either playing a 4-3-3, 4-2-3-1 or 4-4-1-1. In terms of attributes he closes the opposition down extremely well, is a good passer of the ball and can read the game comfortably – he also has a superb freekick on him, which we could use sometimes from the usual smash and grab technique of Ronaldo.
Have we missed him? I was actually thinking of this a couple of weeks ago – despite the fact that we were winning games comfortably. Or do you think that Carrick, Scholes, Anderson, Giggs, Gibson and Fletcher have got enough quality to press the opposition accordingly? Has Hargreaves been a waste of money – considering he has only played a handful of games this season – whilst playing in 35 games last season – thats less that O'Shea. However, remember those games that he played in – the 1-0 victory over Liverpool at Anfield, the 2-1 victory over Arsenal (scoring the winning goal in the process) – whilst playing well in the Champions League final and scoring a superb penalty. Hargreaves has been a massive loss for the club and the sooner he gets back playing the better – although I can't see that any time soon.