You may also find these links interesting: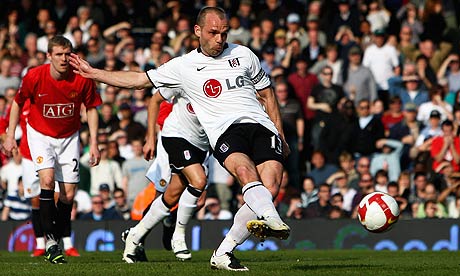 Shambolic Manchester United crumbled to an embarrassing defeat at Craven Cottage to provide a major sign that the championship will be surrendered to Chelsea or Liverpool – but have every reason to be aggreived at referee's Phil Dowd despicably biased performance.
A first half penalty from average ex-Liverpool player but constant United scourge Danny Murphy and a last gasp classy strike from Zoltan Gera were enough to secure victory for the home side but Dowd's ridiculous decision to send off Wayne Rooney with the away team gaining momentum could be the defining moment in the title race.
Sir Alex Ferguson rung the changes after last weeks capitulation to Liverpool but Paul Scholes and Berbatov were abysmal, while Park was anonymous and Vidic's replacement Jonny Evans appeared to lack significant confidence A penalty awarded midway through the first half was just about Dowd's only decent decision of the day – Scholes' inexcusable handball on the line was the catalyst for United's subsequent downfall, and Murphy gladly accepted the invitation to score from the spot.
Wayne Rooney was brought on for the awful Berbatov at the break but the Champions continued to falter with ten men – Rooney, Ronaldo and Fletcher all missing chances with Park even guiltier, before United got a free kick placed where Ronaldo would strike, around 35 yards out.
Rooney threw the ball back and no-one caught it – and Dowd saw fit to give the striker a second yellow, and in doing so, dispel all of United's momentum, write off the rest of the game, and ensure United were unable to appeal the pathetic decision, rendering forthcoming games an even greater obstacle. Dowd is an experienced referee and this appalling decision will doubtless be welcomed nationwide but Rooney's dismissal was a simply incredible move.
The title challenge for the Red Devils shows signs of 98 and 2002 and is clearly on the rocks, and honorary Scouser Phil Dowd will have every reason to pat himself on the back tonight – though Sir Alex Ferguson, subsequently, will surely have every reason to request that Dowd is not considered for future United games.
None of this should detract from Fulham's performance, who, after such media encouragement, were fully deserved winners, but nevertheless Dowd's deliberate decision at a crucial point in the game could be the most powerful moment of the season.
Source: (Yolkie)