You may also find these links interesting: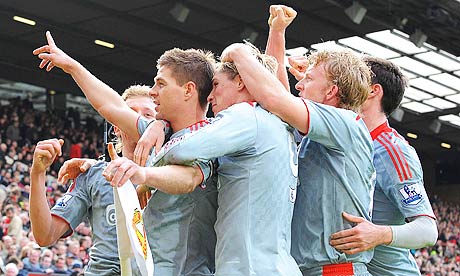 Manchester United suffered a humiliating 4-1 defeat at the hands of their bitter rivals Liverpool in what proved to be a very depressing day for any Red.
United fans had welcomed Rafa Benitez to Old Trafford with the usual chants of 'He's cracking up!', which of course was in reference to Benitez claim that referees favour Manchester United and Sir Alex Ferguson goes unpunished when questioning decisions. Liverpool's recent record at Old Trafford wasn't great – and the last time the Merseysiders scored a goal was in 2004.
United lined up 4-4-2 with Berbatov, Giggs and Scholes dropping to the bench after the 2-0 victory over Internazionale in the week – with Tevez, Anderson and Park replacing them. Liverpool lined up with their usual 4-2-3-1 formation – which proved to be very effective across the course of the game. Liverpool were forced to make a change just prior to the kickoff when Spanish fullback Arbeloa injured himself during the warm up and veteran Sami Hyypia replaced him.
United started off reasonably well with Tevez, Park and Evra linking up well on the left handside of the pitch. However, Benitez's usual deployment of two anchormen screening the back four worked a treat to help nullify United's wingers – Ronaldo and Park. United's play was often quite narrow, which allowed the left fullback Aurelio to roam forward.
Having said that United got the break through on 23 minutes when Tevez played a glorious outside of the boot pass through for Park to chase. Park then touched the ball passed the on coming Reina – who brought the Korean down – penalty. Cristiano Ronaldo stepped up to score his eighteen goal of the season in all competitions. United had the lead over their rivals and knew that they had only conceded goals in four games at Old Trafford – against Newcastle United, Hull City and most recently Blackburn rovers.
However, the lead lasted only five minutes when Liverpool's young defender Skrtel blasted the ball from his own area towards the United goal. Ferdinand and Vidic had covered well with Torres lingering in front of the Serbian. As the ball dropped, for some reason, Vidic failed to head the ball and let it drop. Torres then pounced with immense speed to unsettle the defender who then proceeded to fall over giving Torres a one on one situation – which the Spaniard took full advantage of. An enormous error of judgment on behalf of Vidic who has been brilliant this season for the Champions.
The goal ruffled United, which resulted in a number of passes going astray – whilst Liverpool's mentality changed, knowing that United were cleared affected by the error. Liverpool closed down United all over the pitch, pressing them high in their own half – whilst United adopted a deeper approach – with Wayne Rooney clearly showing his frustrations at the adopting of this mentality. Time after time it was clear to see an irate Rooney screaming at his colleagues – who were some way away from him.
Liverpool scored a second on the stroke of half time when Gerrard was brought down in the box by Patrice Evra. A clear penalty as Torres and Gerrard linked up well just outside the United box. Torres supplied an inch perfect pass for Gerrard to accelerate onto and win the penalty. Gerrard dispatched the penalty to Edwin Van Der Sar's left side before running off kissing the badge on his shirt – maybe a reference to the chants that United fans sing about Gerrard's failed transfer to Chelsea in the summer of 2005.
After the break United picked it up a little and bombarded Liverpool with chances, however Liverpool did defend exceptionally well and only and Anderson corner, which was dropped by Reina, and a Carlos Tevez chance were of any concern. Sami Hyypia played very well, especially considering that he was drafted in at the last hour, intercepting a number of passes and reading things very well.
United were pressing for an equalizer and Ferguson decided to bring on the old guard of Giggs and Scholes along with Berbatov who replaced Anderson, Carrick and Park. Michael Carrick, who is highly regarded at Stretford-end.com, was way below par for his standards – following a quiet game against Internazionale on Wednesday – and failed to stamp any authority or demonstrate his illustrious range of passing.
Fifteen minutes before the end of the game United were down to ten men when Nemanja Vidic brought Gerrard down having missed an interception. Alan Wiley was left with no choice but to send off the Serbian – who had an extremely miserable afternoon. The United number fifteen is favourite to wint the player of the year award – although he will not want to remember this performance as he trudged off the Old Trafford turf.
Liverpool not only benefited from the numerical advantage on the field but from the resulting freekick from which the foul occurred. Fabio Aurelio stepped up to place a superb left footed strike past the flat footed Edwin Van Der Sar. The Stretford End was stunned as Liverpool celebrated a two goal advantage with just over ten minutes left to play. United had last conceded three goals at home in the league to Hull last Autumn.
United pressed further more, although not really forcing any clear cut goal scoring opportunities. Liverpool then rubbed salt into the wounds of the United players by scoring a fourth in injury time. A long punt down the field from Reina wasn't challenged dropped to the Liverpool substitute Dossena who then lobbed Edwin Van Der Sar to round off a quite miserable day for United. Two goals scored by direct balls not being cut out will not pleased Sir Alex Ferguson.
United were second best for most of yesterday's contest, despite the post-match comments of Sir Alex. All four of Liverpool's goals were products of errors made by United – however nothing can be taken away from Liverpool who deserved their victory yesterday. Fernando Torres showed why he is a top class striker – showing strength, pace and sublime movement – which will leave many Reds wondering why United didn't purchase him when he was at Atletico Madrid. Sir Alex Ferguson will expect a reaction and considering United haven't conceded four goal at home since the 4-1 defeat to QPR on New Years day 1992 – I expect one.