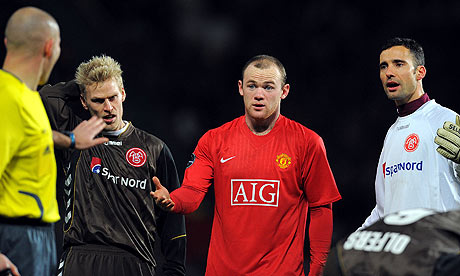 As Wayne Rooney took to the field against Fulham on Wednesday night it was clear to see he was itching to get on the pitch and it was no surprise to see him score with his first touch. Wayne Rooney is a tremendous football player and although he sometimes takes second fiddle to the more glamorous egotistic Cristiano Ronaldo, his talents on the football pitch are never in doubt.
I was scouring through 606 the other day in response to an Arsenal related thread about the comeback of Eduardo. Now in this day and age, we know that anyone can have an expert opinion about football – all they need is a keyboard and a monitor (which can even lead to the creation of a blog!) but I came across these two comments that pretty much summarises the ignorance of some people who don't appreciate what a good footballer actually is at times (when one poster compared Eduardo to Torres, Ronaldo and Rooney):
Not sure why Rooney's name is in there – He goes on a burst of scoring 7 goals in 7 games then dries up – he runs around alot and has alot of heart but so does Dirk Kuyt and he defo is not one of the best strikers about!!
And
He's better than Rooney! Ronaldo is a one off! has the potential to be as good as Torres!
Now of course there are wums and of course you have a certain bias to your own football club, but come on! Comparing Rooney to Kuyt is simply ludicris. Rooney has a superb football brain, is physically first class and has the drive and determination to become one of the all time great forwards in England. His exploits with England in 2004 meant that the usual pressure placed upon one man for the national team continued and I believe too much is expected of him when he plays for England who adopt a completely different style to United.
I remember when he burst on to the scene with Everton and although he had raw talent he was an immense bag of energy running around the place. Obviously as time evoles, being the intelligent player he is, he matured as a player and is a vital player in the style and formation that United adopt today. He can drop deep, stretch the backline, be on the edge of our box setting up a counter attack move before finishing at the other end. He is a true footballer that plays for the team – which could be why some fans do not rate him as much as the glam boys.
For every goal Ronaldo scored last season, there had to be movement from the front players to allow him to obtain the space his talents need to produce. Rooney and Tevez were exceptional last season, but Rooney even moreso. He was never on the losing side in the league when he played. The only time United lost when Rooney was involved was the 2-1 defeat at Chelsea – even though Rooney had to be substituted due to injury. He had equalised for United, just for the record.
His movement and positioning is sublime and it is this that sets him from the rest of his generation in that forward mold. He drags defenders out of position, runs at full backs and closes down deep lying midfielders – trying to sabotage their passing. His injury against Wigan was a setback – but luckily in Carlos Tevez United have a superb, although not as good as Rooney, replacement.
I hope Rooney will be in the starting xi tomorrow – partnering Tevez whilst Berbatov rests for the trip to Inter on Tuesday. I expect Rooney can't wait to step out on the turf at Old Trafford tomorrow – in order to help United ease past Blackburn Rovers and open up an eight point lead over Liverpool. He will also be lacking match fitness for the Inter game and we need him to be fit for the game in Italy. I'm not sure he will be – but I expect him to start tomorrow and get on the scoresheet. I'm glad Rooney is back because I truely believe he should be labeled a genius.
Looking back at previous Blackburn Rovers ties on ESPN (number 442 on Sky) I was pleased to see the 92/93 winning game against Rovers at Old Trafford to hand us our first title in 26 years. Cantona, Parker, Bruce, Irwin and Giggs – all present in the starting line up – with Robson and Kanchelskis joining the party later on. Giggs, Ince and goal scoring supermo Pallister where on the scoresheet that night and it still feels like yesterday. Gone are the likes of Cantona and McClair but I expect the result tomorrow to be the same and I expect Rooney to take centre stage.