You may also find these links interesting: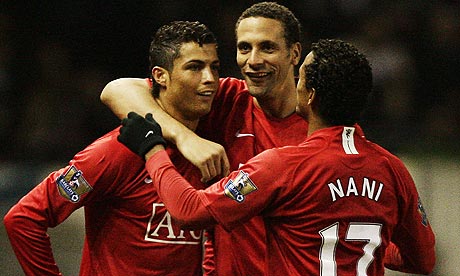 Goals from Nani, Darron Gibson, Cristiano Ronaldo and Danny Welbeck confirmed qualification to the FA Cup quarter finals for the third consecutive season at Pride Park.
The first half was dominated by the Red Devils who were evidently keen to eradicate the memory of last month's Carling Cup embarrassment by the same opponents. Gibson in particular was impressive, and the immaculate use of the ball from the in-form Ryan Giggs was the highlight of a strong opening 45 minutes.
Darren Fletcher had the first chance after being found by a classy Giggs ball, but Rams keeper Bywater thwarted him – the stoppers next save, from a Park shot, was even better.
Park almost got the opener shortly after, after another wondrous Giggs pass – Derby defended well, but were powerless moments later as Giggs fed Nani who cut in from the left and lashed home a trademark power drive from 20 yards.
United added another before the break to make it 2-0 when Darron Gibson reacted quickest from a blocked Ronaldo free kick to instinctively fire home a cute improvised toe poke from 20 yards. The home side may have had an argument for offside as Rafael, in an offside position, jumped over the ball after it was struck.
The goal however was just reward as just prior to it, Ronaldo had the ball in the net and it was harshly ruled out. Ben Foster's quick throw found Giggs whose marvelous back flick fed Ronaldo, who in turn slotted home. Only after the celebrations did the linesman's flag go up, and after consultation with Rob Styles, the goal was ruled out for offside, though replays showed the Portuguese to be in line with the last defender. It may have made little difference to the overall result but the game (and indeed, competition) was cheated of probably the most brilliant moment of the FA Cup this season.
The makeshift strike force did not have long to wait after the interval to make their point, however, as Ronaldo headed in his 15th goal of the season from a Giggs corner in the 48th minute to all but seal progression.
Ronaldo could have got another after being the beneficiary of yet another marvellous Ryan Giggs flick, but Bywater stood tall to deny first Ronaldo then Darren Fletcher.
Derby made a decent fist of a fight, with defender Miles Addison converting a dead ball, but a fourth goal for the away side scored in classy fashion by youngster Danny Welbeck put the gloss on a result that ensured United face a quarter final tie at either Swansea or Fulham in 3 weeks time.
Source:(Yolkie)