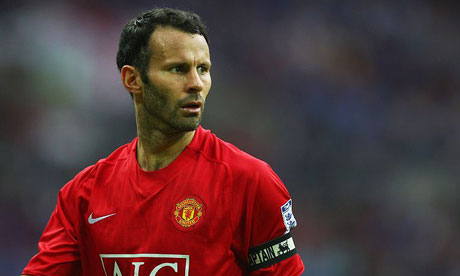 As the news dropped that Ryan Giggs signs a new contract with us I received the following blog from Yolkie regarding his all time hero and his greatest goal scored.  Giggsy has put some superb performances whilst adapting to his new surrounds as those legs aged.  Ryan has scored a hatfull of goals over the years and is the only player to score in every Premier League season running after his strike against West Ham on Sunday.
In my opinion Giggsy's greatest Premier League goal was the second goal in 3-3 draw with Liverpool at Anfield.  Bruce had already put us ahead, before Giggsy broke through to chip Grobbelaar and score a sensational second.  Irwin fired in a freekick to make it three and I can't seem to remember what else happened that game 🙂
So, I ask you after you've read Yolkie's superb piece – whats your favourite Giggsy goal over the years?
—-  —-  —-  —-  —-  —-  —-  —-  —-  —-  —-  —-  —-  —-  —-  —-  —-
The hunt for Ryan Giggs' greatest goal
As arguably Ryan Giggs' greatest man-fan I'm not averse to the regular heaping of man love on my idol, as readers of this website will no doubt be aware of.
And as the Giggsy love bandwagon seems to be gathering nationwide pace with some sort of apologetic belated recognition love-in, the powers that be have awarded the winger a new contract extension to run to 2010.
But, even so, as the legends' career enters its twilight days, those memorable moments to log in the annals would be expected to be fewer than the Welshman is currently providing. But the stunning solo goal scored at Upton Park still throws out the poser that there are few players capable anywhere in the league of such ability, and also the question that is the topic of this blog : of all the great goals Ryan has scored, which is the greatest?
The complete list of memorable goals scored by Giggs (in my humble opinion) can be found in this September blog in which I crowed bleary eyed at his fabulous career that was chronicled in a recent DVD release, aside from the 3 he has scored this season – a run through and deft chip against Middlesbrough in the Carling Cup, a textbook header at Celtic Park, and the dazzling run at Upton Park.
Lists of this nature barely work when presented in numbers over 10 so it is with great pains that I have restricted this selection (though I couldn't do ten, so here is Giggsy's Baker's Dozen!)
1. 1992/93
Spurs @ White Hart Lane – Giggs collects the ball, dances past one challenge, then nutmegs the next defender, rounds the goalkeeper, and despite the tightest of angles, finds the net with a great finish.
2. 1992/93
Blackburn @ Old Trafford – as the United faithful basked in the glory of their title triumph after a 26 year wait, Giggs' great 30 yard free kick restored parity from Rovers' shock lead.
3. 1993/94
QPR @ Loftus Road – Perhaps the goal that started to make serious work of the comparisons between Giggs and George Best (and indeed, the goal which prompted Best to say "they might start calling me the old Ryan Giggs!"), the winger made effortless work of four despairing challenges at pace before switching direction and clipping the ball past the keeper.
4. 1995/96
Chelsea @ Stamford Bridge – an oft-forgotten goal, Giggs span Steve Clarke repeatedly in different directions before stabbing the ball home.
5. 1995/96
Manchester City @ Maine Road – Classic moment in Manchester derby history as Keith Curle invited Giggsy to strike for about 5 yards, Giggs finally did from the edge of the area, defying all that were watching to find the top corner with a stinging drive.
6. 1997/98
Juventus @ Old Trafford – After a couple of years of European anti-climax against perennial yardstick Juventus, Ryan Giggs burst through the Juventus defence to smash home a goal that secured United's victory, and more than that, finally re-established the confidence of the home side among the major European players.
7. 1998/99
Arsenal @ Villa Park – In keeping with Giggs' era defining goals is arguably the greatest goal ever scored – as much for the way in which it inspired a Manchester United side battling with their opponents for what could have been generation defining as it was for the amazing ability required to score it. Do you need reminding that he ran 60 yards, skinning the best defence in Europe, before smashing the goal past England great David Seaman? Probably not. Do you need reminding that Giggs started the game on the bench due to his dodgy hamstrings and that Fergie's instructions upon Ryan collecting the ball were "run to the corner"? Probably. It seems a bit unfair to the rest of the goals that this one is in the collection, so if you like, discard this one from your choice.
8. 2000/2001
Bradford @ Valley Parade – Another astonishingly underrated strike. Had an Arsenal or Liverpool player scored it you may never have heard the end of it, but anyway – Giggs picks up a high ball with instant control, gives the defender twisted blood (see what I did?) and drills in via the near post. Pure class, pure genius.
9. 2001/2002
Deportivo @ Old Trafford – In my previous blog regarding our number 11 I did describe this as "fewer sights in football are as great as seeing Giggs put defenders on their arse". Dribbling in from the right, he slots in with his left at the near post. With, of course, the obligatory arse-placed defender.
2002/03
10. Juventus @ Delle Alpi – Maybe equally as significant for the fact that Giggs was facing criticsm from United fans for the first time after a glaring miss against Arsenal in the Cup, he came on to race past two challenges and screw past Buffon with his right foot from 18 yards, pointed to his name on the shirt, silencing the doubters.
2004/05
11. Chelsea @ Old Trafford – Probably in the bigger picture the most meaningless goal of the selection seeing as it came in a 2-1 home defeat in the League Cup, this really classy flick with the outside of the left boot over Cech gave everyone a clear reminder of Giggs' unparalelled technical ability.
2005/06
12. Birmingham @ Old Trafford – Ryan picks up a pass from Ferdinand, 'megs the defender, one-two's with Rooney then races behind the defence to drive home.
2008/09
13. West Ham @ Upton Park – Fellow veteran Scholes drives out a 30 yards pass which Giggs instantly controls, then races into the area, beating two men before driving home with his right foot. At the age of 35, Giggs shows that there are still few players capable of his level of effortless brilliance.
—
Now, it may be asking a lot of readers who don't have such an elephant style memory as mine to recall all the goals. There are of course quite a few goals that didn't make it, notably for me, his free kick against Bolton in 2003, 'round the keeper' goals from Norwich in 1991 and 1993, and Sheff Wed in 1994, a left footer against Coventry in 1992, as well as the sentimental strikes against Wigan and Chelsea (though, obviously, strictly not a goal) last May.
This chap on youtube – http://www.youtube.com/watch?v=nEAouJwTYlU has got goals 1, 3, 4, 5, 6, 7 and 10 on his video ( though for the other 6 you may have to use your memory!).
Have I completely missed out what you think is the best goal?
What goal do you rank as the greatest he's ever scored? And, if it's the '99 semi final goal, which is the second greatest?
Source:(Yolkie)