You may also find these links interesting: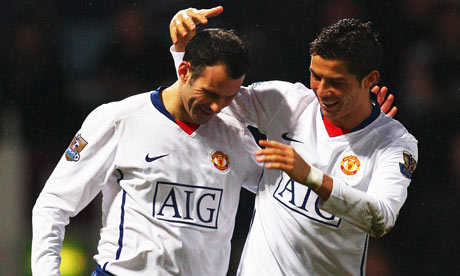 A memorable solo goal from Ryan Giggs was enough to move Manchester United back to the top of the Premier League.
United had been temporarily replaced at the summit by great rivals Liverpool but where 'Pools victory at Pompey was gifted to them, a moment of true quality was required to give the Red Devils victory at Upton Park.
There was little to brighten up a dull first half however as both teams struggled to make any kind of creative breakthrough, with a Ronaldo stab at a Scholes wayward drive the closest a goal came for either side.
With West Ham employing Behrami to double up with Neill on Ronaldo options appeared to be limited regarding the creativity of the away side, but on the hour mark, a move involving United's two most experienced players provided the breakthrough.
Paul Scholes crossfield pass was controlled by Giggs, who skipped past two challenges in the box and scored with his right foot from 15 yards. Though perhaps harsh on West Ham, the home side did not pose a serious threat to Edwin van der Sar's clean sheet record from there on despite plenty of effort – a landmark, coincidentally, that stretched to surpass the British league's record following this 13th consecutive shut out.
Giggs' goal was a worthy match winner for United whose next league game is the remaining game in hand against Fulham on Wednesday week.
Source:(Yolkie)