Author: Sleepy Nik
You can follow James and David on Twitter.
Euro 2012 will surely throw up a surprise. By common consensus the Euro is saturated with greater quality than the World Cup – lesser teams, a greater spread of expertise across the continent etc – however, it doesn't always hold true that the favourite wins, and every now and then the tournament (mainly due to its size) elucidates a hidden gem – Greece 2004 comes immediately to mind; a functional system, an articulate coach and a collective will to match. Could we see a dramatically underwhelming Italy progress to the final? Or could the Russian side that beat them comfortably just two weeks ago go all the way? Who knows? Perhaps even Greece herself, with an organised defence but a paltry attack, will shock us once again having had a 'rest' in 2008! Our betting tips then should really be taken lightly for that reason. But hey, take a peak.
Tournament tactics and their influence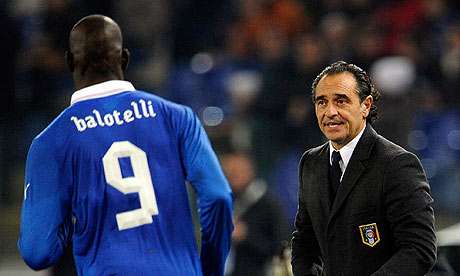 Because of the likely preponderance of the 4-2-3-1 system at this tournament (World Cup 2010 was very much the start for the mainstream use of this approach), a system which relies on the close interplay in the final third, there may be less reliance on wide balls from the byline into the middle for two central strikers. (Of course, an attacking fullback will give you somewhat of an equivalent, but the premise still stands.)  We could thus see more goals from deeper lying midfielders, with 'strikers' playing a key role in opening up the space for this to happen, and the use of 'central wingers' meaning a very fluid approach in attack.
Trequartista's, or the player who will link the play in the final third, may come to the fore; a greater onus then on the traditional 'number 10' role than perhaps a focal point in attack. Not only asked to create on the ball but also to move laterally, dragging defenders out, with the regista (link men or 'shuttlers') urged to 'hit the box'; in short, we may well see more goals from midfield, and also a greater amount of headed goals (over 14?) scored than perhaps would normally be the case, given the support for the striker. Likewise, the 4-3-3 relies heavily on an astute defensive system; opportunistic fullbacks may well flourish in terms of assisting and scoring goals. The last two to three seasons has also seen a theme emerge in the shape of ball-playing centre backs, players who exert a greater influence on proceedings further ahead. Perhaps the team who takes greater risks from the back (in an otherwise defensive system with two 'holders' in front of the back four), at the right moment in the game of course, will have greater success this summer.
Stand out creators: Obraniak, Ozil, Karagounis, Nasri, Sneijder, Dzagoev, Silva and even Xavi who likes to get a little further forward for Spain and Nani who will come inside a lot.
Stand out link men: Modric, Khedira, Maniatis, Parker/Gerrard, Montolivio, Gotze, Kroos, M'Vila, and Eriksen.
Stand out ball playing centre backs: Hummels may not start, but we have the likes of Pique, Pepe, Mexes, Mathijsen, Papastathopoulos and even Lescott.
*where our answers are the same, we have only named the price once.
** David has taken his price guides from Unibet, Nik and Andy from William Hill and James from Sky Bet.
Where would you put your money?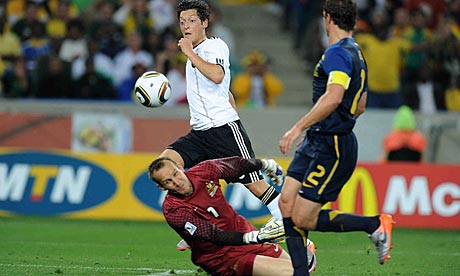 Winners
I'm going for Holland but the tournament is wide open for me. I have a feeling France will do well with Benzema having a great tournament after a great season with Madrid. Germany and Spain will both take some beating but wonder of the latter may struggle due to fatigue in main players (James).
Andy Germany 3/1
David Germany
Nik Germany
James Holland 6/1
Semi finalists
Away from the obvious candidates, Portugal, Italy, Russia and Sweden (in somewhat of a ranking order) may prosper, and thus offer good value (Nik).
Andy France, Spain, Holland
David Spain, Italy, France
Nik Russia (always one surprise! each way at 25/1), France, Spain
James Germany, Spain, France
Golden Boot
Ribery at 66/1 is ludicrously priced. Tricky, comes in from wide in a 4-3-3, links well with Benzema and is an excellent finisher. (Nik).
Andy Van Persie 10/1
David Benzema 11/1
Nik Torres 18/1
James Benzema 
Euro winner/ Golden boot double
Andy Germany and Van Persie (18/1)
David Germany and Benzema 20/1. Spain and Negredo at 40's
Nik Torres and Germany 28/1. France and Ribery at 150/1 is good value
James Germany and Benzema 
Stand out player/ team
Andy Mesut Ozil (8/1) is a joy to watch and I think he would have slotted in really well at United following his impressive season in Bremen. France – who beat Germany recently, and Blanc has done a superb job in turning round what was a catastrophic World Cup last time around.
David Ozil. Had an excellent season at Real Madrid providing the ammunition for their attacking trio, and he'll guide Germany to success here. Expect to him to be top in assists too.
Nik Somebody who plays for Real! Ok, Benzema 25/1. Team: Russia
James United target Strootman is someone to keep an eye on for the Dutch. Ireland have a chance if they get a good result against Croatia first up. A win here means they can go on the defensive against Spain and Italy and sneak through. Looking forward to seeing McClean.
Most carded player
Andy Aleksandr Anyukov
David Xabi Alonso, Joao Pereir
Nik Xabi Alonso, Mark van Bommell – though we could see less reliance on the yellow and a greater flurry of red cards here.
James Mark van Bommell
Match markets
Andy Italy to beat Spain (4/1)
David Under 1.5 goals between Poland Greece – – Fabio Coentrão to get a card against Germany – – Spain to score a penalty against Italy (7.00)
Nik Greece and Poland draw HT/FT at 3/1 – – France to beat Ukraine at EVS (or HT/FT at 12/5)
James France 2 England 0 – 9/1 – – Germany 2 Portugal 1 – 15/2
A crazy, but not so crazy bet …
Andy Germany to not concede a goal in the knockouts (there must be a special out there!)
David Between 0-3 penalties in group stages (4.00). Real Madrid to have the most goals scored by its players at the tournament (5.00)
Nik Italy to win it 14/1 (or Germany/Italy final at 33's) Card market: Spain most bookings at 15/2 .Top Barca scorer: Xavi at 5/1
James Lewandowski top scorer, and Germany to win it 80/1 or France vs. Holland Final 40/1
If I had a £100 single bet, I would place it on …
Andy Van Persie to claim Golden Boot (10/1), or van Bommel to be booked vs. Germany (match-day price)
David Less than the 77 goals (scored in the last Euros.)
Nik Between 130-145 yellow cards in whole tournament at 7/4
James Sneijder/Holland at 66/1
Who will referee the final?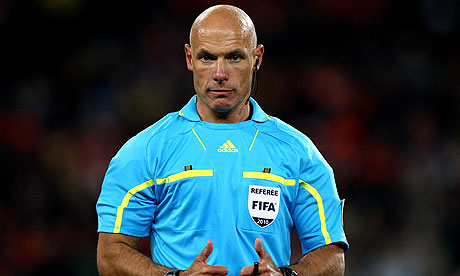 The appointment will all depend on form of course, but there will be two or three referees earmarked from the start as having the potential, or the character to referee on such an illustrious occasion.
Both Kassai (3/1) and Proenca (5/1) are rightly shortly priced, having refereed the last two Champions League finals respectively; the Hungarian in particular will fancy his chances if he makes his mark early on in the competition. Conversely, relative rookie, Damir Skomina is a very harshly priced at 7's. (Skomina is a favourite referee of mine and exudes a calm authority on the field, but the final could be too much too soon.) Cakir is a rising star from Turkey, and handled some big games very well this season, including Barcelona vs. Chelsea at Camp Nou. He can be found at 6/1.
German veteran Wolfgang Stark or the newest referee on the block, Carballo can be backed at 12's. This is a fantastic price for either given their relative strengths, though of course this partly due to the fact that many are predicting a Spain and Germany final. A safer bet would be Rizzoli, the Italian referee who has shone in his short time at the top. Refereed the UEFA Cup final in 2010 and was in the running for this years Champions League final. Back him at 8/1.
Howard Webb should really be longer than 10's given that he has refereed both the World Cup final and Champions League final as recently as 2010. Again, it should all come down to tournament form, but Webb has all the attributes (in particular player management) to succeed and should at least expect a semi-final – especially if England do as expected. Back him if you think UEFA will want to send him off from the world stage with the full trio of prestigious tournaments for a European referee. What a haul that would be for the Englishman!
Stretford-end.com does not provide betting advise or betting tips. The odds included are simply an opinion of the writers involved in the preview.