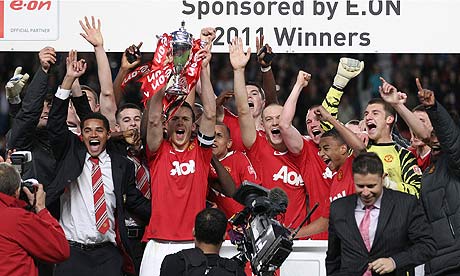 AUTHOR: – Doron
Rather than an account, a match report, this is a personal tale mainly about the aftermath of Monday night's game. It was a second record breaking day in a row at Old Trafford – fresh from the first team lifting number 19; the Academy lifted FA Youth Cup number 10. Off the pitch though this is a shy group of players, embarrassed by the attention they get and totally uneasy with the praise they get from fans; yet they're following in the footsteps of legends before them and doing the club proud.
The game itself, the second leg of the final of the coveted FA Youth Cup was actually a bit of a drab affair despite the 4-1 scoreline suggesting otherwise. However this is somewhat secondary in my story. In my mind United were always going to win, that's not to disrespect the opposition, Sheffield United; but I've not seen another U18 side in the country this year with the quality that ours possesses. Ravel Morrison was again at his spectacular best in patches; Pogba showed touches and played passes beyond his years; Tom Thorpe's reading of the game and positioning demonstrated a maturity that most 18 year olds can only dream of; and William Keane was clinical in notching goals 22 and 23 of another prolific season.
The 'United spirit', the 'never-say-die' attitude has been attributed to this side before. Late goals and comebacks have been witnessed a couple of times in this competition. One such game at Anfield, saw a remarkable comeback from two goals down to win 3-2; it's probably my favourite game of the season. There have been other notable wins too – a 4-0 demolition in the second leg of the semi-final against Chelsea; and a 1-0 gritty win away at West Ham earlier on in the competition – both demonstrate that this side is not a one trick pony, they can win with style and they can dig deep to squeeze out a tight win.
However, it's off the pitch, after the game that I was most impressed. One of the beauties or perks of watching Reserve and Academy football is that there is a more relaxed attitude around the club. Staff and players are calm and happy to take a minute to chat to a fan. Usually though the majority of the Academy boys are fairly shy, the attention is often shunned in favour of a quick getaway from games. I wondered round to the entrance of the Director's Box hoping to pick up a couple of team-sheets from the game. On an occasion such as this there were various older 'United' faces leaving the box – Sir Bobby Charlton, Wilf McGuinness, Jack Crompton and Jimmy Murphy (son of Jimmy Murphy). They reminded me of a time long-gone, when players weren't wrapped up so much in cotton wool, when they were only too eager to speak to the fan on the street. To my delight, they hadn't changed – I was still afforded the same enthusiastic greeting that any other fan got too.
This attitude to fans is to my mind an important part of what makes United special. It's as much the United spirit as anything else. Both on and off the pitch, players past and present are representing the club, maintaining a high standard. To be fair, this wasn't something brand new to me – I'd experienced similar warmth from great old players before. However access to such moments with the first team is near enough impossible. It's why my next move was to wonder around to where the players come out.
The Academy boys are rightly kept away from the limelight; media responsibilities are far from their priority right now and most of them would hate the idea of it anyway. The chance to offer my congratulations though was one I didn't want to miss and knowing they'd all walk in front of me as they got on the minibus back to their digs I waited for them to appear. I wasn't alone, around 15 to 20 other fans waited around in the cold wind.
First out were a few of the U16s including Ben Pearson, simply there for the experience and not in club suits. Straight onto the minibus for them. Next up was Alberto Massacci, he'd been an unused substitute that night; he too went for a minibus, but having put his belongings on it, he turned around to see the few gathered fans including some young autograph hunters and he beelined straight for us. Massacci was followed by Italian compatriot, Fornasier and the left back on the night, McGinty. All took the same path, a trip to visit the fans, unprompted by any member of staff.
More and more of the victorious players came out. Not all though wished to come over – Larnell Cole for example is notoriously shy and he instead hid around the back of the minibus. However, other players like Jesse Lingard, Gyliano Van Velzen and Paul Pogba who all in the past have done their best to avoid similar situations came across to sign autographs, pose for pictures and look embarrassed when offered praise.
Some of the players clearly took to it more than others – the captain, Tom Thorpe and energetic midfielder Ryan Tunnicliffe posed for photos and were happy simply to stand and chat despite the bad weather. Others, didn't want to spend as much time out in the cold but still didn't let the fans down. Sam Johnstone even signed a pair of his goalkeepers gloves and gave them to a patient fan.
It was a real joy to see how nice and normal a lot of these lads were, it's easy to forget they're just kids. At 17 and 18, it's understandable that many could either get carried away with a cup win, especially with the lure of a good night of celebrations ahead; or simply ignore the fans altogether (I should point out that wasn't a criticism of Larnell before, he simply doesn't like the attention, much in the way Scholes doesn't). Yet, this wasn't the case, the players were clearly uncomfortable with the little adulation they were getting but didn't disappoint.
It's refreshing to know that in the modern game, footballers can still stay so grounded; especially young players who get tempted by the lure of money in the game today. As the minibuses pulled away much to the annoyance of John Cofie who wanted to sign a couple more autographs it hit me that I'd just witnessed something ingrained into the club. Maybe forty five minutes earlier I'd had the same kind of conversations and experiences with ex-players fifty years older than some of these boys. There is still a warmth to United at these intimate moments – the club stripped down to its bare bones when fan meets player; some things will hopefully never change.
My personal highlight of the evening was meeting Zeki Fryers again. I'd last met him after the Chelsea semi final in the same competition. He'd had a really unlucky season with injuries and was unlikely to play a part again until pre-season. If he was down about it I'd have never known. However since then, to my surprise, Zeki had made the bench in the first leg of the final against Sheffield United. I wanted to congratulate him on it and tell him how pleased I was. Yet before I could even get the words out, he was asking my why I was still on crutches (was amazed he even remembered after I met him the first time) – upon explaining that it had been nearly 7 months now that I'd been on them he seemed genuinely upset and wished me all the best. Little moments like that make me so proud to know that we have brilliant people as well as footballers at the club, they're a real credit to Manchester United.
The evening had been a great success. I'd witnessed history as a record 10th FA Youth Cup was won; I'd met some United legends and been lucky enough to have a brief conversation with a few of them; and then immediately after, almost all the U18 squad exemplified the same spirit as the old ex-players in signings autographs and having an informal chat despite many clearly being uncomfortable with the situation.
Paul McGuinness, the coach of the U18 side said in his post-match interview how proud he was of his player's performance in winning the competition. Had he seen how they behaved after the game though, I reckon he'd have been beaming with even more pride.
You can see Stretford-End's photos from the game including pictures of the trophy being presented, and some from after the game on our Facebook page or by clicking here.
AUTHOR: – Doron