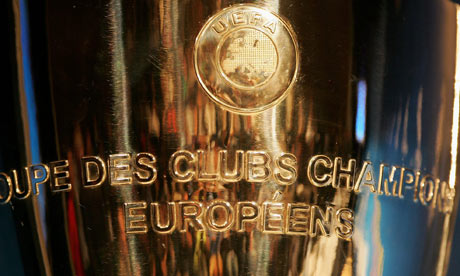 AUTHOR: – Stretford End
Ok, I'm not going to make out I am an expert in Spanish football, nor am I going to nod approvingly at a goal scored by Bojan in the 62nd minute in the 8 nil victory over Almeria earlier in the season – because I never saw it. I do try and tune into Revista La Liga and obviously watch as much football on a Sunday evening (that is when the missus hasn't got 'The only way is Essex' on), but I didn't want to give the impressive that I am a seasoned connoisseur in all things Spanish. However, I have always admired the magnificent football of Barcelona and the DNA that has been instilled in the club from the Johan Cruyff and Rinus Michels days.
This blog aims to look at the goals Barcelona have scored and conceded in the Champions League this season, whilst comparing that with Manchester United.

So who has scored for Barcelona in Europe this season? The pie chart below shows a breakdown:
Massive surprise that Lionel Messi has scored more than a third of all Barcelona's goals in Europe this season. To drill down, he has scored 38% of Barcelona's goals compared to Pedro, who has notched up 15% of Barca's goals. We will drill down on individual players later on in the blog, however for now I wanted to formulate the stats prior to any analysis. Below is a table highlight the goals scored against Barcelona in this seasons competition:
One thing that is clear is that out of the eight goals scored against Barcelona this season, only one team has victorious – Arsenal in the first leg of their last 16 tie. All goals scored against Barcelona are quite different as well. We have a long punt down the field, which is then flicked on for Sidney Govou to open the scoring in the first group game involving Barcelona. This was the only game in which Barcelona scored second and went onto win the game, quite convincingly might I add.
Some of the goals scored against Barcelona don't always reflect the balance of play. For example, in the 1-1 away draw with Rubin Kazan – the Spanish Champions had seventeen shots on goal compared to the hosts eight. Wayward shooting was to blame, with Barcelona only hitting the target four times out of the seventeen, however the player positions below highlight the dominance of the visitors in the match:
It is clear to see the 3-4-3 formation that Barcelona adopt once attacking, with the holding midfielder Javier Mascherano dropping in between Puyol and Pique. This is a classic trait of total football, which has been adopted by Barcelona since the days of Cruyff, interchanging of position and flexibility in moving forward. High pressing is also another trait, which is key to Barcelona winning the ball back high up the pitch –
Do United stick or twist?
I am still adamant that United were far too gung-ho against Barcelona in Rome, although I understand as to why Sir Alex setup the side to attack from the start and score the first goal of the game. However, once Samuel Eto'o scored, the tie was unfortunately over – with United running out of ideas as the match elapsed. Although that may seem incredibly defeatist, considering there were another eighty odd minutes left to play, United were left shell shocked and left far too much space between the midfield and defence – which inevitably saw Carrick overrun and Xavi setting up Messi for a second goal.
Lets take a look at the opening goal and the United setup. Iniesta picks the ball up on the half way line and then faces the United goal:
He then proceeds to drive forward, ignoring the pass to his left for Lionel Messi. Both Carrick and Anderson are in between the Spaniard and the space in front of the defence:
Iniesta passes both Anderson and Michael Carrick like they're not there. His effortless gliding across the turf and through United's two deeper midfielders made a mockery of Ferguson's initial game plan:
Iniesta's burst and acceleration passed the pedestrianised Anderson and Carrick, meant that Ferdinand had to close him down – which ultimately led to the key pass to Eto'o, who found himself one on one with Vidic:
Now, the key issue with this is shape. Mourinho opted to keep the shape of his Inter side in April 2010 and won tie, whilst deploying the same strategy at home with Madrid in this season's tournament, which backfired spectacularly. Mourinho will no doubt point at the dismissal of Pepe, which gave Lionel Messi the space he needed to win the tie for his side, as the reason why Barcelona were victorious. However, it must be noted that Mourinho doesn't line up like this against every side, so despite the theatrical nature to his actions and pre/post match conference – his setup is no doubt a monumental hat tip to the Catalan side. The arrogance that emulates from the nine times European Cup winners may well be stronger than ever – which no doubt also coincides with how they want to play their football, sorry, attacking football. Ferguson will no setup his United side in the same manner than Mourinho did, however surely the starting lineup will be a little more cautious than the gung ho swashbuckling nature of 09?
The lineups
What is great about football, and blogs in particular, is that everyone can select a different eleven. We can argue until the early hours as to whether or not Rafael or Fabio would be better to marshal David Villa, or whether or not Ferguson should risk Darren Fletcher – a midfielder who looks set to miss out on a third European Cup final. I've picked my side below, along with Barcelona's side, and I welcome you to challenge the selection and setup. Doron will no doubt go into more detail and select his side prior to the match on Saturday.
Excuse the use of the black shirts, there wasn't a 'white shirt' option. Barcelona's team – excluding the left back – is self explanatory:
United will essentially line up 4-4-1-1, with Rooney be called upon more so from a defensive viewpoint than usual. Barcelona will of course adopt a 4-3-3 formation. So what do you reckon? Do you feel this will be the line up for United and Barcelona?
Key Battles
Park vs. Alves: Ji Sung Park put in one mighty performance against Chelsea in the 2-1 victory earlier in the month, which in my opinion booked his place in the starting line up – not that there had ever been any doubt. He will be up against Alves, who was roundly criticised for his playacting in the first leg against Real Madrid, but there is no doubting his ability as a modern day full back. He has the athleticism to provide width for Barcelona, when they move from 4-3-3 to 3-4-3:
This is a pretty obvious movement, whilst natural to Alves and his Brazilian heritage. He will no doubt have the attacking runs of Evra to deal with, whilst not forgetting the energetic hustling and harrying of Ji Sung Park, who will be under instructions to force the Brazilian back:
Again, on paper – this all looks pretty standard. Fabio tucks inside, whilst Giggs and Carrick sit in front of the backline occupying the space that Messi, Iniesta, Xavi or Pedro usually operate in. Park's role will no doubt be to counter act Alves surging runs, whilst Ferguson may also see the space left by Alves on the right hand side as an opportunity for Hernadez or Rooney to exploit. Park's main role will be on this left hand side, whilst I believe he will also be asked to close down in the centre of the midfield if the opportunity arises (as he did in the Chelsea game). Park was one of the player who didn't perform in Rome, he will have a fantastic chance to put that right on Saturday.
Hernandez vs. Puyol/Pique: Javier Hernandez is the signing of the decade. Those are the words I uttered to Doron the other day, he responded with a counter argument that Vidic was his choice – either way, we can all agree that Hernandez is without doubt a bargain. He offers a different dimension to our attack, which I feel compliments the visionary attribute of Rooney, more so than when he is up top alongside the ridiculously gifted Dimitar Berbatov. Hernandez pace will scare the life out of Puyol and Pique, there is no question of that – however, he needs the service to be able to occupy the space in behind. I've touched on United being more cautious than in Rome, which means that United will have to rely on the counter attack and superb ball retention when Barca lose the ball.
Take a look at the following images, highlighting a goal Barcelona conceded last season on the counter attack. For the record, it was scored by former United forward Diego Forlan:
Reyes sidesteps Iniesta brilliantly, similar to what Iniesta did against United in Rome, before bombing on towards the Barcelona backline:
Reyes does excellent to beat Busquets, who would have stepped out of the back three to close down the space that Reyes was to move into. His dribbling and skill to beat the Barca holding midfield is the key to then occupy a position that will allow him to find a through ball:
Reyes, who now has a free run, plays the pass through for Forlan to run onto. Puyol is already claiming offside, despite the fact that Forlan is clearly onside,
Barca's pressing game leaves them vulnerable to this type of chance as Forlan is now bearing down on goal to score the only goal of the game:
The key to this is a fast counter attack, confident play in dribbling passed players and good movement from the frontman. Valencia, Giggs or Rooney can do what Reyes did – whilst Hernandez is quite clearly the best man to make the run, in between defenders, that Forlan made. He plays on the shoulder and is a nightmare to pick up. The key thing is getting the ball to him. United need to be brave, patient and controlled.
Rooney vs. Busquets: Busquets is not the flavour of the month at the moment, considering his alleged racist rant towards Marcelo, and is quite lucky to be involved in the final at all. His father played in goal vs. United in the 1991 Cup Winners Cup final, where Mark Hughes scored twice – and he is no doubt vital in the way Barcelona operate and start moves. Wesley Sneijder, who had a fine World Cup and Champions League season last year, was kept quiet in the final last July, which no doubt was down to the marking of Busquets.
Rooney's best position, for me, is in the hole behind the front man. He can play wide and do a job, whilst he can operate as a lone frontman and do a job. However, his best position is as a number ten. He is also best when he has limited defensive responsibilities, although it should be noted he never shirks the responsibility of galloping fifty yards to win the ball back. On Saturday, I believe he will need to operate a little deeper for two reasons, 1) to press Busquets and intercept any loose balls 2) counter attack high up the pitch.
Many have suggested that Rooney should play as a centre midfielder, and although I have no doubt he could again do a job there – we need him as the link between the midfield and front line. His natural game is to drop deep and try and influence play, much like Cantona did – however, Rooney is athletically superior to Eric and can break at pace covering ground that draws players out of position. His relationship with Valencia on the pitch has been noticeable, whilst his partnership with Hernandez is now one of the most impressive in the Premier League.
Counter attack – breaking at pace
Counter attacking football used to be reserved for the minnows, the side that should keep it tight, not concede anything and hopefully snatch a goal on the break after the other side has charged forward in search of the goal they so desperately deserve. However, the counter attack should be used as one attacking option and of course there are different methods of counter attacking side, whether it be to defend deep and get the ball forward as quickly as possible (classic counter attack) or to win the ball high up the pitch and counter (by pressing) or to counter the counter attack (which requires shape and organisation).
United have the ability to break and lightening pace, even when the momentum is with the opposing side. Ronaldo's strike against Arsenal in the Champions League Semi-Final back in May 2009 was exceptional. We're not going to drill down on it as we're well aware of the quality of the whole move, which started with a Vidic header from an Arsenal corner. The goal was exquisite and highlighted that counter attacking football is not necessarily ugly and defensive, but to catch your opponent off guard – to disorientate them. United have the ability to do this against Barcelona on Saturday, especially with the pace of Rooney, Park and Valencia to burst forward. The Reyes example highlights the vulnerability of Barcelona at the back, when face with a striker with pace that can exploit the space in behind. Puyol and Pique don't want to be running back towards their goal, they want the attacker to be facing their own goal – whilst they close down the space – along with the rest of their team mates.
The following analysis actually involves the victims of that Ronaldo counter attack goal – Arsenal – and how they conjured up their very own counter attack to inflict the only defeat of Barcelona's Champions League campaign:
Substitute Nicklas Bendtner works back to win the ball before looking to his left to lay a pass to Jack Wilshere:
Wilshere then lays a superb first time ball off to captain Cesc Fabregas who has found space behind the midfield. Notice in between the trio of Arsenal players that there are four Barcelona players, who inevitably were pressing high up the pitch to try and win the ball back. At 82 minutes, fatigue could well be playing a part in their inability to 'counter the counter':
Fabregas now has the chance to pick a pass down either flank, but chooses the correct option in finding Nasri down the right, who is already on his way – with yards of space in front of him:
Nasri's pace is now key in getting to the box and then hopefully being supported by late runners from midfield:
Nasri does excellently to get into the box and pick out a pass to the onrushing substitute Andrei Arshavin. The Russian slots home the winner in the game:
Don't get me wrong, Arsenal were very lucky to still be in the game at this point. Lionel Messi missed a host of chances, whilst Guardiola felt the need to substitute scorer David Villa for Keita, which is when I believe the dynamics of the game changed. Arsenal did extremely well to hold on and then pounce when they needed to, however United are a better defensive unit that the North London side and I don't expect there to be as many chances as there was at the Emirates that night.
Lionel Messi
Some get wound up with the praise that he receives from fans, pundits and people in the game alike – however, I do honest believe that Lionel Messi is a genius. La Masia has produced some fabulous players over the years, but surely Messi is the best of a wonderful bunch? The little Argentinean started out as a wide man, cutting inside to cause havoc – either with a nimble dribble, delicate pass or shot blistering into the back of the net. He has notched up 52 goals this season in 54 appearances – that is a stunning return. His second goal in the Bernabeu was sent from the heavens. Many fans in the pubs, bars and coffee shops all over the world are now debating on whether Messi is the greatest of all time. Personally, I believe you need to wait until the end of a player's career before making some a claim. Maradona, for me, is still the greatest player to ever play the game – however, even the great man even acknowledged that 'at the end of history, people will then decide who was better: Maradona or Messi'.
So lets take a look at the goals scored by Lionel Messi over the course of the season:
Interesting to see that over 80% of his goals are with his left foot, although that remarkable second in the Bernabeu was with his right foot following a superb solo run – beating four Real Madrid players in his wake. Barcelona don't generally shoot from outside the box, so it is no surprise that only seven of his 52 goals have been from outside the area – with only one in the Champions League (out of the eleven). Are these stats here to help me explain how United can stop Lionel Messi? Good god no! I could do that I wouldn't be sitting here at 1am blogging about the final. One thing I would say is that I would not dedicate a marker to him, as some have suggested. His deployment as a False 9 will no doubt aim to bring Ferdinand and Vidic out of position, but I believe they will remained disciplined enough to allow him to wander into the midfield space, where ultimately Giggs and Carrick will have the task of closing him down.
Messi's transformation from a wide player to a centre forward is not a surprise. If you're playing a direct brand of football, then Didier Drogba is a perfect lone front man, as he has the ability to tower above the majority of centre halves in order to win the ball and bring it under control. Messi's role in the main figure head is more of a 4-6-0, which means that for long periods of time – the centre halves won't be marking anyone only space. The idea is to obviously draw out the defenders to create space in behind, which is then exploited by the wingers or indeed Messi himself. Frank Rijkaard noted that Messi would eventually become a central player, however back in 2008 -you would have thought he would be better as a second striker – which is clearly not a possibility at Barcelona, although more likely for the national side.
Samuel Eto'o, a fine striker in his own right, was deemed surplus to requirements due to Messi's transformation, whilst the integration of the exceptionally talented yet equally infuriating Ibrahimovic was shipped out after only one season in the Nou Camp. Villa's addition is much better suited for the way in which the Catalans operate, although many old school English may be pulling their hair out at the thought of not having a player over 5″7 in the front line.
Conclusion
If you've stayed with me from the start of this blog to the end, the bravo to you – we've covered a vast amount of points, discussions and statistics. You will of course have you own ideas as to how United should line up and approach the game, which I welcome you to share in our comments section. My observation that United should play a more controlled, cautious game to that of the Rome match may not sit well with some Reds who want United to go out and attack at all costs. I respect and understand that, but from hearing Ferguson say that United will 'learn' from the mistakes of Rome, it will be fascinating to see whether or not Fergie sets his team up to attack as they did or to target Barcelona on the counter attack, as highlighted in the two examples in this post.
No team is unbeatable. All teams have their weaknesses, however we must give credit where it is due – Barcelona is a football institution and this side is one of the best sides that has ever graced this earth. Yes, there is petulance amongst the ranks. Yes, there is even bully tactics at play. However, despite these faults, it would be difficult to find a football fan that isn't in admiration of how they play. United have a rich history in producing young players, giving them a chance and throwing them into the first Xi. Barcelona also has history of producing top class players, one of which was at United (Pique) and has gone onto become one of the top centre halves in Europe.
United will line up 4-4-1-1, with Wayne Rooney just off Javier Hernandez. If Darren Fletcher had been fit, Ferguson would have had more of a dilemma – however, that isn't even up for discussion. Two months ago I would have put Rafael in, but I think the nod will go to his brother – who is starting to find his feet at Old Trafford, despite still some concerns about his ability to take knocks. Giggs and Carrick looked so assured against Chelsea, both home and away, they are certain starters in the middle of the park – whilst Park and Valencia have kept Nani out of the side, with some top class performances in the business end of the season. Barcelona will not change the way they operate and will line up 4-3-3 as normal. The only question mark is over the left back and whether or not Abidal will play or adopt Puyol there. If that is the case – Valencia will have a field day and it is vital that United get him in one on one situations.
The adoption of a counter attacking setup is in no way meant to be a negative approach. Some of the best goals of all time are results of a counter attack, most noticeably the Carlos Alberto strike in the 1970 World Cup finals – when Brazil beat Italy 4-1. Ronaldo, Rooney and Park have scored goals, all against Arsenal, in recent seasons that have been first class counter attacking moves. I do not expect United to sit back and defend all night, far from it, however I do not believe that a 'attack them and see how they deal with it' approach will work. Valencia and Park have superb athleticism and will no doubt be key from both an offensive and defensive perspective.
I think the game will be won in normal time and I am going for a 2-1 United win, with Wayne Rooney and Nemanja Vidic scoring for United. Doron will no doubt follow up with his excellent preview, where you may see a completely different approach and line-up. This is why we love the game. We all have opinions that we wish to share and hopefully the Stretty Rant is one of those places.
Edit: I forgot to include a really interesting podcast discussing the game in detail on Saturday. Apologies about that and here you go, from RHRN:
http://righthererightnow21.blogspot.com/2011/05/champions-league-final.html
Many thanks to Zonal Marking for inspiration, Total Football Apps and This 11 for the screenshots.