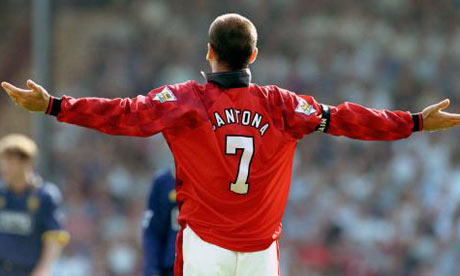 AUTHOR: – Stretford-end
Yes the title may leave me open for some criticism, however it is merely in response to a comment made by World Soccer editor Gavin Hamilton (a magazine that I do thoroughly enjoy reading) that the great Frenchman was a great player, but did not reach the heights of other great players.
I thought it was quite an interesting discussion, considering that I know some Reds that, although worship Cantona for what he did at Old Trafford, think that it was a kind of 'right place right time right man' situation.  Eric Cantona was made for Manchester United in 1992 and the club was made for him. He was the missing piece of the jigsaw in the search for Championship glory after 26 years, and in that year the Frenchman was free to display his sublime skill, flair and grace on the Old Trafford turf.
Any football fan, however blinkered, will clearly acknowledge the level of players such as Zidane, Maradona and Di Stefano – but there is no doubting that Cantona was inspirational to the ongoing success of Manchester United and the Premier League as a whole by helping to pave the way for the likes of Ronaldo, Henry and Zola as foreign stars gracing our league.

Eric was and always will be my hero.  When I was young, I thought he was the best in the world.  Romario? Baggio? Hagi? Maradona? No chance. His flair, rebellious attitude and goal scoring ability were three things that stood out for me. I remember trying to attempt his drive against QPR in 93/94 or his header at Maine Road the season before including subsequent head shaking celebration with Lee Sharpe (although the passing pensioner wasn't as receptive as Sharpe was). He scored vital goals for United and his puffed out chest and skill was something that the crowd adored and his legacy, with chants of his name, can still be heard and seen at every game, nearly fourteen years after he walked away from it all.
However, as you get older you mature, you see things more pragmatically and express an opinion that only a few years ago would get you labelled a 'gay lord' in the playground.  Can Eric's 0.31 goals per game in Europe for United stand up to the 0.61 goals per game of Lionel Messi, 0.67 goals per game of Ruud Van Nistelrooy or the insane 0.84 goals per game of Alfredo Di Stefano? On stats alone, of course not.
So Eric scored five goals in sixteen games for United in Europe, which isn't anywhere near the level of some of United's forwards of the past twenty years.  I would however argue that there were a number of obstacles that restricted Cantona from displaying some of his domestic performances on the continental stage.  Many have cited the 'foreigner rule' as one of the reasons for his apparent 'poor performances' in the European Cup, which of course didn't impact him directly (for example Schmeichel was left out of the 4-0 hammering by Barcelona in 94) – however, the team as a whole suffered from not being able to field the exact same XI as the fixture on the previous Saturday.  Combine this with United trying to adapt to a more patient build up and controlled possession game, it wasn't the greatest of recipes for success.  Eric's first campaign was obviously cut short by United's elimination from the tournament on away goals by Galatasary before fighting with a Turkish policeman with a dodgy moustache – which he subsequently got suspended for.
The following season he returned on match day five in the 3-1 defeat by IFK Gothenberg, which saw United eliminated from the competition – hardly enough time to judge a player on how successful his European venture is surely?  He played in the final group game against Galatasary, which United won 4-0 but he would have to wait until September 96 until he tasted the Champions League again.  United's first game that season (96/97) was against Juventus, and if i'm honest I was in awe of the Old Lady.  Juventus were the Champions of Europe and as Fergie later stated were 'the benchmark' – again (at the time) there was no shame in being second best to such a side.  If I remember rightly, Boksic scored for Juventus in a 1-0 win.  As we all know, United reached the semi-final of the Champions League that season, losing to eventual winners Borussia Dortmund. Eric missed a few chances in the return leg, which many claimed was our skipper 'bottling' the big occasion.  I don't know how true that is to be honest.  Like I said, United were evolving to the demands of European Football, and Eric was part of that evolution. Beating Porto 4-0 (in which Eric scored) was great and reaching the semi-final was an achievement – even though looking back it appears to have been an opportunity missed.
Eric's association and high regard amongst United fans isn't purely based upon ability and 'performing on the highest stage'.  I still feel that Eric put in a number of noticeable performances (and goals) in big games that might not be as appreciated by non United fans.  His role as a number 10 or second striker meant that he could either heavily be involved in the game or the complete opposite and get limited touches of the football.  Many other players would have been subbed off, despite their superior footballing ability, due to the fact that they were deemed 'invisible' or 'lazy', however it is the responsibility of the team to try and find the playmaker high up the pitch – a responsibility that is shared by the player himself to find space to receive the ball.  Eric was different though, for the fact that he would pop up with important goals that would eventually result in trophies for the club.  Not to sound like Rafa Benitez, but it is a fact!  You could also argue that in the three 0-0 games in the 94/95 season, following Eric's suspension, that the Frenchman may have scored or set up a chance for someone to score?
I would argue that his record in the French national team was pretty good.  His goals per game ratio of 0.44 (20 in 45 for Les Blues) was only slightly lower than the 0.55 of Jean-Pierre Papin – Eric's striking partner for the majority of the late 80s and early 90s.  The only tournament Eric played in (having narrowly missed qualification for the World Cup in the USA) was Euro 92 in a French squad that consisted of Rémi Garde and Franck Sauzée – hardly the calibre of players that the 1998 squad had.  France's failure in this time wasn't all due to Eric Cantona.  France had won the European Championships in 1984 with an extremely talented set of players and lack of impact on the World stage could be comparable to that of the 2002 and 2004 sides.  One of the quotes that Hamilton used (a Platini quote) is that Cantona was a 'Small player in big games'.  I think that might be a tad disrespectful for some of the sides that United played over the years.  He may not have done it against a Real Madrid or Brazil in a major tournament, however United and France weren't as strong as the sides we've seen over the past twelve years (with United's experience on the European front a major factor).
One last point, it is all very well and easy to state reasons as to why players shouldn't be considered the best ever.  For example, Pele and Garrincha can't be considered the best ever as they stayed in South America rather than getting tested in Europe.  Maradona couldn't cope with the pressure at Barcelona and failed to make the impact they thought he was going to have when they signed him from Boca. Or Alfredo Di Stefano didn't play in the World Cup, so how can he be considered one of the World's best?  Of course all of this is subjective, for everyone that points to Pele, you will of course get another that cites Maradona as the greatest player to have ever graced the earth.  Although Cantona may not be in the same league as Maradona, Zidane or Lionel Messi, there is no doubting his influence on Manchester United and in my opinion the domestic game in this country.  His suspension and heroic return is something of a fairy tale, a time that endured him to United fans even more so.
To conclude, Eric will always be for me an inspirational character that transformed United from runners up to league champions in the space of twelve months.  I don't think you have to win a World Cup, or play in a World Cup even (George Best & Alfredo Di Stefano), to be considered the best the world has ever seen, nor do I think that everything is always clear cut when looking back at records (i.e. Eric's 'lack of impact' on the European stage).
George Best left Manchester United having achieved it all at the age of 26, Eric Cantona had done quite the opposite when he joined Manchester United at the same age.  What he did in the next four and a half years left a lasting impact on all who saw him play and of course a number of youngsters that were emerging through the club at the time.  Eric Cantona – right place, right time and a great player.
AUTHOR: – Stretford-end