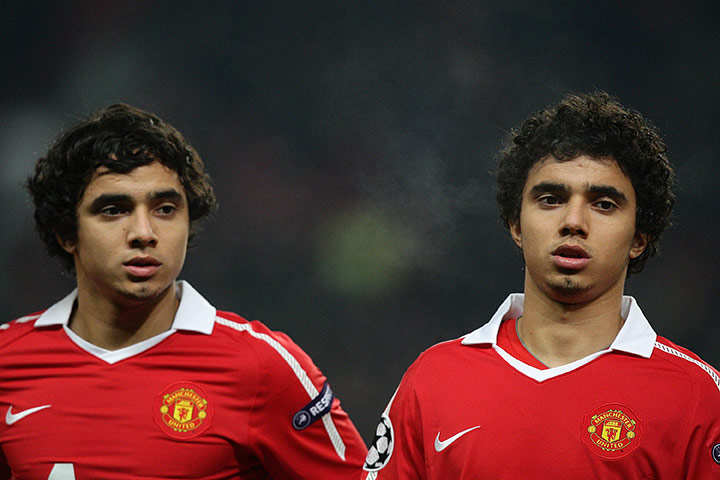 Author: Herzog's Child
Follow Herzog's Child on Twitter
At the risk of provoking society's selective wrath – and, under one particular constable's belief, imprisonment – the correct term, if one is to be believed, is batshit. I write that with clear understanding that no lenses are being trained on my words; it's a dull, just recently-appointed exercise, but a necessity, nonetheless. Derogative though it may now be, it's a label that, whilst not strictly an accepted word, is best suited to the stylistics of certain endeavours. Say, to the manic expressiveness of Diego Armando Maradona; the aloof ramblings of our dearly missed, demented French genius; or – for instance – the everyday movements and rumblings of a man named Royston who once led our battalions. Provided it's supplanted with a wealth of talent, the trait, unlike the name suggests, is a refined quality. It's an attitude, if little else, and its addition to a player can provide the modicum needed to ensure greatness on the field, when quality is simply not enough, as is often the case. It instils fearlessness, a hunger. Distinctly uncommon in most players, it's an inherent quality, impossible to coach, or nurture. To have one player at your disposal that purveys it clearly is a rarefied bit of fortune. To have two, who not only encompass a certain madness, but also an immense swarm of skill, borders on preposterous. The fact they are twins – and identical, no less – is beyond surreal. But, hey-ho, Rafabio are ours, luckily, and are on route to alight the future.
Secured in early 2007, the brothers, nicked from Brazilian side Fluminense for a minimal sum, first treaded English turf in a mid-season joust away to lowly Peterborough. Even then, in new surroundings, against a plucky Peterborough side, the makings for which they are now so lauded for were on show. Enthusiasm-brimmed jaunts up-field; tough tackling; a magnetism towards the opposition nets. After, even the great old Scot appeared taken aback, such was the impression both made in their brief runs. Fergie, and all watching, knew, even then, that the club's punt in hooking both was likely to pay off. Increasingly, chances arose. On a dim day at the Emirates, Rafael chested down and lashed home with his weaker foot. Or was it Fabio? Nobody, it appeared, knew for sure. But their placement within United squads – when many, even now, struggled to separate them – provided as much chortling as amassed excitement. It's a reaction still evident today, as they relentlessly prosper. Their style, as alike as the faces and hairstyles they wear, is oddly similar and provokes glee. It is all-action fuelled, it would seem, by precisely the archetypal Brazilian way: flair. Even in their learning, there is a charming side to their immature ways. Misplaced passes are met with exaggerated shrugs of heads, followed usually by rip-roaring attempts at retrieval. Where many would shy away, the twins – particularly the more experienced Rafael – go in, all guns cocked and readied for fire. They usually win through, too, as opponents lie hapless. Possessed by a willingness to roam, their incessant strides up field typify the true United spirit: all out attack.
Of course, as is the nature of nutriment, their play isn't without faults. The most consistent criticism directed their way is, ironically, linked to the virtues which they're most consistently praised for: being too inclined to venture afield; for harbouring too much enthusiasm; for being too boisterous in their combativeness when simplicity is required. Yet, as with most young – and specifically foreign – talents plying their trade, it seems that patience – that trait finitely lost amongst many – is the key to it. Scour football worldwide, and take note of the amount of 20 year olds fully accustomed to their long-term positions. Few, if any, come forward – a reality to be expected, when perspective, over hype, reigns. In Rafael's case, where it would seem that – over-time – he will be employed to fill Neville's berth, perspective is invaluable. Full-back, where, at United, attacking qualities are coupled with defensive capabilities in terms of importance, is a cherished outlet. Evra's blip aside, his time on the opposite flank has been empowering; strong, quick, defensively sound – his usual solidity has been the only blockade in the emergence of the quieter twin, Fabio. It is a role that requires maturity and an ability to course a field's length for 90 minutes – the latter, in both twin's cases, is unquestionably there. The former will arrive, too, with applied patience. Rafael has already shown enough class to suggest he's fully able to make the spot his own. Honing his style, and maturing to the point where his erratic side dissolves, will be fundamental to his emergence as one of football's most thrilling young talents. Fuelled by a burning drive in receiving and propelling himself forward, his linkage with Nani and Valencia promises to be a long-term route for much United success in the coming years. His brother, who was initially heralded as the more talented of the two, hasn't been gifted the same ease. Burdened by the ever-present Evra, and prone to slumping often through injury, his passage to the first-team has until recently been hampered by limited chances. Yet signs are there. In recent reserve outings, he has been played infield, as a floater, and on the wing. Perhaps the less hectic of the two, his style, similar to his brother, is to take it and go. It was his determination, shown by the lob over and run, which secured United's penalty at Upton Park. The moment, which led to Rooney's hattrick, was worth the cacophony of cusses alone. Jubilation followed, of course, and a twin, as is now often the case, was seminal to our glee.
From the bowels of United's red army, praise for the twins reaches unearthly highs. The nature of the praise which their style has deservedly garnered, and the nature of the words which are applied to them, is a testament to how they've cemented themselves as favourites. Infectious, a perhaps odd term of endearment in today's cynical game, is much flaunted towards our diminutive whippersnappers. And rightly so. Akin to the heart-warming attitude of Javier Hernandez, the pleasure with which the twins go about their duties is a pleasure to all in itself. Smiles abound, as each snarl and smile their way through the rigors of the EPL. In a league where many will float, flounder, flit and fanny out, they oppose the trend, all the while embracing, and enjoying, the often frenetically harsh climes of an unforgiving league. Whilst some may view their tendency to persist in going gung-ho as a detriment, rather than an invaluable sign of full commitment, all cannot shirk away from applauding their gutsiness. It is the all-action, in your face, edginess that many of the greats personified, and which many of the will-be legends of the game still regularly personify. It's the street-footballer edge that ignites the fire within Wayne Rooney at his best – a trait inherent, much like a natural skill. Brash as they are at times inclined to be, it is rarely – if ever – without reason; it's sometimes merely a case of enthusiasm overspill, a trait that will be partially ironed out, but not fully. It is imperative, to their play and to United's future fortune, that, whilst balanced, their full-bloodedness is retained. As seen in the laboured outings of early-season's Rooney, for some that sense of fire needs to brim to maximise the talent they all undoubtedly harbour within. To enliven United at their attacking best, their true spirit, the club needs the fervency of Rooney at his best, and the twins, as they've showcased already, motoring as they're prone.
In the illimitable concerns attached to the current United set-up, the most pressing are those that are most nakedly exposed. Some cat-calls of outrage are outlandish. Others, however, nail it easily. Whilst quality, particularly in the middle twosome base, has diminished, there are a plethora of other issues – many of which been horribly shown up – that have stagnated the present squad. Disjointed set-ups, uncommunicative collectives, and continuous, ahem, 'freshening up,' have been obvious detriments all season. It is a blatant lack of pace, and energy, however, that has manifested and crippled us too badly, too often. Particularly on our travels, where we have plundered, slumped, and not been good enough. Lack of quality, lack of legs, lack of numbers, all three – the pick is yours; relevance, right now, matters little. The fear does not need to be spelled out. The finish line, if it will take our stumbling steps, just needs to be crossed now. An ugly ending is in waiting. Only a first place finish will beautify it. But whatever the end-bells signal, the future – if certain patchworks are completed in the window – isn't as particularly feared as the doomlordery that pessimism provokes suggests. The twins, it is hoped, will be two of the more prominent gunners of a revitalised United. If Fabio's progress continues, becoming like the already commendably attuned Rafael, rumours of an outbound Evra may, despite the recent contract renewal, encircle once more. He did, after all, nearly leave, having prepped himself for a move to Madrid. Dreams, etc. Either way, Fabio will be encouraged by the signs Fergie has readily emitted in recent times. His technique, attitude, and – most importantly – evident versatility in adapting will ensure that he could soon become an invaluable asset to a United team in dire need of dynamism. Rafael has already shined against the best, pocketing Bale, and – forgetting the subsequent sending off – disabling a frustrated Ribery in a night that turned ugly after his leaving. We forget that he is just 20 – relatively a kid, all told, but one already abloom and impressing. If resurgence, in the form of an overhaul is to unfurl, to have twins, both terrifically talented, spearheading it would be a damning sight. And a fearful sight for those who must stop them.
Many a sigh – yes, guilty – wheezed when Ferguson, as he is inclined to , named an oddly obscure 11 to face Arsenal in March's quarter final tie. If a midfield twosome comprising of a man named Darron and another called John weren't enough to squeak bums, the sight of twins on the wings, relatively untried in their new roles, had defibrillators being uncased. And then, of course, an army of arses collectively – and wondrously – dropped. The balls to deploy both paid off, as each streamed towards a flummoxed Arsenal back-line. Within a half hour, the twosome charged towards the dastardly bottlers, and Fabio netted. The surreal nature of their collective impact was brought to hallucinogenic regions – both had now scored two goals, one each against Wigan and Arsenal. Much welcome oddities, indeed. The joys which they can bring, from the close control, to the lunges, to the affixed smiles, were all displayed that day. Wenger's anguish expelled itself. Reds rolled away in triumph. It was a bold, yet telling move by Ferguson – there was an entrusting there, a belief in his two nippy Brazilians, that their all-out ferocious inclination to bomb forward would fell a timid Arsenal 11. The fact that it succeeded, and that both performed with aplomb, was telling, too. Many youngsters, heaped atop a burly tie like this, can succumb to its pressures and implode early. The twins, in a complete juxtaposition to how most of their age and experience would show, appeared surged by it, feeding off the tension and high pressures to perfect effect. The resulting performances were almost as warming as the result itself, and had many waxing lyrical. Indeed Ferguson, often cautious in offering too much criticism and too much praise, raised a suitably adoring smile. He knows only too well what lies at United's disposal now. More honing is needed, unquestionably, but what seems certain is that they're ready to go.
There is a reason why we elevate certain individuals higher than others. Paul Scholes is adored because not only will he go down as one of the greatest of all time, but because of his nature – the get up, go to work, come home personality he embodies. The way he values his family above all else, and the way he has no interest in the trappings that so many willingly sprint towards. Ryan Giggs is worshipped for his sustainment when many others of his age have dropped out or down. Gary Neville is a red, hates scousers, and is rightly appreciated for being one of the few who realises the game is falling further into disrepair. And then there are the players who are enjoyed for one simple reason: because they play like we all would if we had shared their luck and been able to adorn the red of United. Like Javier Hernandez, one of few who appears to be genuinely grateful for the opportunities he has been given. Or Roy Keane, who treaded the field with the intentions of someone emerging from the trenches, and booted and ran and swore and scored and drove and fired on until we emerged victorious. Rafael and Fabio da Silva have achieved little in terms of success thus far, but will in time. Early adoration is justified – because they play with the gutsiness we'd all try to play with. It's too early to make rash predictions – these things, as we know, can swing both ways – but time, ability and, for now, the right manager is on their side. It is their way of thrilling, of fearlessly facing into each task, which sets them apart. They are potentially devastating, and even if one doesn't quite make it, the chances that the other will are pleasingly quite high.
For now, they'll prosper on. Fabio, surely, will be granted even more time next season. With Neville having sauntered into the horizon and Evra's form unbalanced, he'll get his go. Rafael, heir to the scouse-busters' throne, will continue to pace in tandem with Nani and Valencia, whilst pocketing a litany of the overhyped along the way. There are numerous outstanding traits possessed by both – each, even, possesses traits the other doesn't – but, perhaps aptly, it is one shared by both which determines why they've done so well so soon. In the most innocent interpretation of the saying, it is their lack of respect, for anyone, which has ensured they've travelled admirably. The opposition, to them, doesn't seem to matter. Where some would tone down their ways, and settle for a more calm approach, particularly against tougher opposition, they do not. Each game is the same game. Each venture onto the turf is another onto the local park, where the opposition – regardless of what shirt they wear – is the one you faced every single day of your childhood. It's a quality that will take many far, as it's the only way they've known, and most likely the only one they ever will know whilst they play. It's vital that while skills are honed, attitudes – particularly ones as positive as theirs – are kept raw. If so, Viva da Silva, rung out from the heart of the red army, will continue to be sounded. Twins, identical, who play alike, and who are just as brilliant as one another. Batshit indeed.