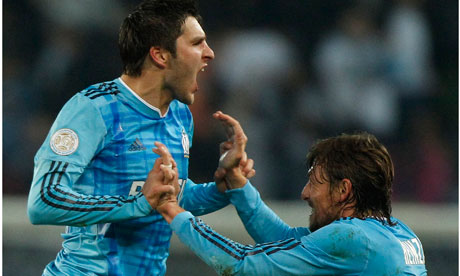 AUTHOR: – Stretford_End
Ahead of Manchester United's Champions League clash this evening, The Stretty Rant wanted to get the view of a Marseille fan on the game, Eric Cantona and predictions. So, we sent a few questions across to Sarah, who writes for the Offside to answer for us.
You can read the Marseille vs. Manchester United match preview here.

1. Marseille are currently third in the table, three points off Lille – how has the domestic season gone for Marseille so far?
Marseille has continued its traditional roller coaster ride – leaving fans with as many "highs" as "lows." At the beginning of the season, the team went through a massive transition with many of our key players leaving or demanding to leave. We lost our captain to Turkey (Niang), Ben Arfa to Newcastle and Bonnart to our Ligue 1 competitors. Several of our key players also indicated they wanted to leave – Mbia has been criticised for not showing up for practice and Brandao indicated he wanted to leave as well. As a result, we started off the season poorly – dropping points to teams we should have dominated on paper. The lowest point for me in the Fall was losing to our big rival, Paris.
Since then, we have improved dramatically – keeping up our tradition of being a "slow starter."
2. Last season's Championship was the first in eighteen years – was this gap due to the Tapie match fixing scandal or Lyon's dominance over the past ten years?
I always say that the only team that can beat Marseille is Marseille. We have an uncanny ability to shoot ourselves in the foot. We have lacked stability that other teams such as Lyon enjoyed. There is a lot of competition between the leadership of Marseille and this year has not been any different. There have been persistent rumors of infighting between the club President, Deschamps and Sporting Director. One great thing that Deschamps has brought to the table is more stability – he has shielded the players from the drama taking place in the backroom.
Part of the reasons for Marseille's lack of dominance is the impatience of the fans (I admit, I'm guilty). Lyon invested in youth – something that Marseille has never had the patience to do effectively. Nasri was beloved not only for his talent and skill – but also because he was one of the rare players who made it to the first team from the Marseille academy.
Ugh, I cant believe I just complimented Lyon so much. Gag me.
3. United have played Olympique Marseille only twice before, in the 1999/00 season, with United winning at Old Trafford and Marseille winning at the Stade Vélodrome. How do you think United will fare in France this time around?
Well, I won't bash United too much here (know your audience!)- so I'll just stick to Marseille. Despite losing some great players earlier this season, we have a talented team who are hungry to prove themselves. After winning 3 titles last season we know that it is actually possible for us to win again (I had my doubts).
4. Marseille are the only French side to win the European Cup, back in 1993, how does that make you feel and what do you remember of that match against Milan?
Its an immense source of pride being the only Ligue 1 team to have won that title – and I never get tired of holding it over the fans of PSG, Lyon or Bordeaux. Unfortunately, I didn't see the game live. I was 8 – but I'm American and didn't get bitten by the Marseille bug until I was 14. I've seen parts of the game – but my overwhelming feeling is actually sadness that in order to win we had to beat Marseille legend, Jean-Pierre Papin, to do it (he was playing at Milan at the time).
5. Eric Cantona was brought up on the streets of Marseille and scored 13 goals in 40 appearances for the club – what are your thoughts on Manchester's favourite son?
Well, there is some pride because he is from Marseille – but (similar to Henry) he is much more famous in England than in France. His absence from the national team also allowed Zidane to emerge and he has made it clear where his loyalty lies (England). So, while there is some pride – its somewhat subdued.
At least that is my perception.
6. What are your thoughts on Manchester United and Sir Alex Ferguson?
There is great respect for the team and what Ferguson has been able to accomplish. I have a lot of admiration for the stability Ferguson has been able to create for the team. It's the one thing that Marseille has consistently lacked (well, and a never ending slush fund).
Obviously, there are great players – both emerging on the team (Rafael, Chicharito) and legends (Scholes, Giggs). So, there is great respect and admiration – but certainly not fear.
7. Gignac is out of the game on Wednesday, how much of a loss is he and how will it impact your style of play?
Gignac is a constant injury worry. If we haven't learned to play without him yet, then we are screwed for the rest of the season. I'm not too concerned. We have enough fire power to overcome that loss.

8. Gabriel Heinze went from being a fan favourite to a moaning outcast (due to his flirtation with a move to Liverpool) – how has he settled in at the Stade Vélodrome and how do the fans take to him?
Ugh, he is the bane of my existence. I have disliked and criticized him since Day 1. I was against his transfer (how much experience do you get sitting on the bench at Real Madrid?). I was against his inclusion in the starting XI (because it meant Taiwo was on the bench). But, I'm in the minority on this issue. The fans love him and I'm pretty sure Deschamps wants to have his babies. There is a lot of respect between the two (manager and player). After only being on the team one year, he was considered as a potential captain and sometimes he does wear the arm band.
Most of the time, my criticisms of him (slow, emotional outbursts, selfish) are proven correct. But, in Europe, he really does put on a good show. He has a knack for scoring goals on set pieces. I actually think his talent for scoring is greater than his ability to defend. When he's good, he's great. When he's bad, he's a fucking liability.
9. Predictions for the match and the away leg?
I think it will come down to away goals. Other than that, I'm too superstitious to make any sort of specific predictions.
10. Give us three reasons why Reds should visit Marseille?!
1. Good food
2. The atmosphere at the Velodrome is supposed to be amazing. If you saw what we did at Stamford Bridge (were Chelsea fans ever there??)
3. To support your team – trust me – they will need it!!!!