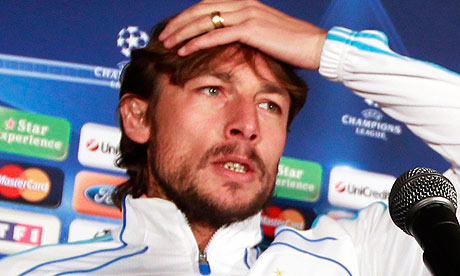 AUTHOR: – Doron
The Champions League returns after a winter break and throws United straight into a tough away trip to Marseille in the first knock-out round. For Evra and Obertan this is a return to their native country and for Gabby Heinze he faces his former employees. Both sides have important players missing but United will be on the hunt for that elusive away goal.
United's record in France isn't great but isn't bad. Twelve competitive games have been played on French soil with four won and only two defeats. Against Marseille specifically, the one meeting the two sides have had at the Stade Velodrome went in favour of the French team as they won 1-0 back in October 1999 – it was United's first Champions League defeat since lifting the trophy in Barcelona (NB – United lost in the August before in Europe against Lazio in the Super Cup).
This time round United face a Marseille side managed by former French international and Chelsea player, Didier Deschamps. Marseille are going well in the league, sitting 3rd but only 3 points off Lille who sit at the top. Marseille's success at home this season (P12 W7 D4 L1) has been built on a strong defence that's only conceded 9 goals (20 in total in the league, the second best defensive record). Marseille come into the game having beaten St Etienne 2-1 on Saturday – the third win in a row and a result that stretches their unbeaten run to six games. Their last defeat came away at Evian TG in the CDF but before that you have to go back to the 5th December 2010 for their last league defeat.
In Europe this season, Marseille qualified 2nd in their group behind Chelsea, winning 4 of their games and losing 2. At home, they lost their opening game against Spartak Moscow before going on to beat MSK Zilina and then beat Chelsea. Marseille's excellent league defence stretched into Europe too as in their 6 games they only conceded three goals (and scored 12).
Like United, Marseille have their own injury problems. Star striker Andre-Pierre Gignac is out for two weeks with groin trouble whilst fellow forwards Loic Remy and Brandao face late tests with neither likely to be risked if there is considerable doubt although Remy is the more likely of the two to play. The big plus for the French team is that Valbuena is likely to play after injuring his knee back in January. He's been a key player for the club this season and has been linked with United.
Expect Marseille to line up in their usual formation of 4-5-1/4-3-3. In Mandanda, their captain they have a talented but erratic goalkeeper who some fans have suggested United should be looking at in the summer. Bar Valbuena, key players for them are Mbia – a strong defensive midfielder who has been converted into a centre back; and Lucho Gonzalez – a talented elegant midfielder who'll pull the strings for Marseille. Charles Kabore is a player I personally like and think is underrated – he's a tough tackling midfielder who breaks up play very well, he's just turned 23. Another youngster to keep an eye on is 21 year old winger/forward, Andrew Ayew. He made his debut for club and country (Ghana) aged just 17. He's already played 29 international games and after a good loan spell last year he's come along well this year for Marseille. He doesn't score as many as he should but he's very fast and direct.
Much of the attention tonight will no doubt be on Gabby Heinze who left United in the summer of 2007 in ugly circumstances. He quickly became a fan favourite due to his no nonsense style but as soon as he and his agent tried to engineer a move to Liverpool the love was lost. In the build-up to tonight's game, Heinze has said he regrets leaving United and how he left United. Ferguson has said he doesn't hold a grudge but blames the agent. Evra believes Heinze will get a good reception in the second leg at Old Trafford but I can't see that happening. You can discuss Heinze on the forum.
Enough on Marseille…onto United and my predicted line up:
I feel confident that United will play the 4-5-1 formation that generally has suited the side well away from home in Europe. Not to mention that it would show Marseille the respect they deserve by matching them. On the injury front, Ferdinand, Evans, Anderson, Park, Giggs, Valencia, Owen and of course Hargreaves are missing – leaving the squad short of options out wide.
Edwin in goal is a formality but there is some discussion to be had over who will play in the back four. I've gone for the defensive set-up that did so well against Man City. With Rio and Evans out it's a big test for Smalling. I could understand playing Brown or O'Shea at centre back for experience sake but Smalling looked so assured against City. Ideally Rafael will play at right back but should Smalling start he probably could do with an experienced head either side of him and hence O'Shea is the man I've picked to start there.
The midfield somewhat picks itself in the middle. With Anderson injured, Carrick, Fletcher and Scholes should start and be able to keep the ball well away from home. It would be a shock if anyone else came into the central area. Nani will start on one wing with Rooney likely to be asked to play wide on the other. There have been some fans suggesting that Obertan's presence at the press conference yesterday may see him start out wide giving natural width. It would be a surprise to me though especially as I think it's in United's interests to have both Rooney and Berbatov starting on the pitch. I think Berbatov will play as a lone striker. We know he can keep the ball well and naturally he likes to drop deep and drift wide which may see him rotate with Rooney a bit. As part of the travelling squad, youngsters Ryan Tunnicliffe and Joshua King are in Marseille too but don't expect them to be involved!
United are top of the Premier League and have suffered just two defeats all season – one in the league at Wolves and one in the Carling Cup at West Ham. The clubs away form has been heavily criticised with just three league wins from twelve games (16 goals conceded); but in the Champions League it's been much better. Three games away in Europe this season have all been won with five goals scored and none conceded. United's strong defence has only conceded the one goal in all six group matches – this helped see United top their group with 14 points.
This season is United's 22 in Europe's top competition. 16 of those times United have got past this first knockout stage and incredibly on 11 occasions United have made it to at least the semi-final stage. The experience United have at this stage of the competition, particularly under Ferguson is invaluable and should help tonight. Certainly the intimidating atmosphere of the Stade Velodrame would phase teams with less experience. The Stade Velodrome's noise could work in United's favour tonight – often this season they have got on the back of the home team if they aren't winning. Certainly expect Evra to be targeted – he played for two other sides in southern France.
I think this game is much tougher than it first seemed when the draw was made. With both sides missing key players it could be quite an even contest and a score draw certainly wouldn't be a bad result. With that in mind, I'm going to predict a 1-1 draw.
You can share with us your thoughts ahead of the match and your favourite Champions League matches against French opposition or knock-out moments on the forum.
AUTHOR: – Doron