Manchester United vs. Crawley Town Match Preview (FA Cup)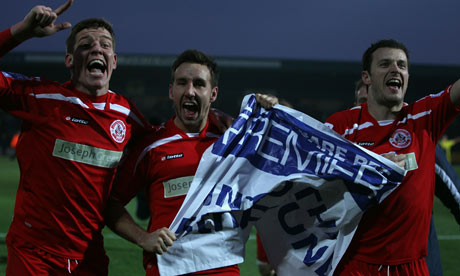 AUTHOR: – Doron
There's a place in the quarter finals of the FA Cup available as United host non-league Crawley Town. This is a new fixture for United in competitive football as Crawley will be the 205th team they've ever faced. Is a shock on the cards?
Crawley Town can potentially cause the biggest upset in the FA Cup ever. United are 93 places about the Blue Square Bet Premier team but do have experience playing against lower league teams having faced Burton Albion and Exeter City in recent years.
Crawley have built up a reputation for being aggressive, cocky and having a care-free attitude towards larger teams. In a Garry Cook style, manager Steve Evans (a United fan) has announced that his side will cause the "biggest shock the world has ever seen" and said after, "I think that we are genuinely one of the teams that could possibly get a positive result there". To get to this stage Crawley have already played 6 cup games, beating Newport County, Guiseley, Swindon (with the help of a replay), Derby and Torquay.
For a non-league club, Crawley have been able to spend as much as the whole of League 2 combined in transfers. So much so, that they are 2nd in the Blue Square Bet Premier, 3 points behind AFC Wimbledon but with four games in hand. In the league, Crawley have only conceded 20 goals in their 28 games, the best defence in the league. It's been in front of goal though that one of their players has made a name for himself. Matt Tubbs, once of Bolton has scored 25 league goals in the 27 games he's played this season. He got the winner at Torquay to take his tally to three in the FA Cup. His excellent goalscoring has seen him linked with various Championship clubs.
Crawley only have a few players unavailable for this tie – midfielder Scott Neilson will miss the game having failed to recover from a foot injury. Pablo Mills was rested for Tuesday's draw against Wrexham but is expected to return, whilst John Dempster and Josh Simpson are both cup-tied having played in previous rounds for Kettering and Southend respectively.
Crawley's form this season has been excellent. In 2011 they are unbeaten and will come into this game having drawn away at Wrexham on Tuesday night. Their last defeat came over 2 months ago against Dartford in The FA Carlsberg Trophy. Before that one has to go back to the 16th October to find their last league defeat. Progress to the quarter finals will see Crawley become the first non-league side ever to reach that stage of the FA CUP (NB in 1978 Blyth Spartans were in the hat for the quarter finals but only because they drew their 5th round game, they didn't win the replay).
Enough on Crawley town…onto United and my predicted line up:
Fergie has either given it all away or told a massive lie in the build up to this one. In this morning's press conference he pretty much named his starting XI but even so there are a few question marks over the formation the team will play and just who might start where.
In terms of who won't play; Evans, Ferdinand, Park, Hargreaves and Valencia are out. Valencia is though due to start training with the first team soon. Michael Owen would have started but he has a groin injury and Fergie has said the club have no need to risk him in this game. Edwin, Giggs and Scholes are likely to be rested altogether along with other first team players.
Lindegaard is expected to start in goal with Kuszczak seemingly demoted to 3rd choice. Ferguson has confirmed that Rafael, O'Shea, Brown and Fabio will all play but hinted that Smalling could too. To me it seems strange that the right back who'd start against Marseille will play as the risk of injury isn't worth it. Similarly, if Rio is not going to be fit for Marseille, it makes little sense to play Smalling. Should Smalling play and partner Wes it leaves three genuine options available: 1. Rafael goes to right back with Fabio left back and O'Shea is rested for Marseille; 2. O'Shea goes to right back with Fabio left back and Rafael is rested for Marseille; or 3. Rafael goes to right back with O'Shea left back and Fabio plays either on the left wing or as a central midfielder – a position he's been playing in lately for the Reserves.
Like Ferguson named his defenders, he also named the midfielders – Carrick, Gibson and Anderson are likely to start in the middle with Obertan and Bebe as wide forwards. Chicharito will play as a lone striker. Alternatively, one of Bebe or Obertan may play with Chicharito in the middle and one of the central midfielders could be asked to play wide. Again, with Marseille coming up it would make sense to keep one of Carrick or Anderson free if United are going to play three in the middle in France too. Many fans will hoping to see some of the kids named on the bench for this one – Joshua King, Ravel Morrison, Paul Pogba and Ryan Tunnicliffe all stand a decent chance after impressing in recent weeks.
United come into this game after a huge 2-1 victory over Man City last weekend. Untied have won five of their last six games and are searching for an 8th straight home win in all competitions. United are in fact unbeaten at home in 22 games, stretching back to the visit of Chelsea last April. So far to get to this stage they've overcome Liverpool and Southampton. No team has won the FA Cup more than United and they'll look to extend that record to 12 wins this year (and a first since 2004). Last year's cup-run ended before it had started with a 3rd round home defeat against Leeds – the one defeat to lower league opposition in the last 30 lower league ties. Burton and Exeter both managed to take United to replays in 2005 and 2006 – United will be hoping to get the job done inside 90 minutes tomorrow.
Despite the magic of the cup, I think United will be too strong for Crawley with fitness levels in particular being the key difference. I therefore predict a 5-1 win for United.
You can share with us your thoughts ahead of the match and your favourite FA Cup moments from games against lower league teams on the forum.