Manchester United vs. Aston Villa Match Preview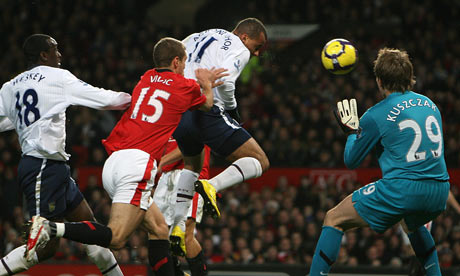 AUTHOR: – Doron
A resurgent Aston Villa come to Old Trafford having not lost a game in nearly a month. Whilst they're still closer to the bottom of the table than the top, the club under Houllier are finally starting to move in the right direction. Meanwhile United's unbeaten league run continue and their home form is pretty ominous for the visiting Villa side.
Villa fans could be forgiven for feeling frustrated with how this year has panned out. They finished 6th last season with a very respectable 64 points. We're now five games past the half way point of this season and Villa haven't even got half the number of points and find themselves in 13th. The position doesn't really tell the whole story for Villa have been lower this season and are, whether they like it or not, on the fringes of a relegation battle (as are so many teams this year). The man in charge at the moment, Houllier is an ex-Liverpool boss, but despite his allegiances with Merseyside, there seems to be a fair amount of respect for him from Reds and he's certainly well-known as being a close friend of Fergie.
What to expect from Villa? The temptation must surely be to revert to a 5 man midfield that so many teams seem to play at Old Trafford. Villa though have favoured a more traditional 4-4-2 lately and whilst this could open up the game – suiting United – I believe that attacking United is often the best way of defending against them. Villa will for sure play with their natural width – Downing and Young have both had good seasons and top the club's scoring chart (Bent is their top scorer but scored 11 of his 12 goals for Sunderland). Villa's record at Old Trafford in the Premier League isn't great. They score a goal every other game and have only won once. That win came in their most recent visit, a little over a year ago – a sole Agbonlahor header won a game which United dominated but created few chances.
I stated before that it's nearly a month since Villa last lost. Their last defeat was against Sunderland at the start of January. This recent run is a contrast to a forgettable December which saw them lose four out of 5 games. Their most recent league form shows two wins – good results away at Wigan and home to Man City; as well as a draw against rivals Birmingham. Their league position directly reflects their most recent form – they are 13th in the form with 8 points from a possible last 18. Their away form has been shoddy though. Only twice have they won away from home and they've lost 7 of 12 games. Worryingly, no team has conceded more goals away from home. The task facing Villa seems even bigger when I point out that United have won 11 from 12 at home scoring more goals than any other team – nearly three a game.
Villa will definitely be without youngster, Baker who is suspended. They have a few injury doubts too. Key player Agbonlahor has a hamstring problem and new signing Makoun had his debut cut short when he came of with a minor thigh injury. Villa brought in Michael Bradley on loan yesterday and it's unclear if he'll feature or not. Record signing Darren Bent will return though after being cup-tied at the weekend. Villa were able to rest players such as Collins, Petrov, A Young and Downing at the weekend when they beat Blackburn.
Villa's goalkeeper, Brad Friedel is like Edwin one of the league's older statesman; and tonight, if he plays he will become the oldest player to have played for the club. Villa do in Houllier have a manager who's had some success against United. Only Wenger has beaten Ferguson more times than Houllier (9 for Wenger, 5 for Houllier). Finally, Villa have dropped 14 points this season having been in a winning position – one of those games was against United. They'll be hoping for better things tonight.
Enough on Aston Villa…onto United and my predicted line up:
This almost feels like one of the easiest line-ups I've had to predict. That said, there's usually a surprise in there nowadays and as I'll explain it may not be totally clear-cut.
Edwin in goal is simple, as should be the back four. Rafael, Ferdinand and Vidic are all set to return from injuries and Evra is back with United following a bereavement. Fabio was taken off with a minor injury against Southampton but nothing has been said about him being injured so bar Gary Neville who does have an ankle injury, there is good back up in the form of Smalling, Evans, Brown, O'Shea and Fabio all fit to take a place on the bench.
Giggs's influence off the bench should come to an end. It will be a big surprise if he doesn't start on the left with Nani on the right. After two away games where United have tried experimental systems a standard and tried 4-4-2 should be the formation of choice tonight. Who starts in the middle is one of the small areas for discussion. I chose Fletcher and Anderson – an energetic midfield that can defend and attack. Carrick it seems is a doubt still following his leg injury and Scholes played 90 minutes at both Blackpool and Southampton. I'm also not sure Scholes would be a wise choice in a 2-man midfield against an energetic Villa side. Gibson is fit and may take a place on the bench. Hargreaves and Valencia are both making progress but are still unavailable. Park is back having been at the Asian Cup but I don't think he'll be involved as his fitness is assessed and he has some time off.
The second discussion area is upfront. Having both not featured against Southampton, I think it's safe to assume that Berbatov and Rooney will start together. To me this seems somewhat harsh on Chicharito who has played very well in the past two games. Certainly it would be a just reward if Chicharito is picked.
United remain to and have opened a small 5 point gap over Arsenal. The next game is on Saturday away at Wolves and I don't believe there is any need to rest anyone tonight with a view to looking ahead to that one. There will be opportunities for players to have a break after the Wolves game and probably the weekend of the Crawley FA Cup tie.
Recent form shows United sitting top of the form league with 14 points taken from a possible 18 in the last six games. At home, the record is even better – played 12, won 11, drawn 1. Villa will of course be trying to remove the "unbeaten" tag from United – not that the players or staff seem too bothered by this unbeaten league run. Villa will try to get a second consecutive league win at Old Trafford – a ground that has always had more luck for United than Villa. In the two most recent seasons, games have not been easy against Villa. Certainly the 08/09 match will forever go down as a classic as 17 year old Macheda scored off the bench on his debut (see video below)
For those interested in the unbeaten run and how it compares to Arsenal's at the same stage, United are four points down on Arsenal's 'invincible' squad of 2003/04. United have 14 wins and nine draws from 23 games, compared with the Gunners' 16 wins and seven draws. Avoiding defeat tonight will see the run come to an incredible 29 Premier League fixtures dating back to April 2010, matching United's best-ever top-flight run set between December 1998 and October 1999. Finally in Dimitar Berbatov United have the league's top goalscorer and in Nani the league's top assister.
I think that the fitness of Makoun could be key for Villa and how they set up. I do expect a United win but the Villa side has pace in it, something United tend to struggle against. Therefore I don't think we'll keep a clean sheet and I predict a 3-1 win for United.
As promised, here are the highlights from Villa in 08/09 and that goal:
You can share with us your thoughts ahead of the match and your favourite moments from games at home to Aston Villa on our forum.