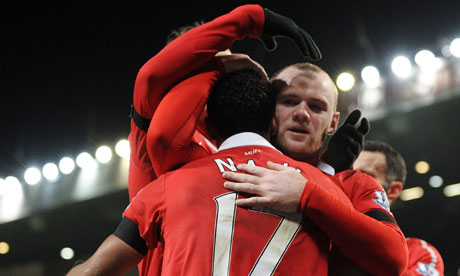 AUTHOR: – Doron
Aston Villa's poor record continued at Old Trafford showed no signs of changing as Man United swept them aside in a 3-1 win (a result that echoes our predicted score in the match preview for a change). Only last year a resolute Villa team kept United out at Old Trafford to win one nil but this time round United ensured that their home record for the season remained almost perfect – it's now 37 points from a possible 39. Two goals from Wayne Rooney and a thunderous effort from captain Vidic also meant that a club record was equaled – the longest unbeaten run in the top flight. After tough away games at Blackpool and Southampton it was a welcome relief that last night was much more of a formality.
Talking Points
Early goals
Wayne Rooney's strike within the first minute of the game was the fourth time in the past five home games (all competitions) that United have scored within the first five minutes. In each of those games United have gone on to win with comfortable and convincing performances. The early goal is something not really associated with United in recent years. It's certainly had a settling effect of late and forced our opponents to to rethink their tactics and game plan early on. It certainly seemed to unsettle Villa who struggled to impose themselves on the game. The fact Villa were chasing from the start allowed United to play a lot of football on the counter-attack (it's little surprise that Villa played over 100 more passes than United as they tried to break a solid defence down); exactly the style that suits the club.
The best thing about the performances recently is that bar the Liverpool game, United have rarely been content with a single goal lead. The football played last night was very positive. It's often been thought that United need a shock or a kick to actually play – going behind often brings out the best in the team. However at home this year we've seen United take the initiative and entertain.
Nani
One feature of Nani's game that can infuriate is his inconsistency when shooting. Recently he's been having efforts on goal but getting few on target. His poor shooting was at it's worst against Birmingham recently when 6 out of 8 efforts were off target. Last night however Nani was much less wasteful in front of goal. Despite not scoring he made Brad Freidel pull off a few very good saves. Here's Nani's improvement in front of goal in his last four league appearances (NB Spurs isn't included as he didn't have a single shot in the game):
The area of Nani's game that was impressive last night was his movement. Nani likes to cut inside but he's also disciplined at sticking wide when he needs to. He combined an all-area performance with accurate passing – only 5 of his 48 passes were unsuccessful (see diagram below).
What's intriguing is that 43% of Nani's play last night was in the centre of the pitch. Ronaldo was famously released by Ferguson with a free role to roam the centre of the pitch as well as the wings and this brought out the best in him. Is it possible that this could bring out the best in Nani? We've certainly seen signs of it this season.
Rooney's contribution
Much has been made on Wayne Rooney's lack of goalscoring in the past few weeks. Sir Alex Ferguson even admitted it was probably "getting to him". Striker's are naturally judged on goals and after a bumper 26 goal haul in the league last year some criticism of Rooney's meagre 2 goals before this game was warranted. Whilst many will talk about Rooney's brilliant finish and control for his first goal; it was his second that stood out for me:
Not only was the cross from Nani excellent but the fact Rooney was in the six yard box in between defenders was a very positive sign to see. Even more so was his deadly instinctive finish – a real striker's goal. Rooney's all round contribution last night was outstanding. Whilst his passing could have been sharper in the final third of the pitch he was running around with a confident swagger. His two goals and one assist mean that in 15 league games this season, Rooney has now scored 4 goals and assisted 10 – he's contributed to 14 goals in 15 league games. This strikes me as a very healthy return for a player who is yet to hit close to his peak in terms of form.
Match Conclusion
Manchester United produced a very good performance to see off a spirited Aston Villa side. Unlike recent games there was no drama or necessity for United to come from behind to win. An early strike from Rooney meant Villa would always be chasing the game. Van der Sar's vision and accurate pass was taken down well by Rooney who smashed the ball past Friedel from 20 yards. The second goal game on the stroke of half-time. Good work from Nani down the right created space for him to produce a brilliant swerving cross at pace that Rooney was able to turn home from close range. Villa did come back into the game and were rewarded for all their possession when Stewart Downing broke clear and played in Darren Bent to slot the ball into the goal with John O'Shea napping. A two goal cushion was restored soon after though. A cross wasn't cleared by Villa and Rooney laid the ball off for Vidic of all people to thunder in a curling effort. United arguably could have won by more had Friedel, on a record-breaking appearance (becoming the oldest player to play for Aston Villa), not had a typically fantastic game.
Next up are Wolves away on Saturday. Wolves are struggling at the wrong end of the table but will try to play themselves into some form before the United game when they travel to Bolton tomorrow night.
strong>AUTHOR: – Doron