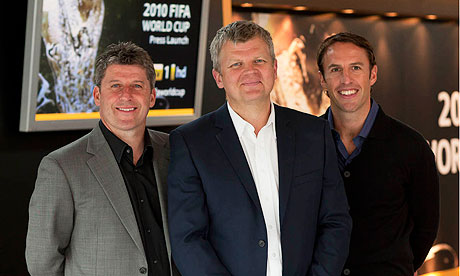 I seem to recall a programme on ITV that was hilariously entitled "Andy Townsend's Tactics Truck". Now, I don't know what is more funny – the inclusion of a big clunky machine associated with the intricate details of the beautiful game or indeed a big truck included within the title. You may or not be aware that we have statistics section on the website that aims to records all important stats from the current season. Now, i'm no brand expert but I doubt I can find anything as witty and innovative as the Tactics Truck – so lets just label it up Stretty Stats shall we?

United have faltered in front of goal in 2010 compared to the 2009 and 2008 figures. in 2008 United smashed in 131 goals (although were playing in the World Club Championship and gad a much better FA Cup run), in 2009 that figure dropped slightly to 127 but in 2010 United notched up 115 goals. Again, its not really surprising considering an early exit from the FA Cup combined with quarter final elimination at the hands of Bayern Munich limited the amount of games in which United had an opportunity to find the back of the net. Below is a graph showing the slump in 2010 compared to the previous two seasons:
No surprise that United scored the most goals in the Premier League, 80 in all, with the Champions League in second, 18 in all, and the League cup last with 14 goals:
United notched up 55 goals at Old Trafford and 25 away from home:
In the Champions League it was a little more equal with the eighteen goals split equally between home and away (nine and home and nine away). The old favourite that United are a second half team was most certainly backed up in 2010 with United scoring seven goals before half time in the Champions League and eleven post half time. The Premier League had a very similar feel to it with 31 goals scored before half time and 49 post half time (see graph for Premier League below):
Lastly, could we do a stat without taking a look at Fergie time? So goals scored in the last 5 minutes and beyond (injury time) for 2010 was 13! That works out at a measly 11%! So next you get some clown in the pub talking about all the late goals United score, push your glasses up your nose and scoff that only 11% of our goals come after 85 minutes, actually don't – it might make you look worse.