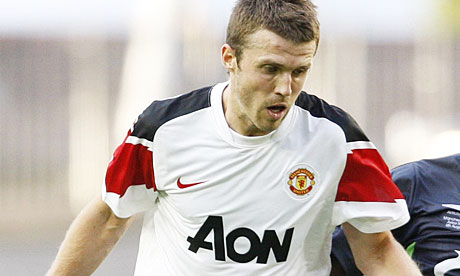 Much has been made of United's midfield this season. Scholes eulogised, Anderson rejuvenated, Fletcher out of form and players constantly being suggested as signings who'd improve the team. Carrick's someone who's only ever really talked about when things aren't going right for him. Right now, he's the most consistent performer in the midfield and over the Christmas period, he's been both disciplined in his role and very good.
It's quite easy to understand why Carrick's lack of popularity amongst Reds exists – that's not to say he's unpopular, just he's rarely anyone's favourite player. Fletcher has come through the club's Academy system; Scholes is Scholes; Anderson and Hargreaves are cult-heroes whilst it would be fair to say that Gibson is the least popular of all the central midfielders. There are four more popular central midfielders than Carrick and one of them sadly has only played 6 minutes in 2 and a half years. Yet I think at the moment Carrick is doing a very important job for the team and that deserves praising.
What I want to specifically draw attention to Carrick's discipline as a central midfielder. Far from a flamboyant box-to-box midfielder, Carrick has lately been doing much more of a holding role à la Makelele. This has coincided with Anderson's return to the team as the box-to-box midfielder. Since Anderson's return to the side against Blackburn, both have been ever present. Carrick's last game without Anderson was at home to Wigan. His passing chalkboard from that game (below) shows a player covering most of the central area of the pitch from goal to goal. Noticeably there are quite a few occasions where Carrick is higher up the pitch.
Anderson's return as a box-to-box midfielder required someone to be more disciplined in holding a deeper position. Fletcher's recent form has been patchy and with Scholes injured, the man selected to hold a deeper lying role was Carrick. Given that Carrick's signing was dubbed as Roy Keane's replacement it's ironic to see Carrick deployed as a deep lying defensive midfielder – a position so often wrongly associated with Keane, who in his pomp was, like Scholes, a box-to-box midfielder.
Anderson's return was against Blackburn in the 7-1 win. Even the most defensive minded of players played with attacking flair in that match but even so, as Carrick's passing chalkboard from that game shows (below) he was primarily in a much deeper more disciplined position. The exception to that can clearly be seen with the red, unsuccessful passes he attempted higher up the pitch.
The difference in positioning between Carrick and Anderson that game is clearly shown with this heatmap (below). Whist both occupy the central area, Anderson is the more advanced of the two whilst Carrick holds back.
A better comparison may be to compare Carrick's positioning in the game against Wigan with his own positioning in the game against Blackburn. See the heatmap below.
Carrick's regression back to a deeper position in arguably the game where one would expect to see him further forward – the Blackburn game – emphasises the change in role he's been asked to do to accommodate Anderson. One reason for his higher positioning against Wigan though may well have been that United were playing a team with men sent off, but even so, with United so dominant against Blackburn he would have expected to have been equally as high up the pitch.
The Arsenal game I thought was a representation of United perfectly implementing a set of tactics. At first when I saw Carrick's passing chalkboard for this game (below) I was surprised. Not so much by the amount of red, but by how scattered it was. However upon checking out Anderson's and Fletcher's it became clear that this to an extent was also an example of a more disciplined job. Although I haven't included Anderson's and Fletcher's – Anderson's shows him very high and Fletcher's sees him spending most of his time on the right, helping to cover for Nani. On the left, Park drifted inside a lot. What Carrick's does show is he primarily stuck to the centre of the pitch and in a deeper position. Although it's less obvious than some of the other examples I have.
There is no need for me to go into the same detail to explain Carrick's role and position from which he's made his passes in the past three games. It's clear from looking at the Sunderland game (below), Birmingham game (two down) and West Brom game yesterday (bottom chalkboard) that he is occupying a very disciplined position in a very specific area of the pitch. Far from the box-to-box midfielder he may have been signed to be, it would seem that Carrick has played very well in this deeper role. Importantly, as well as helping his own form, this new role has helped Anderson to find a place in the team and some form.
Carrick's game is very much based on passing. He has a good range and when at the peak of his game he's able to play some "killer" passes that can split defences. Often a deeper role can suit a passer. It's certainly helped Scholes to prolong his career. I mentioned Makelele before. Not for one minute does Carrick do the same job that Makelele so brilliantly did for Chelsea but Carrick has added to the defensive side of his game and is often the anchor man. When needing to spread the play from one side of the pitch to the other, the team have looked to pass it through Carrick in Scholes's absence.
It may just be a coincidence that United have taken a very solid 13 points from a possible 15 since Carrick's move to a deeper position. Over the Christmas period United have nearly taken maximum points and I believe that this has as much to do with Carrick as it does any other player. I started by suggesting that Carrick is often overlooked when it comes to praising players, but I think the subtle job he's done has been absolutely vital to United and it will be a bold call to try and leave Carrick out when Scholes is fit again. With so much talk about United needing another midfielder and then Anderson seemingly solving that problem, it may well be Carrick who holds the key.