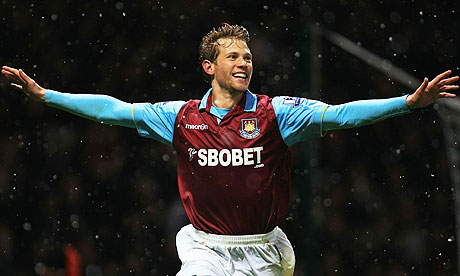 Carling Cup holders Manchester United were unceremoniously dumped from the competition by the ruthless Hammers; a comprehensive 4-0 scoreline did not flatter the hosts. Former United player Jonathan Spector scored his first goals in English football and Carlton Cole added 2 goals after half time to crown a historic night for the London club.
West Ham have previous; having put United's league title chances to the sword in 1992 and 1995, this defeat ends the Red Devil's chances of winning a domestic cup for the third consecutive time for the first time ever. While it is not quite as painful a conclusion as those early 90's late season setbacks, it did raise some pretty important talking points regarding the strength in depth of the squad at Sir Alex Ferguson's disposal.
Before such an assessment, due respect must be given to the Hammers. Spector will probably speak of his "hat-trick", having deflected Victor Obinna's shot in on 16 minutes – unfortunately for him, the American was offside. By that point United (the visiting United, that is) had looked in the ascendancy. O'Shea worked a move well into the feet of Obertan in the 7th minute – the Frenchman created space and shot across goal, but Robert Green pulled off a superb stop to push the ball onto the post. With Chicharito pouncing on the rebound, James Tomkins smashed the ball away from danger. 2 minutes later and Obertan, from the opposite side, fired an inviting cross shot across goal – that early flurry was as good as it got for the visitors.
Obinna played so well in the first half that John O'Shea was switched to the opposite full back side; Sir Alex has never been one to make first half substitutions based on tactics, but this was as close as it got, but not before the young Nigerian had already done the damage. In the 22nd minute he showed he bared no grudge against Spector for the disallowed goal mishap by turning provider after turning O'Shea inside out; Spector had drifted in front of Fletcher and headed in. 8 minutes before half time and the combination worked again; Spector, again, criminally untracked by midfield, went on a mazy run and played the ball into Obinna – Fabio got a block in, but on trying to find his feet, slipped, allowing Spector plenty of time to slam the ball in from 10 yards.
Bebe was impressive in the last round of this competition but looked gobsmacked by the snowstorm conditions; his removal at half time for Macheda indicated a switch to 4-4-2 but the lack of impetus – alarming, for such an experienced midfield – was exposed in the 56th minute as Carlton Cole sealed the result. Obinna was chief tormentor again, playing the ball from wide left into Cole, who had been allowed to get goalside by Jonny Evans, and the England forward headed downwards and in.
Such was Obinna's form that Fabio was replaced on 65 minutes by his brother Rafael; but even the player who has been the best player in the right back position in the league this season was embarrassed by the young winger seconds after his introduction. Obinna's ball was again duly converted by Cole – meaning he had played a key role in all the goals.
United never really imposed themselves on the game at all and a weak defence was not protected by a limp midfield. With Darren Fletcher looking worringly off colour and Ryan Giggs looking like he was still suffering a birthday hangover (though still undoubtedly our best set piece option), it was left to Anderson to at least try and add some impetus. Unfortunately, Obertan is not yet Nani, and Bebe is not Berbatov, while the visitors clearly missed Carrick's growing influence.
One swallow doesn't make a summer; just as United's 7-1 win at the weekend doesn't mean we'll romp to the title, this 4-0 win – while fatal for this competition – doesn't mean all the players should be sold. There were bad performances all over the pitch but it is not necessarily endemic; John O'Shea, for example, had possibly his worst game for the club but was the league's most consistent right back in 2008/09, so his fall from grace is no more than to useful utility player; which, to be honest, is no more than what was expected. Jonny Evans, it is true, is suffering from a lack of self confidence, not helped by Smalling's elevation to first choice reserve, and maybe with this competition out of the way he might benefit from a loan spell. Kuszczak, while not particularly at fault for any of the goals, did not inspire confidence and there was the nagging feeling he could have done better – not really the term you want to be using for a goalkeeper, but then again, he has the very demeanour of someone killing time.
As for the rest? Well, Sir Alex remarked after the game that the players would learn from such a humiliation, and perhaps patience and support is the answer. History suggests it's just a one off; that's not to say that the performance should not be treated with intense scrutiny – it clearly should – but sometimes, too, you have to hold your hands up and say it was the opposition's night. Well done to West Ham; now go add to Arsenal's 6 year misery, please.
Ratings : Kuszczak 4, O'Shea 3, Smalling 5, Evans 4 (Brown), Fabio 5 (Rafael 5), Bebe 4 (Macheda 4), Fletcher 4, Giggs 5, *Anderson 6, Obertan 5, Chicharito 5