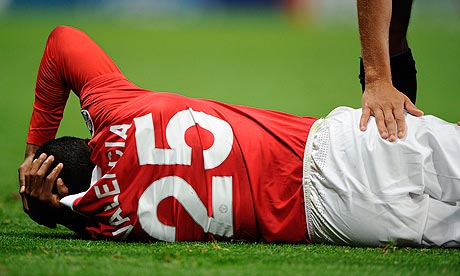 Some fantastic news for Manchester United today. Antonio Valencia is ahead of schedule to make his return from injury. Also in the news, Sir Alex targets German keeper Manuel Neuer, Wes Brown wants to make the most of his time left at the club, and Pep Guardiola wants to succeed Sir Alex.

Valencia winning fitness fight – Daily Telegraph
Certainly the best news of the day. Antonio Valencia is now expected to return ahead of schedule. Valencia suffered what was expected to be a season-ending injury during the match against Rangers in September, but the Ecuadorian winger could now be back in the first team as early as January. In fact, Valencia is already walking without crutches thanks to NASA technology. An underwater treadmill, developed by NASA to recreate the weightless feeling in space, has been important in the 25-year-old winger's rehab. United have managed to cope in Valencia's absence, but fans will be eager to welcome him back to the side. Since moving to Old Trafford in 2009, Valencia has become a key player using his pace and crossing creating numerous chances for the squad.
Brown still giving his all – Sky Sports
Wes Brown claims that he still values every match he plays for Manchester United. The 31-year-old defender is expected to start in today's Carling Cup clash against West Ham, but he admits he is unsure how much longer he'll remain at Old Trafford. Brown has been a one-club man up to this point in his career, but with his contract expiring at the conclusion of next season there is a possibility he may have to move on. I'm a big fan of Brown, and would certainly hate to see him go. It's hard not to love these one-club players, and with him having made it this far it'd be sad to see him not finish with United. He was a key player to our European Double in 2007-08, but injury and the emergence of Rafael has seen his chances become limited. He knows what it means to plays for this club, which can clearly be seen in this article. This is a quality you can't buy, and it'd be a shame to lose such a loyal servant to the club.
Pep wants United job – Daily Mirror
Pep Guardiola's Barcelona embarrassed Real Madrid 5-0 yesterday, and now he's reportedly interested in taking the United job when Sir Alex calls it a day. The opposing El Clàsico manager – Jose Mourinho – is widely-believed to be Sir Alex's heir, but Guardiola is another fantastic candidate for the job. Chelsea wants the Barcelona man to replace Carlo Ancelotti, but The Daily Mirror reports that Guardiola will turn down any offers from the London club with his sights set on the Old Trafford hot seat. Guardiola's credentials to succeed Sir Alex are certainly impressive. He is the youngest manager to ever win the Champions League, although unfortunately that came at United's expense. And in 2009, Guardiola collected all six titles his Barcelona team competed for – a feat never before accomplished. Guardiola is in the final year of his deal at Barcelona, and may choose to move on at the conclusion of this season. Should Guardiola take over at Old Trafford one day, he hopes Sir Alex will remain at the club in an advisory role.
Manuel Neuer wanted by Sir Alex – Daily Mail
Another day, another goalkeeper linked with United. The deal to bring Anders Lindegaard was completed only last week, but the press continues to link United with moves for new goalkeepers. Yesterday it was Atletico Madrid's David De Gea, and today it is German shot stopper Manuel Neuer. Sir Alex has hinted he may sign another goalkeeper as he looks toward life without Edwin van der Sar. Neuer is believed to be unsettled at Schalke and looking to move on in the summer. De Gea and Neuer would both be fantastic acquisitions for the club, and both would be long-term signings at 20- and 24-years-old respectively. Should Neuer arrive at Old Trafford, the club would have two international goalkeepers competing to be Van der Sar's heir. Certainly an exciting prospect.
Discuss all today's news and rumours in the forum
Follow Kyle on Twitter at KDill_MUFC