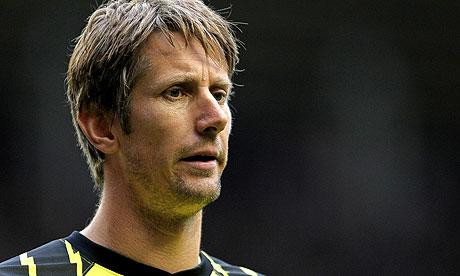 Edwin van der Sar has been a colossus player for Manchester United since signing from Fulham five years ago.  Sir Alex Ferguson has publicly acknowledged the difficulty in replacing Peter Schmeichel, after the Danish keeper left for Sporting Lisbon in the summer of 1999, and conceded that United should have since the Dutchman then.  The former Ajax man signed for Juventus  the day before Sir Alex made contact in 99 and United had to settle on Mark Bosnich, who was available on a free transfer.   Eric Steele believes that the Dutchman will hang up his gloves at the end of the season – but who do you think could replace him?

United have been linked with numerous keepers over the past few months, with a ludicrously absurd story linking Pepe Reina with a move to Old Trafford. Fergie will be conscious of previous history in recruiting goalkeepers after a legendary keeper leaves. He has also paid tribute to the ability of van der Sar, putting him in the same bracket as Schmeichel:
"I tried to replace Schmeichel, but that was very difficult. We went for Fabien Barthez and he did well for a while, but he then had his own situations, so we went for Edwin. We really should have gone for him when Schmeichel left, but [former chairman] Martin Edwards had an agreement with Mark Bosnich at the time that took the wind out of our sails. So we couldn't get Edwin, but I'd have loved to have got him then. He is different entirely to Schmeichel and you can't compare them, but there was a certain criteria to be a goalkeeper here which involved good experience, personality and also a good track record. Edwin has all of those qualities. He didn't cost us a lot of money, about £2 million, so he's right up there with my best signings."
I do agree with Ferguson about Barthez that he "did well for a while", but he made some horrendous blunders that costs United in big games. I still believe that he was at fault for at least two of Real Madrid's three goals in the 4-3 victory back in the spring of 2003 (Ronaldo's first and last if I remember rightly). I blogged two years ago about United's goalkeeper crisis and have to say that I maybe had my red tinted specs on a little and didn't really give credit to what a fine goalkeeper van der Sar actually is. My original blog was probably in defense of Fergie's decision to pluck Barthez, a World Cup winner, from AS Monaco and highlight his impressive debut season.
Reading the article in the Telegraph that discussed Fergie's late call to the Dutchman in June 99, it is clear to see that van der Sar was extremely close to a move to Old Trafford after leaving Ajax. His inevitable departure to Fulham in 2001, following the Old Lady's purchase of Gianluigi Buffon from Parma, saw United miss out on his signature again due to the impressive debut season of Barthez. Eventually Fergie brought the Dutchman to Old Trafford, despite using ten goal keepers in the previous six years. Bosnich, van der Gouw, Culkin, Taibi, Rachubka, Barthez, Goram, Carroll, Ricardo and Tim Howard. Sure, you could argue that five of those keepers were never first choice – but the consistency of van der Sar since 2005 has highlighted the quality of our number one over the previous ten keepers.
So to the candidates:
David De Gea – Only 19, Fergie and Steele reportedly went to Spain to watch the young keeper in action against Valencia last month. Possible target but expect Atletico to get numerous offers.
Manuel Neuer – Schalke keeper who established himself as Germany's number one in the summer. Long been linked with a move to Bayern Munich, the 24 year old is a less likely replacement for van der Sar.
Anders Lindegaard – Regarded as the heir to Schmeichel's Danish crown, although at 26 has only accumulated 2 caps. United scouts have reportedly been monitoring his progress closely over the past few weeks.
Maarten Stekelenburg – van der Sar's replacement in the national team and could well follow suit for United also. The oldest of the candidates and out of contract in the summer of 2012 – so could well come cheaply if Ajax believe he could walk for nothing.
Igor Akinfeev – Another player who's contract runs out relatively soon (Dec 2011) and could be tempted with a move to Old Trafford. The CSKA Moscow skipper and Ruissan number 1 has already experienced the atmosphere at United – and has been linked to a move away.
Hugo Lloris – French number 1, the 23 year old looks the less likely of all the candidates due to the high valuation fee (reportedly £25million) Lyon have slapped on him.
So, are there any keepers I have omitted? Are any of the keepers above likely to move to Old Trafford as van der Sar's replacement. If you were Fergie and could afford the transfer fee – who would you sign for United and why?