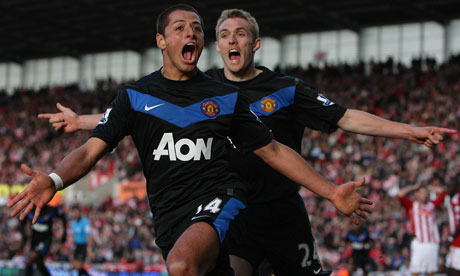 Welcome to the third issue of The Red Report, the round table discussion of all things Manchester United by your favourite United blogs: The Busby Way, Stretford-End, Bangalore To Old Trafford, ManUtd24, and Red Force Rising.
After a manic second week dominated by Rooney, things have settled down at Old Trafford and the attention has shifted on to one of our other strikers, Chicharito. Read on for some interesting thoughts on our rivals, Arsenal, and come to your own conclusions about why Wenger is now taking the Carling Cup more seriously.
The perfect response to a week all about Rooney was handed to us by Chicharito. Two goals and a man of the match performance at Stoke was followed by the winning goal in the Carling Cup against Wolves. We discuss the impact he's having at the club…
Chudi | The Busby Way: It's great to see him doing well, he looks like he really enjoys playing the game and we definitely need his goals with Rooney out of form/injured. He is showing a different range of goals scoring abilities ie heading, feet, tap ins etc
I have high hopes for him!
A few months ago I spoke of people placing too heavy an expectation on his shoulders and I stand by this he is still new to the club and the English game despite how he seems to have adapted, something that Dwight Yorke echoed this week.
Doron | Stretford-End: What a refreshing signing eh!? I can't help but be a tad seduced by his happiness and honesty. I was sceptical before the World Cup…another Tosic-esqe style signing. Without getting carried away he showed glimpses of something raw but good and then upon joining up with the United squad he's not looked back. He is so much better than I even imagined he could be. His movement and pace reminds me of a young Michael Owen; his positioning and awareness reminds me of Solskjaer; and the instinctive finishing which is applicable to both the players mentioned, has Ruud written all over it. A joy to watch, he seems to have an understanding with Berbatov. More more more please!
Siddarth | Bangalore to Old Trafford: The Buzz the Hernandez has created has been sensational to say the least, and it's timing couldn't have been any better. He's been a breath of fresh air to everyone after a torrid start to the season and the messed up Rooney saga. I dealt with his impact in my blog article here, his emergence should help revitalize our title campaign!
TG | ManUtd24: Honestly, I didn't see this coming. Before the season, I thought Wayne Rooney would come out and have another great season despite his failures in South Africa, and so, I expected United to continue with the 4-5-1, a system in which tends to Rooney thrive, with Chicharito settling for a place on the bench on most days. How I was wrong. In fact, being the cheeky little chap he is, he has found success on the back of Rooney's decline in form, and it seems like, whisper it quietly, we've found ourselves a new, somewhat quicker, Ruud van Nistelrooy.
Alan | RedForceRising: How can you not be smitten by this guy?!
He has been a breath of fresh air and the reason why, is because you can see genuine joy on his face when he plays football. His interviews always show him to be a humble guy, so it's been an absolute joy to see such a humble, smiley kid go out and kick so much arse on the pitch.
His pace is absolutely lethal, but it's his finishing that I am really amazed with. We haven't had a natural finisher like him since Solskjaer retired and it's great to have someone who is so instinctive with his positioning, as well as finishing in front of goal. Hicharito has made a great start scoring 6 goals in 11 appearances and I hope he can go on to have the best goal-scoring debut season since a certain Ruud van Nistelrooy.
Kyle | Stretford-End: I predicted our energetic new signing would get 15 goals this season, and I'm pleased to say I think he's going to surpass my projection. I honestly didn't foresee all these issues with Rooney, but it's given our beloved little pea an opportunity to establish himself in the side and he's done exactly that. There's no doubt Rooney is a star, but with Berbatov and Hernandez both in good form this season, there's a pleasant dilemma on Sir Alex's hands when Rooney returns. Chicharito now has six goals in eleven, four in the last four games, and three late game-winning goals. I hate to keep using the same comparison, but can anyone say Ole Gunnar Solskjaer?
Chicharito has impressed us all, I'm sure we'll be able to wax lyrical about him again very soon.
Manchester United announced they had bought Nobby Stiles's medals this week. A lot of people had strong opinions on this and had hoped the club would pull through:
Alan | RedForceRising: I applaud the club for doing the right thing, It would be easy to be cynical and claim that it's a PR stunt, but the truth is the Glazers weren't under any obligation to purchase these gems of history, but they did, so kudos to them.
It's just a shame they didn't do so with George Best's European Cup winner's medla wchich was auctioned off ten days ago. One week of Wayne Rooney's wages would have acquired that important piece of metal.
TG | ManUtd24: Another reason to smile; it's great news for everyone associated with the club. Those guys over at Stretford End should be thanked, too, they raised awareness of the issue using the power of the internet, and it seemed to have done the trick.
Siddarth | Bangalore to Old Trafford: I never thought we'd buy the medal, especially with the Glazers at the helm. But i'm delighted that club did so, its great news for everyone associated with the club.
Also the part played by all the United fans online to raise awareness on the Medals should not be gone unnoticed. Just shows how much fan power can do!
Doron | Stretford-End: Quite simply, common sense prevailed. The medals are quite rightly now in the possession of the club for the indefinite future.
Kyle | Stretford-End: This was a brilliant move by the club; there's not much that needs to be said beyond that. Nobby's medals will now have a proper home at the club he became a legend with.
Chudi | The Busby Way: The Busby Way were one, of if not the first site stating the Glazers could do right by the club and procure both Nobby and George Best's medals.
Whilst they didn't get Best's I happy the club managed to snap these up especially breaking the record for price paid the way they did. Manchester United are a club with a well documented history and it's important we preserve this history as well as helping out those who helped make history.
We're all in agreement that the medals now have a good home.
Our third United topic is another player debate: Evans vs. Smalling – one is having a tough patch and one is having a really positive impression. Where do we stand on our two young centre backs?
Kyle | Stretford-End: Obviously Jonny Evans is suffering from a major dip in form. We all know what he's capable of, but at the moment Chris Smalling is the better of the two. I don't think this is about comparing the two players in an overall sense, as I believe both have futures at the club and it is tough to compare two players when one is currently in form and the other is not. Chris Smalling has come out and surprised a lot of us with how he's played, which I think is brilliant. I don't think we have to choose the two for the future. I see Smalling as Rio's eventually replacement and Evans as Vidic's. Evans has proven in the pass he's a quality centre back; he will rediscover his form.
If he keeps playing as well as he has been it will prove an excellent transfer by Sir Alex. Based on recent performances though, you have to say right now Smalling is the better choice to fill in should Rio or Vidic get injured.
Chudi | The Busby Way: I don't really see it as Evans vs Smalling as there is space for both here. At the moment if we are honest Smalling is the in form player of the two and if I had to go for one of the young pair to play it would be Smalling but that isn't to disparage Evans, he has already showed his quality.
As I said Smalling is in the better form of the two and Evans will need to pull his socks up and deal with his shortcomings.
Doron | Stretford-End: I don't see it as a case of one player versus another. Merely, Chris has joined the club and certainly impressed in his few appearances. At the same time, Jonny has had a strange start to the season. We all saw Evans as a superb talent when he played 35 times in the 08/09 season. It's only normal that a lad who's still only 22 will have poor games. The important thing is to learn from the mistakes made. He's not had any shockers by any stretch of the imagination, but, any mistakes small or large get exaggerated at a club that expects perfection. Both players have bright futures, no doubt Chris will also make mistakes along the way and we must back him like right now we must back Evans.
Siddarth | Bangalore to Old Trafford: Unfair comparison of two totally different defenders for me, it's just that Smalling has come along much better than most would have expected when he first joined, the calm and cool he displays with the ball at his feet & when in tight situations is amazing. He's looking more and more like Rio as he plays more.
Evans on the other hand is a physical defender, good in the air and like Vida, a no nonsense Centre-back. This season hasn't been the best for him so far, he's looked unsteady at times and has had a few mistakes. But he's still young and it's too early to jump to conclusions. People should remember how good he was last season and how well the defense coped when Rio was absent thanks to Jonny.
TG | ManUtd24: To quote a well-worn cliché, Chris Smalling has really come of age and I think Evans has a lot to worry about. Having said that, Evans hasn't been particularly bad; but admittedly he's looked quite unconvincing this campaign. Before we jump to conclusions, I'd like to see Chris get a couple more league games under his belt; only then can we really compare the two.
Alan | RedForceRising: Smalling seems to have hit the ground running after a few poor moments in pre-season had us concerned. His performances have been assured and his ability on the ball has breathed a quiet confidence through the team from the back.
I don't see it as pure coincidence that Jonny's dip in form has coincided with Smalling's arrival. Evans is no longer the only centre back trying to break the Ferdinand-Vidic partnership, so Jonny might be feeling a bit under pressure and his confidence might have taken a small knock as a result.
How Evans responds will be absolutely vital, and to be fair, Evans has proven himself in bigger matches than Smalling and I have every confidence Jonny will show us what he's made of.
Interesting thoughts. I guess we are lucky that we have two very talented young centre backs to discuss. Their development will always come under close scrutiny and should mistakes be made we'll back them as any United fan would.
As per usual we decided to look at a non-United topic. After the fourth round of the Carling Cup took place and with Arsenal again showing that they are taking it more seriously this year, we felt that Wenger and Arsenal would be an appropriate topic:
Chudi | The Busby Way: I dislike Arsenal immensely but you have to respect what Wenger and his team do in the cup. Every year we see a team of his youngsters perform well even if many of them don't go onto to be the huge stars the papers that trip over themselves to praise them claim they will be. I for one know what kind of players they have ready to come through particularly Benik Afobe who's sister I am friendly with.
I am slightly envious that we don't get a chance to showcase the undoubted talent we have at our disposal the way they do but as I said many of these Arsenal players don't become stars case in point Jay Simpson who was sold to Hull despite Wenger's ringing endorsement so perhaps we are doing the right thing not rushing our players.
Doron | Stretford-End: Hard to know what to say really. I think it's a positive move to see Wenger taking the Carling Cup more seriously this year. However I think it is also a sign of desperation. By the time Arsenal can actually lift a trophy for the first time this season it'll be just under 6 years that they last were able to do so (their beloved Emirates Cup surprisingly doesn't count!). I think Wenger has realised that the time has come for him to actually win something and for Cesc to leave having won more than just an FA Cup and a Charity Shield. What is true is that there is a maturity to the young Arsenal team this year and their younger players are really starting to step up and improve. I feel it's a shame that Wenger's legacy will probably be the finances and not on-pitch achievements, maybe this is a last attempt to change that. If he fails to win something this year I know I'd start to question whether Arsenal need a fresh coach.
Siddarth | Bangalore to Old Trafford: Well, the fact that Wenger has to concentrate on the Carling Cup for a trophy is rather unfortunate. But this might be his best chance at a trophy this season. Arsenal's players are really talented as it's obvious to see and they play very exciting football. But they never really won anything once Wenger got rid of the core of the team some years ago. He went on with the transition excuse for far too long, and i guess right now any trophy would do good for Arsenal.
With United their toughest opposition left in the cup, they have a very good chance at winning it, and hopefully a United vs Arsenal final is on the cards.
Kyle | Stretford-End: Could it be that Arsene Wenger is starting to feel the pressure that comes with a vacant trophy cabinet of the past five seasons? It seems like he's actually putting a good deal on emphasis on winning the Carling Cup this season, which is smart since I'm not sure they're capable of winning any other honours. There's definitely been less emphasis on youth from him this season, a sign of his desire to finally lift a trophy after such a barren spell. Should be very interesting to see what it's like should we draw them in the coming rounds.
TG | ManUtd24: We all recall the time when, having beat Arsenal 4-0 in an FA Cup tie, Patrice Evra described the affair as 'boys against men'. It was indeed – but it seems Wenger's men are no longer the naïve bunch they once were, and in the past year, we've seen the likes of Alex Song, Abou Diaby and Nicklas Bendtner come of age. They were utterly ruthless against Newcastle away from home. They've finally realised that the Emirates Cup is worth no more than a five pence piece, yet the only sign that they have indeed 'come of age' is if they win a trophy – this season might just be the turning point in Arsenal's fortunes.
Alan | RedForceRising: I think Monsieur Wenger is probably taking a leaf out of United's recent history. After a brief barren run, Manchester United kicked off a very successful period in the club's history by winning the Carling Cup. Wenger will have recognized that winning is a habit and that winning a trophy, even if it's the league cup, will give his youngster the confidence and appetite to go on to bigger things.
Desperation from Wenger? A maturing team? Demands from the board? You can make your own mind up…
And finally we come to a new area for The Red Report…youth discussion. From time to time we would like to discuss one of our young players and each suggest our hopes for him. This week, having made (as predicted by a few) his United debut in the Carling Cup, it's Ravel Morrison:
Alan | RedForceRising:I was slightly surprised that Morrison received his first senior appearance ahead of Magnus Eikrem, who has been outstanding for the reserves, but Fergie knows best and maybe he felt that Ravel could use some tangible encouragement at this stage in his development.
Morrison's talent has been discussed at length on United forums and he's the most naturally gifted youngster I've seen come through the ranks since Giggsy, Scholes and Beckham. My hope is that stepping onto the pitch at Old Trafford in front of 46,000 people will have motivated him enough to focus completely on becoming a first-team player, so he can play in front of 76,000 adoring fans every home match.
Kyle | Stretford-End: I'm thrilled that Ravel got his debut. Everything I've seen of him has been promising. Exactly the kind of attacking talent we could use in the future. Hopefully Sir Alex has "hair-dryered" the off-the-pitch problems out of the young player. I'm always excited when our youngsters are given chances; hopefully he'll get more in the future because I think he can make it at this club!
TG | ManUtd24: It was journalist Henry Winter who first alerted the world of this boy's talent; putting him alongside the likes of Jack Rodwell and Jack Wilshere as the nation's next 'big thing'. I've seen him a couple of times and he looks the part, but we'll see just how good he is the next few years. However, being a teenage prodigy, if there's one place to learn the trade and develop further, it's at Old Trafford.
Siddarth | Bangalore to Old Trafford: So many words can be used to describe Ravel, He's been called the "English Ronaldo", "The most talented footballer in England", etc. Clearly an indicator to how talented he is. He's been highly rated for quite a while now, but then his biggest enemy has been his attitude towards his game, and other off field problems.
Off late, he's been converted into a Attacking midfielder, and has been in great form for the reserves. He's always got a bag of tricks up his sleeve and he can do just as much as Ronaldo could do with the ball. I'm sure it won't be long before he's drafted into the first team squad, he'll be a player most of us will relish watching.
If he can concentrate on improving his game and stay focused, then under Sir Alex and at Old Trafford he can't find a better place to develop his talents and become a star.
Doron | Stretford-End: I recently profiled him for SE. I was delighted he got on the pitch on Tuesday, even if it was just for 20 seconds. The kid is a real talent. I've watched him closely for two years now and I've not seen a young player at our club as naturally talented as him. His problems off the pitch have been widely documented but it seems as if he's growing up – certainly the impact of training with the first team since pre-season under the watchful eye of Ferguson and the 'Old Guard' is doing no harm. Here is the SE profile for him.
Chudi | The Busby Way: What more can you say about this kid that hasn't been said?! Working as an intern for Football Fancast last November I told my editor to give me free reign to write about him and the piece proved a success because everyone is excited by the promise he holds. We have all seen the videos on YouTube, that GIF and watched him for the lower level teams so to see him on the bench was massive. He didn't get on to wow us and those who may not know who he is, but the fanfare that surrounded his first appearance just goes to show how highly he is touted.
We all are excited by Ravel's progress, he's definitely one to keep an eye on.
————
Best of the blogs:
The Busby Way | The New Kids Are On The Block
Stretford-End | MUFC Buy Nobby's Medals, Stretford-End.com Reaction
Bangalore to Old Trafford | Scout Report on Steven Defour
ManUtd24 | Javier Hernandez Thinks Inside The Box
RedForceRising | 8 Players Who Could Leave Old Trafford and Their Possible Replacements
————
That concludes another Red Report for the week. Hopefully this edition keeps you entertained until next Monday. Were always open to hear from you so you can catch us on Twitter:
Follow The Busby Way
Follow Stretford-End
Follow Doron
Follow Kyle
Follow Bangalore To Old Trafford
Follow ManUtd24
Follow RedForceRising
————
But don't forget to check out our individual sites if you think we have missed something, as it is likely at least one of us will have covered it there:
The Busby Way
Stretford-End
Bangalore To Old Trafford
ManUtd24
RedForceRising