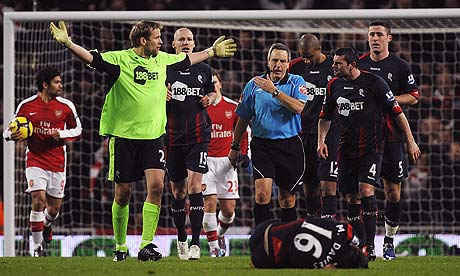 Like Sir Alex Ferguson talking about "value in the transfer market" after buying an unknown player for £7m five weeks after he could have got him for nothing; like Liverpool fans having an opinion of any sort on crowd trouble; there are some subjects that people in footballing circles should really steer clear from if they want to protect themselves from accusations of staggering hypocrisy. Arsene Wenger took time in his weekly press conference to comment on Paul Scholes – whose early season form has been sensational – and, outrageously described him as a player "with a dark side".
This is the same Wenger whose Arsenal side had a terrible disciplinary record when he first took over and has transformed his team into a bunch of over-rated, petulant, dirty little thugs – perfectly personified by their captain – who get away with their misdemeanours time and again because of their favourable reflection by Sky and the London Media. Mr Wenger has made a habit in recent years by singling out players and with this latest outburst has very clearly overstepped the line.
Arsenal's terrible record with red and yellow cards doesn't need to highlighted; it was a record setting period of bad behaviour from a team that kicked and spat it's way to, more often than not, second place in the early years of his tenure. The recent trophyless incarnation, North London's very own collection of Djemba-Djemba's and Liam Miller's that get hyped to oblivion, regularly fall foul of believing their own hype and kick out – usually, literally – when things don't go their way.
Watching a precocious Cesc Fabregas spit at opponents, abuse respected figures in the game or a "mature" Fabregas cheat to get fellow professionals is one thing. Complaining about getting "kicked off the park" then chasing Nani halfway down a football pitch just to kick him as hard as anything is also par for the course.
The more recent development that Wenger is engineering is all too transparent and, indeed, hints at a very disturbed and deeply unprofessional side to an experienced man who should know better. After Eduardo and Aaron Ramsey suffered terrible injuries Wenger was quick to publicly condemn Martin Taylor and Ryan Shawcross – two players who, rightly or wrongly, have seen a promising career grind to a shuddering halt as an indirect consequence of those challenges. Wenger was notable by his silence though in January after William Gallas kicked Bolton's Mark Davies and actually suggested Nani was being "disrespectful" in 2008, intimating that if our young winger didn't want to be kicked then he shouldn't show off his skills.
He was embarrassed into silence after the Liverpool match, choosing to come out with the classic "I didn't see it" comment after Joe Cole was sent off for a foul on new signing Koscielny. The Frenchman showed signs of being an Arsenal player immediately when he called for a stretcher but perhaps his new club naivety paid off as he returned fit as a fiddle to play the rest of the game, negating Wenger's opportunity to lambast Cole or exaggerate the injury to his player.
There are still a mind numbingly large number of people who persist with the bull that Wenger has re-shaped the Premier League and how football "should be played". No, sir. This is a guy who has only excelled at gearing his side up for one or two 5 star showings against smaller clubs. Not much to show for someone who was given the funds to poach the worlds brightest talent at the start of the century. The beautiful game? How can it be, when Wenger himself openly admits he tells his players to cheat – a telling insight into the mindset of this wrongly lauded fraudster.
It's that pathetic – there is no other word for it – exaggeration that leads some people to perhaps lose a little of their sympathy for those Arsenal players who are genuinely injured. When Wenger suggested Thomas Vermaelen had broken his leg in January (in the same Bolton game where Gallas attacked Davies in the build up to a crucial Arsenal goal), where were the derisory putdowns on him when the Belgian not only returned to action FOUR days later but lasted the duration, scoring late on?! Let me be clear; the loss of sympathy isn't because of anything the players themselves did. It's because of Arsene Wenger's misdirected persecution complex and the disgraceful way he attempts to ruin careers of professional footballers with outright lies.
I can't lie; sometimes I cringe at Paul Scholes' tackles. The thing to remember though is that Paul Scholes is a fundamentally honest player and person. He isn't a Fabregas, who will cheat to get an opponent sent off. He isn't a Gallas, who will kick someone in the shin for NO reason. He's not a Vieira, who will dive like a sack of sh*t at the side of someone half a foot smaller than him. Sure, he's been known to be opportune and try and punch in a ball or two but if we were to descend into gamesmanship then again, Fabregas, Pires, Adebayor to name just three are high profile serial offenders for the Gunners. There's no "dark side" to Scholes; Wenger, however, has shown his. The logical presumption to make would be that Wenger is frustrated that Scholes is still the best midfielder in the league; it must be a frustrating sight, year in year out, while he has to shuffle his system and pack his main man with protection just to try and get him playing well against the Blackburns and the Derbys of the Premier League. He's had to suffer Scholes making a mockery of the best he has to offer for over a generation.
But consider this. Maybe Wenger has brought Arsenals' woes on himself. The players, to a man, who wear the Arsenal shirt look physically underdeveloped and unable to sustain the rigours of the game at the highest level. That is Wenger's fault for not preparing his players, not giving them a workout plan sufficient enough to cope. Consider that perhaps one week after seeing Arsenal players chase and kick Nani, Birmingham players were prepared to be a little more robust than normal in order to protect themselves against the thuggish behaviour of their opponents. Maybe Ryan Shawcross – dodgy disciplinary record even considered – was wary of an Arsenal side that had not less than a month previous seen dangerous high profile, career threatening challenges, go totally unpunished. Every dangerous tackle is a serious injury waiting to happen; Arsenal are just as guilty, if not more so, as anyone of performing them. A player shouldn't be singled out and vilified just if they injure someone, they should be singled out and vilified for performing the tackles in the first place.
Yes, all managers have a duty, a responsibility even, to protect their clubs interests. To protect the clubs players. But Wenger crosses the line on a regular basis when he chooses to go as far as he does when attacking opposing players, and in now choosing Scholes as the victim of his senseless, moronic outburst, he has extended that ire to teams who haven't even played against his team. A player who, in over 15 years in the professional game, hasn't ever caused a serious injury to any opponent. The script is written for Scholes, on the last day of April, to score a crucial, trademark stunning goal at the Emirates to ram the words of the bumbling Frenchman down his throat. It's just as likely – even more so, in light of Wenger's words – that he will be sent off for two yellows. Scholes is a red card waiting to happen now simply because of those comments.
The saying goes that people in glass houses shouldn't throw stones. These latest comments from Wenger indicate something I've thought for some time. This is a man whose professional integrity is crumbling every time he opens his mouth. The words he has chosen to describe Scholes, having a "dark side", couldn't be more apt for the Arsenal manager.