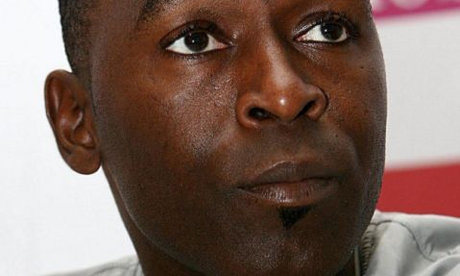 Former Manchester United Striker Andy Cole has spoken to the Telegraph in the week regarding two of his former clubs; Manchester United and Newcastle United and his two former managers – Sir Alex Ferguson and Kevin Keegan. Andy Cole joined United in the January of 95 following a £6million (plus Keith Gillespie, who was valued at £1million) move from Newcastle, a transfer which broke the British record by £2Million (Chris Sutton signed for Blackburn Rovers from Norwich the previous summer) and sparked outrage in Newcastle.

United's dream partnership of Cantona/Cole, only lasted a few games as the Frenchman was banned for eight months following a 'altercation' with a Crystal Palace fan. Cole was speaking about his time at Old Trafford, his thoughts on Wayne Rooney and his disgust at Capello's handling of former Red David Beckham (you'll have to buy the paper to read that). Cole, who scored 121 goals in 275 games and is the seventeenth top goalscorer of all time at Old Trafford, believes that United are still the top team in England – despite missing out by a single point last season to Chelsea:
Manchester United are the team to beat this season. They lost out last season by a single point. The players they have brought in so far have been good signings, and the way they played in the community shield proved they have the quality.
One thing that was labeled at Cole throughout his career was that he was a good striker but not 'international class' – despite Neil Ruddock getting a call up around the same time Cole earned his first cap. Glenn Hoddle once famously remarked that Cole needed 'six or seven chances' before scoring a goal. Cole believes his performances for Manchester United were enough proof of the quality he had to offer for England:

My England career never really happened. I never had a good run at it. I believe I was good enough but it never really worked out. People could say that I wasn't International class, but I knew I could score goals at that level. You don't play in the Champions League for Manchester United, scoring goals week in, week out without being able to. So I thought my time had come and gone. We had five or six good strikers at one period so it was best for me to call it quits.
Cole was full of praise for Wayne Rooney, Fergie and Keegan as well:
On Rooney –
England is built up to be the be-all and end-all for a striker. He didn't play the way he wanted, but neither did any member of the team. He could still have been carrying his injury.
On Ferguson –
He should manage for as long as he has the passion and desire. He's not the type of manager who would want to go out on the low.
On Keegan –
I love Kevin. A lot was written about the disagreements we had when I left Newcastle for Manchester United, but I had a golf day this year and he was one of the first people to say he'd play.
United have faced Newcastle twice over the past ten seasons on the opening day, with Cole scoring in a 2-0 win back in 2000. The Stretty Rant believe that United should overcome the Championship champions 3-1. For more information, check out our Manchester United vs. Newcastle United preview.
The Telegraph have also lined up United as 4-4-2, with Owen partnering Rooney: