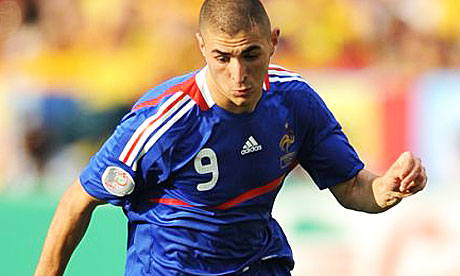 David Gill's been talking again; saying Sir Alex Ferguson could yet dip into the transfer market before the August deadline if he so wishes. Manchester Evening News are interpreting it as one possible "world class" signing, but claim Fergie is monitoring the situations of both Mezut Ozil and Karim Benzema.
With the earlier news that Sir Alex is deliberating over whether to add Owen Hargreaves and / or Anderson in the 25 man squad for the Premier League next season, the midfield suddenly looks very light and incredibly pedestrian – four names (Fletcher, Carrick, Scholes and Gibson) with little room for rotation.
It looks as if Werder have started to put the feelers out for potential suitors for their talented young playmaker Ozil – the German international doesn't want to sign a new contract in the knowlege that he could instantly pocket a very handsome signing on fee next year. Ozil has the added bonus of being able to operate wide of a front three and while I believed the rumours of a £25m price tag last week were way over the top for someone so close to the end of his existing deal, at £12-15m he probably represents good value.
Benzema is a curious case. My initial thoughts back in 2008 when we were linked with him were ones of excitement. Exactly the forward we were looking for. By last summer I had changed my mind and though we did lodge a bid only to usurped by Real Madrid at the last minute, I had already made clear I didn't want the player at Old Trafford.
12 months down the line and Benzema was left in the shade by Higuain and Ronaldo at the Bernabeu last season and has seen his reputation blown to smithereens after his alleged dalliance into carnal activity. Ferguson's reputation of taking a troubled player and getting the best out of them is impressive; with such admiration over the Algerian born frontman unlikely to have completely diminished over the last 12 months it's probably fair to say that at least the Fergie of old would have been eager to put an arm around the young man and not only help him rediscover his true form but become a cult hero at the club. Much would depend on his potential legal punishment and the consequences that would have on his status at Real Madrid, but Ferguson is nothing if not canny. Whether or not he has the inclination for such a task at this stage of his own career is another issue entirely and United are pretty well stocked up front, even if Dimitar Berbatov is looking like (in pre-season, at least) not improving or showing any indication of changing his game.
I think we're pretty well balanced as we are though the absence of Anderson from our 25 man squad would instantly make me think a creative midfielder; up front, even though I'm not entirely comfortable with Berbatov, I'm happy to stick by my beliefs posted on this page earlier in the summer that we should give those a chance who we currently have. My stance on Benzema has softened somewhat; he got the move he wanted, fair play to him. If he wanted to "rediscover himself" and was available at a bargain price then fair enough; at £25m I wouldn't go near him at this moment in time.
This is of course going along with the debatable validity of Gill's comments. According to him, of course, we should still have £80m from last year burning a hole in Fergie's pocket..