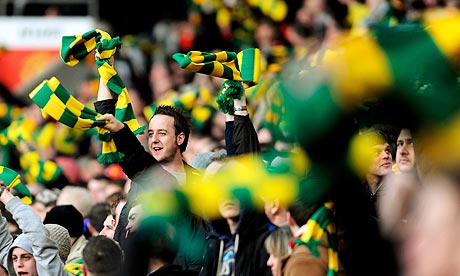 Stretford-End.com is proud to announce our inaugural Fantasy Football competition. As usual, we wanted to be unlike other fan-run blogs who are running similar competitions – that's why, in accordance with our Green and Gold campaign, we have decided to offer the green and gold Newton Heath replica shirt as a prize. For details on how to enter, keep reading.
The website has enjoyed a surge in popularity over the last year and we want to put that ever expanding fan base to good use. Last week we made launched our official campaign to keep Manchester United Green and Gold after the club is sold (and also, the petition to ask United to consider the fans opinion and not release a strip with those colours during the Glazers' tenure) in recognition of our hope that someday we as fans will be able to have a major say in the future of our club.
We chose the Newton Heath shirt as a prize as it is fitting / in keeping with our campaign and also fitting with the times. The green and gold campaign that is currently underway with supporters that we wish to intensify has been superb so far. We are behind the peaceful protest and chose the shirt as a prize so our readers can either continue to protest or – hopefully – be able to celebrate the Glazers' departure by May with a lovely shirt as recognition for the part they played.
Our competition will primarily be open to those who are supporting the cause and Stretford-End.com readers and forum members. The league will be run on the official Premier League fantasy football competition but the code will remain private and only given to forum members in a special section of our forum. This way, we feel we can give the fairest opportunity to our loyal readers who have helped and continue to help Stretford-End.com develop into THE place to visit to read about all things to do with the club.
Alternatively, if you tweet the message –
We're in the Stretford-End.com #mufcGanG – keep #mufc Green and Gold after the club is sold – sign the petition @ http://bit.ly/dBWHE8
..then a member of the team will DM you with the invitation code (providing you sign the petition of course!). You will also be given the password to the locked section of the forum. Anyone who joins but was not been given the code in DM by one of the Stretford-End.com team will be disqualified from the prize. Additionally, if we learn the identity of the individual/s that shared the information they too will be disqualified from the prize.
These conditions are not in place to trick anyone but to be fair to our current readers and fans.
The Stretford-End.com team will be participating in the competition but in the interests of fairness we are rendering ourselves ineligible from the prize. So, if Kyle finishes first, Stretford-End second, Doron third and Yolkie fourth (unlikely, given my track record, I think I'm hot favourite for rock bottom!) then the prize will be awarded to the team who finishes in 5th position.
Entry is free other than the obligation, initially, to join in via the forum or help spread the good word.
The terms, conditions, rules and points scoring (other than those outlined above) are all on the Fantasy Premier League website so please familiarise yourself with them; we're not going to get into any nasty debate about the fairness of those rules, only to say that we're abiding by them for the competition.
In order to be eligible for the prize you must have registered your team before 12pm on Thursday 12th August; we will take a screenprint of our league at that time and also list all of the users in our forum, so be sure to join by then. If you join after (and we will make the code public after that time) then you will still be able to take part in the Fantasy Football League but you will be ineligible for the prize.
If you write a United blog and want to get involved; feel free, all we ask is that you show your support for the "Keep United Green and Gold" campaign either in a blog post or a tweet of the above. We'll be more than happy to add your name and website – if you want – to the front page of the petition. While we are proud to have started the campaign it's not about our recognition, it's about what is right for the club and its relationship with the fans in the long term and therefore want this to be a sign of unity amongst supporters in a time when so many seem determined to cause in-fighting.
We also think it's an excellent opportunity for fans worldwide to show their support; supporters of the club who might not know how they can make a difference in this troubled times can put their name to something that we can guarantee will be sent to the club and, with your help, widely publicised, in the knowledge that they have played a full part.
Thank you for your continued support and GOOD LUCK with your Fantasy Football selections.
To sign the petition click here
To register a team at the official Fantasy Premier League website click here
You can get follow the Stretford-End.com team on Twitter too – Stretford-End, Yolkie, Kyle and Doron.
If you are unclear on anything above, please leave a comment and we'll get back to you.