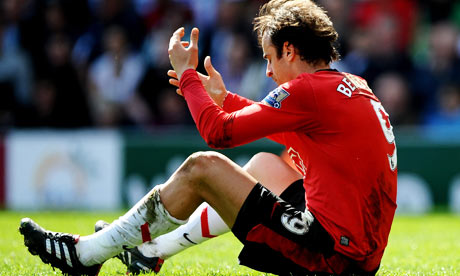 If last weeks defeat against Chelsea was the defining moment then after a season full of near fatal blows to Manchester United's chances of making history, the two points dropped at Ewood Park after an abysmal display not only finally signalled the death knell of the Champions hopes of winning a 4th consecutive title but indicates a probable 3rd place finish behind an abysmal Arsenal team.

Fingers last week could have been pointed at Mike Dean's defining intervention; excuses could be made to a justifiable extent about the extremity of United's injury crisis that in this game alone forced United to field 35+ veterans Paul Scholes and Ryan Giggs in central midfield and 18 year old Federico Macheda up front while being able to give Patrice Evra a rest after having played every minute in the Premier League this season. Ultimately though, in those close games such as todays, a lack of class or urgency within the plan B – never more perfectly illustrated than the pitiful showing from Dimitar Berbatov – has rendered United unable to conquer those other obstacles.
The game against Blackburn Rovers had seen some tabloids and tabloid websites indicate the Red Devils' Lancashire rivals would lay down on account of Sam Allardyce being one of the few managers in the top flight who dares to openly confess his admiration of the most successful manager in the history of the game but this was never going to be the case, and wasn't – chances could have been counted on one hand and you'd still have fingers to spare.
Antonio Valencia did break through twice and saw his shots denied by Paul Robinson in the first half – the only other breakthrough, if you could call it that, being a nudge from Rovers sub Nelsen on Berbatov though it would have been harsh to give a penalty. The second of those chances from Valencia highlighted Berbatov's only worthwhile contribution in the side with a decent ball. The Bulgarian has often been unfairly singled out for criticism in the past but in the last few weeks he has been given more than enough opportunity. He has been far too inconsistent and more importantly has not at any time provided a telling breakthrough, a match turning contribution, when it mattered. Today was a new low for United's record signing – his lack of conviction and ability to perform at this most cutting edge of level was fully on show when late on he was unable to do anything other than timidly strike a shot at Robinson after being set up by Scholes and Gary Neville.
It said most about the game that it was Neville, one of the few to actually dedicate to the cause, who nearly snatched an unlikely win in stoppage time. It wasn't to be, and deservedly so.
Chelsea should comfortably stroll to the title, and probably a Premier League and FA Cup double, and Arsenal's favourable run in will see them even pip the reigning Champions to second. United were simply carrying too passengers and not enough game changers – Giggs was forced off with an injury in the second half, replaced by Gibson, who offered little. Macheda was harshly brought off for Park when at least he had shown he was on the pitch, unlike Berbatov. There was never enough on the bench to galvanise the side, and though unfortunately we have to single out the Bulgarian again, it was his mere presence in the side that made United the lumbering side that ultimately relinquished their title this afternoon.
He has won a Premier League title, two Carling Cups and a World Club Cup in his 20 months at the club without so much as a tangible contribution that would illustrate his value. He can't and shouldn't be single handedly given the blame for this seasons failure either but his lack of effort in the game was indicative of the side that seems to have been complacent and expectant of someone else to rescue them. No Ronaldo or Tevez, no Rooney, no Macheda, no Giggs or Owen, no-one ever likely to produce the spirit late on that would snatch a result.
The defining period of the last 11 days has proved that United have been not good enough. What opportunity, if any, Sir Alex Ferguson has in the summer to rectify this with the funds at his disposal remains to be seen, though one would expect any funds at all to be bolstered with the proceeds of the sales of the likes of Berbatov.
Ratings: van der Sar 6, Neville 7, *Ferdinand 7, Vidic 7, O'Shea 5 (Evra), Valencia 7, Scholes 5, Giggs 6 (Gibson 5), Nani 7, Berbatov 4, Macheda 5 (Park 5)