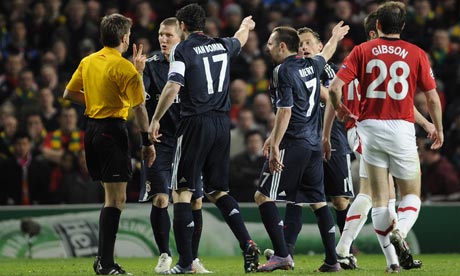 Every now and again you get a defeat that is so demoralising you just don't know what to say – which is why i've taken so long to blog about our exit on away goals to Bayern Munich on Wednesday. Like in 1993, 1998 and 2002 United have exited the competition without losing the overall tie and generally outclassing the opposition for the first 45 minutes. I hope to examine the overall performance from both legs, mistakes made and where this leaves us for the rest of the season.
Performance
I thought we were outstanding in the first half against them, they didn't get a kick at all. Valencia was causing the hopeless Badstuber all sorts of problems whilst Rafael had 'The next Zidane' in his pocket and Nani left Phillip Lahm (once linked with a move to United) with ease for both of his goals. Wayne Rooney didn't look himself, but put in a glorious ball to Valencia for the second goal. There were comparisons with the Roma game as we just blew them away pressing high up the pitch and breaking swiftly. Robben and Ribery always had their backs to goal, whilst Fletcher was harassing and hounding Van Bommel. It couldn't have gone any better. Then Carrick made a monumental error by allow the ball to drop before clumsily falling over to allow Olic a shot at goal at a very acute angle. It was quite literally a 'shit' goal to give away. However, I didn't believe this was the 'lifeline' Bayern needed – it merely would be a consolation goal after a dominant first half performance from United. I thought United would push on from their first half lead, however that was on the basis of eleven vs. eleven.
Rafael
I think Rafael is going to be a fine fullback and his dismissal will no doubt be a valuable lesson in his future development at the club. Scott over at RoM was quite understandably annoyed and frustrated with Rafael for his conduct and sending off, which ultimately led to United's downfall. I can see where he is coming from but I thought his first booking was harsh. The tackle he made warranted a booking but the key issue here is should play have been stopped prior to his tackle? If the referee had of given a foul in the first place against the cunning Van Bommel (who has been doing that type of thing for years) then he may not have picked up that initial yellow card. But, that is football I guess, he did, and was then giving a yellow card for pulling back Ribery when Bayern were attacking. For me this was the key point in them match, which coincided with Wayne Rooney's removal from proceedings due to his injury, which left Nani up top on his own.
Fergie's decision
I've said it before, i'm not even qualified to talk to the man, let alone to assess his decisions, however I felt that with Rooney off we needed a presence up front in the shape of Berbatov or Macheda – however, Fergie opted for a Nani as a lone front man to run on to long balls as the Bayern backline pushed up. I was hoping that Fergie may take a big gamble and put Federico Macheda in ahead of Berbatov, however that was also very unlikely. We at The Stretty Rant think highly of the young Italian and I just felt with his knack of scoring vital goals with a limited amount of chances, it was worth a punt. Sadly though it was clear that when we went down to ten men we were restricted to playing deep (to be fair what else can you do) and looking for Nani with balls over the top after winning the ball. I think in the ten minutes that Berbatov was on the field he touched the ball once, which was from a challenge. That is not a pop at him, I didn't think it would be his type of game – especially considering we were down to ten men. However, that is now two big games (as mentioned he only played ten minutes in the Bayern match) that he hasn't been able to get something for us. I posed the question back in January regarding the long term future of Dimitar Berbatov, which was then backed up by Fergie's admission that it is 'difficult' to include Dimitar Berbatov in a 4-3-3 formation. He has fantastic ability, has notched up a good few goals for us this season – but I believe that we were expecting a little more from him in the Chelsea and Bayern games.
Reaction to elimination
A nation of ABUs rejoiced in United's embarrassing elimination at the hands of an inferior team. That is what it felt like on Thursday morning as I flicked through the back pages. I had a 'Twitter conversation' with Oliver Kay regarding his 'prediction' that English sides would 'struggle' in the Champions League this season. Compared to previous years, he would be right – English clubs have dominated the final since 2005 and now there isn't an English club in the Semi finals even. However, the problem I had was putting United in the same bracket of tactically outclassed Chelsea, totally outclassed Arsenal and totally embarrassed Liverpool. United's elimination was a million miles from what happened in Barcelona the night before when the best team on the planet dismantled an Arsenal side that is claimed to 'play the best football in England' or for that matter the way in which Jose Mourinho set up his side at Stamford Bridge in the last round. Liverpool's continued poor performance both domestically and in the European Cup shows that last season's push for the title and Quarter final appearance in the Champions League was indeed an over achievement for a side so reliant of two players. The Europa League is the purgatory of European competition. I personally would never want to see United associated with it as it is a monumental step backwards for a club with ambition. At least if Liverpool win it they may get an opportunity to defend it next season?
Kay's opinion of the game, based on our exchange over Twitter, was that United were excellent in the first half, but poor for the rest of the tie. That may be true, I felt that we were awful in Munich – slow, lack of urgency – even though the Bayern centre half pairing at times looked like they'd only met each other fifteenth minutes before kick off. But if you do look at the chances in the match (and of course they had theirs) but Rooney had a glorious opportunity to make it 2-0 in the first half, Vidic hit the bar at 1-1 and the calamitous error by the usually excellent Patrice Evra resulted in Olic scoring his first of the tie. To be honest, that kind of summed up the tie. United looking like they were getting a result, before being dealt a hammer blow. End of the day, we are in the same boat as all four English clubs, nine times winners Real Madrid, seven times winners AC Milan and Hibernians F.C. of Malta who were eliminated in the first qualifying round back in July last season – we are all out of the European Cup. I'm not trying to argue the fact that 'we were robbed' – but i'm just trying to paint a picture that on the pitch (off it is completely different story) we haven't got too many problems. Circumstance went against us with the sending off, individual errors led to three of their goals (doubt you can classify Robben's goal as an individual error or though some have argued there is no way he should have had that amount of space) and it just wasn't our night.
My issue with Kay's point is that I felt that United, in 45 minutes, proved that they were a far superior side to Bayern Munich and it was just a case of 'it wasn't our day'. I tried to compared the performance to that of the comparison people always make with Pele and Maradona. You can't compare Pele to Maradona in terms of attributes (so as Kay was stating that United were for three quarters of the tie) as Pele would have a 10 (out of ten) for right foot and 10 for the left, whilst Maradona would have had 7 for right foot at 20 for his left foot. So my point is that United were so dominant, so impressive and so clinical (although we could have had even more!) in the first half that it is incomparable to the other three halves of football. Some of you may think i'm mad rambling on about two old players and using an example were it is opinion based rather than fact – however, my honest assessment of the game on Wednesday was that United were simply unlucky. Not outplayed, not outclassed and most certainly not embarrassed.
Media reaction
James Ducker of the Times did an interview in their paper yesterday looking at United's 'troubles' after the elimination to Bayern Munich. Ducker was extremely well balanced in his answers claiming that United can still win the title, although they are now reliant on the Londoners dropping points elsewhere. He also examined the transfer policy of United stating that although Chris Smalling and Javier Hernandez are moving in the summer, United need to consider reinforcements for the aging Paul Scholes, Ryan Giggs and Gary Neville (a point raised by United Rant a couple of weeks ago) and cover for the injury prone Rio Ferdinand. There are also uncertainties on a number of players staying at the club with the Glazer family keen to make as much money as they can and get an ROI on their original player investment. Nemanja Vidic has been linked with a move away, even if he has recently stated he is happy at the club. The general conclusion from the interview is that United have an uphill struggle to win a fourth successive title, although it isn't all doom and gloom as some people/fans are making out.
Other articles have painted Ferguson as a bewildered old fool that is 'losing it'. I don't know how many times i've heard that at the club over the years, with every time Ferguson proving the doubters wrong. Could he have changed something on Wednesday night to ensure our passage to the semi final? Of course he could have done but he choose to stick with the tactic of knocking balls over the top for Nani with the whole of the Bayern side pushing up for a second. He nearly got his wish when Patrice Evra played a ball over the top for Nani to sprint onto and was only denied by a strong hand from Butt.
Conclusion
So hopefully this is where I can bring all most points together rather than sounding a like a bitter twat going off on one and bring two old men into the equation (Pele and Maradona not Kay and Ducker!). We are out of the Champions League in a very cruel fashion. I honestly felt that we were superb in the first half and would have gone onto win the match by more goals in the second half. Michael Carrick was at fault for the first goal, whilst the sending off of Rafael and injury to Rooney changed the game. We had a great opportunity to go into the semi-finals, however it simply wasn't to be our night. With regards to the 'future' – we all know the extremely worrying problems we have off the field, which has resulted in ticket prices going up, money not being spent on players and United pulling out of pre-agreed deals. However, on the pitch – we were 'unluckily' knocked out at the quarter final stage whilst are hot on the heels of Chelsea. A far cry from where we were in the late 70s and early 80s. We've been spoiled over the past twenty years and I do not think that based upon the performance on Wednesday that a massive overhaul is needed. Yolkie made the point to me that Nani turned his United career around in four months, whose not to say Anderson won't when he returns from injury? Like I said changes are needed off the field with the ownership of Manchester United, but you can't compare the exit on Wednesday to that of Arsenal, Chelsea or Liverpool, can you? You'll argue – 'who cares we are still out' – and I totally agree, but there is going out and needing massive change and then there is going out and tweaking the side slightly. We all ready knew that Scholes, Giggs and Neville can't go on for ever and I know it is frustrating to hear Sir Alex state that he won't be buying in the summer, however he also said that Wayne Rooney wouldn't play the other night. The manager keeps his cards close to his chest and we will have to wait and see what happens in the summer. Massively disappointing result but we need to pick ourselves up for tomorrow's trip to Blackburn Rover as there is a fourth consecutive Premier League title to win.