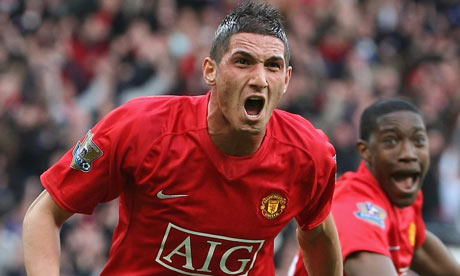 I think we could safely say that after the last international break of the season we're entering "squeaky bum time"; after a season that has seen thrills and spills and has been described as both fantastic and woeful, you might need time to pinch yourself and compose when you realise there's only 8 weeks left of the league season.
That's right, 8 weeks standing between this point of uncertainty and possibly yet more groundbreaking history from our club. Seems hard to believe when you consider it's only relatively recently that the media has quietened its "United need Ronaldo" drumbeat – no doubt preparing for a post-season reprise.
Sir Alex Ferguson confirmed that Michael Owen will miss the rest of the season after his vital Cup Final contribution in the United number 7 shirt (imagine writing that this time 12 months ago..) while also delivering good news in the shape of a possible return for Owen Hargreaves, pencilled in for a reserves fixture on Thursday. It was brought to my attention earlier that tomorrow's trip to Wolves could see us name our "Moscow back 4" of Brown, Ferdinand, Vidic and Evra for the first time in almost 18 months, a fact that not only helps you appreciate how well we have done to even be in contention to claim a record 19th league title at this stage of the season but also retrospectively should heap further respect on our record breaking defence of last winter. With the long list of defensive absentees and the likes of Hargreaves, Nani, Anderson, Giggs, and Obertan to name just 5 all missing long periods of the campaign – with the re-use of Carrick and Fletcher also losing their natural contribution at significant times, it's safe to say that any other club would be applauded for being in the position we're in. Maybe it's a consequence of the media wanting us to fail or a consequence of Fergie's refusal to allow whatever eleven he fields to dwell on its restrictions, or maybe it's even a combination, but the manager will refuse to rest on his laurels and consider where we are as a good achievement.
Particularly not when we're so mouth wateringly close to a significant achievement; top of the tree in English football. 10 games is all that stands between our players and history.
Football has a peculiar quirk of consistently surprising instead of following the status quo; or at least, surprising on the path even if the status quo is maintained. A bizarre explanation I grant you but best summed up by the fact that its peculiar that the team most likely to win the title on paper from this point should be Arsenal. Nobody was really surprised when Manchester United won the title last season (despite the pre-season obituaries that insisted Chelsea would walk it, like every year) but they still needed an unlikely Springtime intervention from Federico Macheda.
I've long since given up trying to accurately predict the whys and wherefores, particularly at this stage of the season, but nonetheless it is entertaining to hear others thoughts and predictions, so this space is yours.
Who will win the league? Can United get a record Championship haul, if they do, will Fergie retire? Who will be the unlikely name that pops up to decide the title race? History tells us that despite Rooney's season long heroics, he will need a Robin to his Batman in the last few weeks, so with Owen injured and Welbeck on loan, can Macheda do the football equivalent of a Dracula impersonation, appearing only for the Spring before disappearing into obscurity until his next glory altering contribution next season? Alternatively, will the young Italian have an "Andy Cole" on the final day of the season that will be unfairly blamed for falling short?