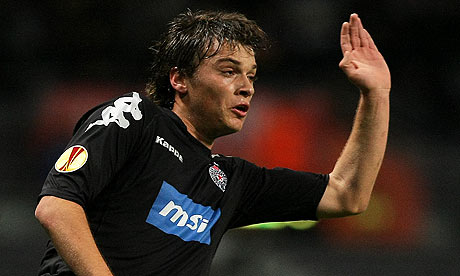 We've heard it all from 'being skint' to 'work permits' to 'slow progress' in our pursuit of talented Partizan Belgrade starlet Adem Ljajic. Mike Phelan recently revealed that United's attempt to sign the player broke down due to paperwork implications. However, today a new twist emerged that Manchester United had been paying the player since the deal was announced in January. The progress of Tosic is also worrying considering the £7Million man hasn't yet started a senior games for United.

So why do you think the transfer broke down? After the £80Million we pocketed from the Ronaldo transfer, combined with our summer £25Million allocation to strengthen the squad, something doesn't really add up. We've brought in Obertan (£3M), Owen (Free) and Valencia (£18Million) so that is £21Million. So adding £80M and £25M we've got £105M – subtracting the outgoing transfer fees we are left with £84M. So it surely can't be lack of funds OR have the Glazers decided that they'd like to pocket the transfer fee from the sale of Cristiano Ronaldo? We don't know but we can make presumptions.
Even the citing of paperwork make me raise an eyebrow. Surely if the 'little Kaka' was indeed the hottest property in European football, then we'd have found a work around. A feeder club, a loan deal – but why terminate the deal there and then, just because of a hurdle – which many clubs overcome (take Mexican Carlos Vela going on loan for two seasons in Spain). I'm sure there are issues with this type of transfer, but am I naive to think there is a logical workaround? Phelan was quoted as saying:
"Some people you can get work permits for, some you can't. Adem fell into the category of being hard to get a work permit for, so we made the decision (not to pursue it)."
But if it was a young Scholes or a young Keane that was in desperate need of a work permit – would you be happy that United 'decided to leave it'? Of course not! We want to be fighting over the top youngsters and getting them to the club to develop them. We've got some superb United youngsters coming through and by the looks of it he was a decent player. Tosic hasn't really set Old Trafford alight since his £7Million move. The boy looks awfully lightweight when making his brief appearances for the first team as a substitute. There is no doubting he has a good left foot and impressive technical ability, but can you see him breaking into the first team? He seems to think so:
"Sir Alex has a big squad to choose from and there is a lot of quality in the first-team and the reserves, so I know it's not easy for me. But I have to look at the Carling Cup and the FA Cup as perhaps my chance to show what I can do and prove myself to the manager. I'm still trying to get used to English football and adapt to the style of the game here. It's still new for me. The game here in England is very quick, but I am enjoying playing for United and have enjoyed being part of the reserves. All of the young lads at United are trying to improve and show what they can do to get into the first-team, so it's a good environment to be involved in. If I can keep playing well and scoring for the reserves, then hopefully that will help me break into the first-team. I've scored four goals in the last four games for the reserves, so I feel confident and very pleased with the way that I am playing."
Partizan seem to think that it was because of lack of funds, which was then backed up by Bayern Munich, who claimed that we 'pulled out' of a potential Ribery deal after not hearing anything from United after a general enquiry was met by a ludicrous £60Million answer. Ribery is a fine winger, but £60Million? I'd never pay that for him. He's Bayern's player so they can ask what they like for him – but that doesn't instantly mean 'financial implications' were the main reason for not buying the player.