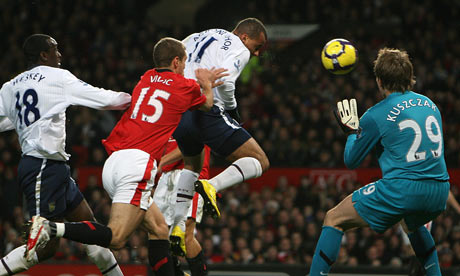 Aston Villa's great record against the so-called big four continued as they won 1-0 at Old Trafford with a performance far more deserving than the scoreline suggests.
Manchester United welcomed back Wes Brown to partner Vidic with only Darren Fletcher an unfamilar face in the back line after the recent injury crisis, though the defensive nightmare was far from over.
With midfield places seemingly up for grabs following Paul Scholes' two games in the last week and Michael Owen never likely to start following his 90 minutes in the Champions League, Sir Alex Ferguson opted for Park to play on the wing and what looked more like a 4-3-3.
The Champions looked lacklustre despite some decent build up, and when Aston Villa's sucker punch in the 21st minute arrived, it was hoped that it would surely spark them into action. Ashley Young put in a peach of a cross that Gabriel Agbonlahor – a scorer in this fixture last season – could not fail to head in.
United did hit back with pressure to try and equalise, the closest – with to be fair, the only real chance – Rooney, with wonderful control, somehow smashed at the crossbar from 5 yards.
It seemed clear to all but the manager that penetration was desperately lacking and with the removal of Giggs and Anderson it was completely removed. That's not to say that either had great games, but Owen and Gibson were hardly likely to provide anything extra. The exchange of the appalling Park for Berbatov bode well but the lack of midfield quality really meant that the pressure was on Rooney solely to try and rescue a result. Particularly after Villa decided to protect their result rather than risk it and add further gloss – and make no mistake, the visitors were always the more likely to score. The closest United came in the second half was a Berbatov half chance that Friedel comfortably saved.
It was clearly a chance missed after Everton held Chelsea earlier in the day and complete respect should be given to our opponents for a fully deserved win. It is clearly the case that this season will crown Champions who lose more games than on average – however it is more clear than ever that it's all well and good putting on strikers such as Berbatov, Owen and Rooney but if there is an incredibly noticeable lack of creativity in the midfield then it means little. And the fact that despite his 36 years, United still have nothing to replicate the brilliance of Giggs, means that the Champions face an incredibly uphill battle to hold onto their title.
Despite the unpredictability of the the league so far it seems unfathomable that United can afford to lose more than 2 more games and with 22 remaining in a season where they've already lost quarter of their league fixtures, it will surely be a season where Sir Alex won't be able to knock Liverpool "off their perch".
As a side note it did seem rather peculiar that broadcasters ESPN began to concentrate their efforts on backing in the glory of United's defeat, with commentator Jon Champion making countless added time related jibes at Sir Alex and presenter Ray Stubbs declaring that "Villains were the heroes". Incidentally, while the added time awarded was ridiculous – and Villa wasted a minute during that period taking a goal kick – United could have played until Christmas and not scored, such was their appalling display.
Author: Yolkie – Follow me on Twitter
Ratings : Kuszczak 6, Fletcher 5, Brown 6, Vidic 6, Evra 6, Valencia 6, Carrick 4, Anderson 5 (Gibson 4), Park 4 (Berbatov 4), Giggs 6 (Owen 5), *Rooney 6