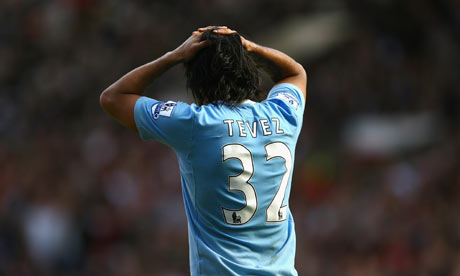 ….apparently! I wanted to blog about this on Sunday night after the Chelsea game but I was far too depressed considering we hammered them for large parts of the game, but I read an article (if you can call it that) in the News Of The World (the wife buys it) regarding Rooney's 'potential transfer to Barcelona'. That garbage isn't the important part – they profiled eight players who have left Old Trafford and assessed whether or not they were a 'hit' or a 'miss' at their new club. Please feel free to add your own!
Andrei Kanchelskis – If you believe what Fergie says then the Russian Mafia were involved in his inevitable departure back in 1995. Kanchelskis was the best right winger in the league for a good two season. Quick with a good deliver – he helped United win back to back Premier League titles. However, would you consider his stint at Everton, Fiorentina and Rangers a 'hit'? News Of The World have! Going from European Football and a trophy winning team to Everton (who to be fair had a decent season in Kanchelskis' first year – finishing 6th) and then on to a team in Serie A who hadn't won the league since 1969 (who were on the brink of bankruptcy) surely can't be considered a 'hit'? Wouldn't he have been better off staying at United than leaving? Or would Beckham have limited his progress? Maybe i've got my red tinted specs on – but I wouldn't have classified him as a 'hit' (indicating Fergie got it wrong to let him go).
Teddy Sheringham – Teddy left in 2001 to rejoin Spurs who we have originally signed him from in 1997 as a replacement for Eric Cantona. Teddy struggled in his first year – which wasn't fondly remembered considering his formers team's main rivals pipped United to the league title – but from the treble year onwards – Teddy was immense for United, scoring some world class goals. He was 35 in the summer of 2001 and with the arrival of Ruud Van Nistelrooy from PSV – Sheringham knew his chances would be limited. So he did the right thing to help prolong his career – he left the club where he had achieved glory and returned to the club that we signed him from. Wouldn't say hit or a miss – just a move that suited both parties. I'm sure Ferguson would have had a place for Teddy in the squad (ahead of Dwight Yorke anyway) but with the arrival of Veron for a new look 5 man midfield – I guess he felt his chances would be limited.
David Beckham – This is the one that gets me! David Beckham was a great servant to Manchester United over the years. His freekicks were immense, his passing immaculate and he worked extremely hard – however I felt, looking back now especially, at the time that the Beckham media circus had gone too far. His rise to the top coincided with his relationship with his future wife Victoria's hunger for fame and fortune. 'Brand Beckham' became an embarrassment and David became more well known for his good looks and celebrity lifestyle than his bread and butter – football. It winds me up to see young lads trying to emulate the Beckham look in amateur football. You see them every week with their highlights and shaggy haircuts – even in the nightclubs looking to pull some airhead because they turned out once for some two bob team thirty leagues below the Premier League. His lifestyle became greater than Beckham the footballer – the good footballer. I never felt Beckham was the best of his generation – with Zidane, Rivaldo, Keane, Figo and Scholes ahead of his – but he has been a superb performer for club and country.
That club being Manchester United and not Real Madrid. His first season was appalling which resulted in him being below par at Euro 2004 – with speculating rumours about an affair for his child's nanny. His misery continued at the World Cup in Germany – looking way past his best and his lack of pace being shown up for not the first time. He finally won the La Liga title in his last game for Real Madrid in 2007 – where he did have a good second half to his season. NOTW put him down as a 'hit'. A 'hit'! So Fergie was wrong in letting him leave and replacing him with a skinny Portuguese kid? £25 Million in the bank and a player who would eventually become the best player in the world by a mile? If Beckham had of stayed at United he could have added even more winners medals to his name – but then again Victoria might not have liked that.

Juan Veron They've got this one right! A miss. Veron played well for us on occasions. His downfall was his lackluster recovery when he lost the ball. The game that sticks out in my head was the 3-0 defeat to Chelsea in 2001 (December time). He gave the ball away in the Chelsea half – which resulted in a Chelsea counter attack. He the proceed to stroll back towards his own goal and by the time he got there Eidur Gudjohnson had stuck the ball in the net. Bought for £28Million, won one league title and sold for £15Million – a loss of £13Million. Good decision to sell and Veron complained of back problems forever more at the Bridge.
Ruud VanNistelrooy – As strange one considering that I would put it down as a good move for both parties. Sometimes you reach a point where you have to end things – regardless of the quality that you're saying goodbye to. Ruud VanNistelrooy was superb striker – and I liked him – which is strange considering most reds think he is a bit of tosser. You could see in him what it meant to play for United and score goal after goal after goal. He was the best striker in Europe for a good two seasons and his inevitable down fall was down to an ankle injury he sustained in 2005 – which hampered his playing time. We all know what happened at the League cup final in 2006 – but this was kind of like the handing over of power. That was the first honour won by a number of United youngsters and new signings – which gave them the belief they could go on and win something – win something without VanNistelrooy. His fate was determined after being left out of the last home game against Charlton in favour of Giuseppe Rossi. I'm going to say he was a hit – but do you honestly think we could have done any better with Ruud in the team?
Gerard Pique – I've not seen a centre half improve in all my life of watching football as I saw in Pique when he left United in 2008. A definite hit. He was immense for Barcelona last term displacing Puyol and Milito as Barcelona's first choice centre half. He is comfortable on the ball and can knock 60 yard diagonal passes for the back – I didn't know he had it in him. When he left for the rather generous £5Million price tag – I was disappointed – but only on the basis that we needed cover for Vidic and Ferdinand – now you look at it you'd like him to be competing with the two of them. Versatile aswell can play right back or in midfield.
Carlos Tevez – Judgement out – although I can tell you what the verdict will be – miss. Just like Robinho is off to Barcelona in January – Tevez will soon be off elsewhere once the squad rotation policy kicks in and Adebayor and Santa Cruz are first choice centre forwards. I'm going to be honest – I thought Tevez was a good player and not just because he worked hard. I thought in 2008 his movement along with Rooney and Ronaldo's goals was impressed and a factor in helping us achieve an historic double. However, his attitude and conduct after we'd signed Berbatov was bordering on child like. His celebration aimed at the directors (apparently) was a indication of his immaturity and ignorance, whilst his statement that 'he would never sign for Liverpool' before putting pen to paper at Citeh borders on the moronic. Plus he reported cost Citeh £47Million – for five league goals last season? – Massive hit!
Cristiano Ronaldo – Interesting considering he has got off to an absolute flyer (like there would have been any other outcome) but has been hindered by this ankle injury. I think he will be a massive hit at Madrid, because he is the best player of his generation. However, could his foot injury be worse than what was first diagnosed? We'll have to wait and see.
So there are the eight players. Agree with the assessment? NOTW put more 'hits' than misses – fair? To me that indicates that Fergie was wrong to get rid of those players. Other than Jaap Stam – was Fergie right to get rid of any player? You could look at Pique and Rossi, in terms of potential, but at the time would you have played them in the first XI?
Would be great to hear your thoughts on this list and any other players that you wish we maybe hadn't of got rid of – Mark Hughes or Paul Ince in 1995 perhaps?