You may also find these links interesting: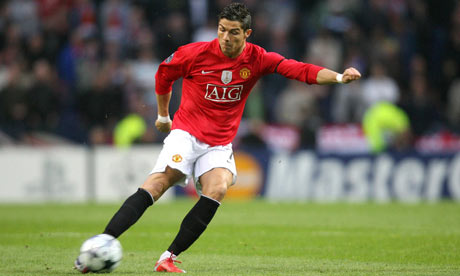 Cristiano Ronaldo scored a 40 yard wonder goal to propel European Champions Manchester United into their third successive semi final in the competition, with his goal being the first winner for an English club at the great home of the Portuguese champions. With echoes of David Beckham's free kick from similar range against the same opponents that hit the crossbar 11 years ago, Ronaldo went one better to score one of the greatest goals in the grand history of the European Cup to give a telling nod to his detractors this season (not Sir Alex Ferguson, as the Sky broadcasting team persistently and rather pathetically tried to insist).
Ronaldo's goal was the highlight of a vibrant attacking display but the pivotal players in this second leg were Rooney, Giggs and Anderson, whose work rate and skill in possession made the game far more comfortable than it seemed at kick off. And if they were the ones who dictated the run of the game, the sight of a more familiar backline with Ferdinand and Vidic was the controlling element that ensured no seriously nervy moments.
Ronaldo's goal aside, a glaring chance for Vidic and a fantastic United move in the dying moments of the first half could have extended the advantage – and several counter attacks could have sealed the game in the second. Porto did have their moments but nothing that ever really troubled van der Sar, and United head into a semi final against their famed rivals over the last decade or so – with Ronaldo looking like he is hitting form again, Berbatov in inspired mood, Giggs still appearing evergreen, the energetic Anderson back, and Ferdinand making his return, the Champions of all trophies bar the FA Cup look in good shape moving into the semi final in this competition.
Source: (Yolkie)