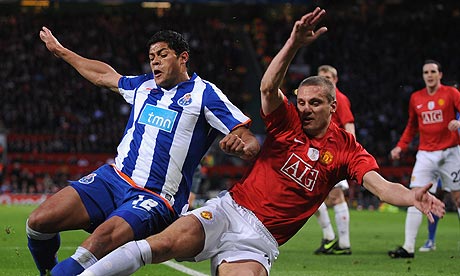 Working in the industry that I do you are lucky enough to meet a number of interesting people along the way.  I was contacted a couple of months back by Andre Torres for ESPN regarding United's 1964 European Cup Winners Cup defeat to Sporting Lisbon.  I contacted him over the weekend to get his thoughts on the up and coming quarter final between United and FC Porto.  Thank you Andre for contributing to the Stretty Rant.
My name is André Torres, no relation to a certain Liverpool striker, except from the fact that I'm equally skilful, but an injury in the left knee, you know how it is…

In fact I'm not even Spanish, I'm Portuguese born in Lisbon 27 years ago and I'm a Sporting Lisbon Supporter, you know, that Portuguese team that this year for the first time in its history passed the Champions League Group stage only to lose on aggregate to Bayern München by 12-1 which, yes, is the biggest aggregate defeat in Europe in case you're wondering…

Sporting is also the club where Figo, Simão, Quaresma, Nani and… Cristiano Ronaldo came from, in fact it was when Manchester went to inaugurate the Alvalade XXI in 2004, (Sporting brand new Stadium) that apparently after the match, some Man United players of the defensive sector begged Alex Ferguson to buy Ronaldo, they didn't want to play against him ever again…


Tomorrow is another Portuguese team that Man Utd will have to face, FC Porto.

Porto have dominated the Portuguese football for the past three decades. Since 1987, the year Porto won "everything" (The Portuguese Championship, the European Cup, UEFA Super Cup and the World Clubs' Cup)  they then went to win another Champions League, a UEFA Cup and a massive 14 Portuguese championships out of 21.


Today in the Portuguese Press, Ronaldo is supposed to have said "Porto is the best Portuguese team, but Manchester is better than Porto." I believe he's right but only if Porto plays badly. Porto's talent isn't based in Portuguese flair but in South American genius or even worse, Argentinean teamwork.

Lucho González and Lisandro Lopez have the fighting spirit of the best center midfielders when actually they're an upfront duo recently upgraded with the arrival of the incredible brazilian Hulk.

Lisandro Lopez as scored only 5 goals in 19 Portuguese league games, but an extra 6 goals in 7 Champion League ties.


In another South American might also be the weaker spot of the team,  Helton, as been far from secure between the posts this year, famously allowing one of the easiest goals so far to the prolific… if in Spanish territory,  Diego Forlan.


They are, like Man Utd used to winning and perhaps that's the key to beating them, they are not used to suffering the first goal. In fact if Manchester wins at the Dragão Stadium that would be a feat no other English team was capable to do, ever.