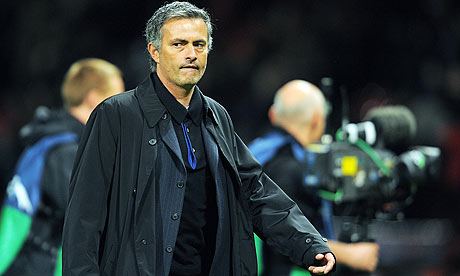 So we're through to the last eight after a deserved, over two legs, victory against Internazionale.  A great result against the current Champions of Italy and league leaders, however the performance wasn't too great to be honest.  Scholes looked nervous, Evra wasn't as adventurous and Giggs was coming out with ridiculously bad backheels – but we still managed to score twice against the European Cup winners of 1964 and 1965.
I was very nervous before the game, knowing that they were capable of scoring at Old Trafford and with all the over the top media rubbish about how 'Mourinho knows how to play against Ferguson' – I was anxious.  Turns out we had little to be concerned over from our visitors.  Good old Patrick Vieira looking as 'agile' as ever – whilst Mario Balotelli looked like he wanted to fight everyone in sight.  They are a good side and played much better than they did in the first leg – but overall United deserved the victory.
I spoke about Evra before and to be honest the bloke is an exceptional left back.  I would actually have a problem deciding who to pick out of him and Denis Irwin – he's that impressive.  However, as mentioned, he didn't look himself last night.  This could have been because Ferguson was concerned with the  forward runs of Brazilian defender Maicon – who in the first half had a ton of space on the right flank.  Moving Rooney obviously pegged back the Brazilian – but I just felt that Evra didn't play as well as he has done this season – although that is a pretty high standard to meet on a weekly basis.
So to the dreaded curse of the last 16!  I blogged in August about the fact that the last four winners didn't get past the last 16 the following season.  I also stated that I believe that United could go onto retain the trophy – but of course i'm going to say that.  The fact is that no team has ever retained the Champions League trophy in its current format.  Gone are the Cup based days when Bayern Munich and Ajax won three in a row, gone are the days when you could be drawn against some Eastern European side you'd never heard of – the fact is that the trophy is that much harder to win these days, let along retain it.
United progressed yesterday where FC Porto, Liverpool, Barcelona and AC Milan failed because of one clear thing – the quality of the squad.  The team has improved even further, so far, on last season's amazing performance and are in a superb position to win a number of trophies.  Nothing is won in March and there is still a massive way to go, both domestically and in Europe – however that first hurdle that was identified in August has been jumped.  The next task will be to put in a Champions performance against whoever we are drawn against tomorrow.
Positives to take away from yesterdays victory are listed below:
Inter have scored 49 goals so far this season in Serie A – they didn't hit the back of the net in 180 minutes of football.
United have only conceded three goals this season in the Champions League
Inter Milan have won more games away from home than at home in Serie A
Ferguson was always ridiculed for not being 'tactical astute' against Italian and Spanish sides – proved wrong yesterday.
United scored a superb counter attacking goal – something Italian teams did for years in Europe
Rooney put in a superb shift out on the left and looks like he is back to his best right in time for Saturday
Lastly, to the draw!  On a personal note I don't mind who we play in Europe and that includes Barcelona to Liverpool to Porto.  I am from the school of believing in the fact that in order to be the best, you have to beat the best.  I've seen United go out to Dortmund in 1997 2-0 on aggregate after putting in two good performances both in Dortmund and in Manchester – god knows how we didn't score.  I've seen United lost on away goals to Galatasary.  I've seen United get humiliated by Barcelona in the Nou Camp 4-0 – a real eye opening at the steps that needed to be taken in order to get to that next step.  Lastly, i've seen United lose in a superb match against Real Madrid in 2003.  All different opposition that posed different threats to United – in those years that have passed Ferguson has adapted extremely well to the demands and needs of the European game.  Gone are the swashbuckling attacking displays that undone United at home to Fenerbahce and Juventus in the mid-90s.  United can play a patient passing game against any team in Europe – whilst also pressing them high up the pitch.  United go into the pot tomorrow a team with confidence and knowing that five more wins in Europe will make United the first team to win back to back European Cups since AC Milan nearly two decades ago.