You may also find these links interesting: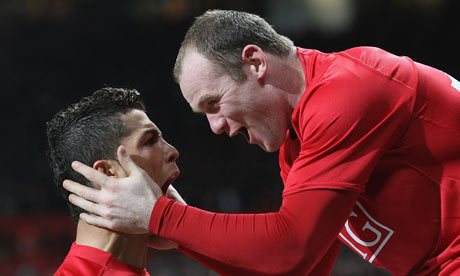 Nemanja Vidic and Cristiano Ronaldo scored headers four minutes into each half to send defending champions Manchester United into the European Champions League quarter finals.
Inter took a while to find their feet and United took the opportunity to make them pay when Ryan Giggs' corner was powerfully headed in by Nemanja Vidic, putting the current European Champions ahead after just four minutes.
United failed to make their early pressure pay and Ibrahimovic had two chances either side of a O'Shea effort that could easily have seen the score at 2-2 – the Swedish's efforts hitting the bar and then fizzing narrowly wide, while O'Shea's attempt was fluffed. Inter grew in composure as the half went on and the home side's early dominance began to expose itself in flicks and skills that were going wayward, probably much to Sir Alex's chagrin.
Any worries about complacency were quickly dispelled in the second period – Ryan Giggs, excellent again, dribbled through a pocket of Inter players brilliantly to find Scholes. Scholes in turn passed to Rooney who seemed to be in an alley with nowhere to go as 3 Inter players surrounded him, but the number 10 weighted an exceptional pass towards Ronaldo who comfortably headed home.
The Italian champions responded by bringing on Adriano and the Brazilian hit the post with an improvised effort shortly after his introduction but that was it in terms of threat, and in truth had United stepped up the tempo a real statement of intent could have been stamped in terms of scoreline – as it was, Fergie's side had done so yet again seemingly without getting out of first gear.
It's an oft stated comment but after this latest comprehensive victory might just go some way to making a bigger statement – that this current United side are reaching a level of football that is the best seen for over a generation.
Source: (Yolkie)