You may also find these links interesting: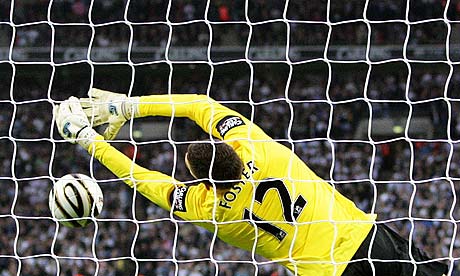 Manchester United won the Carling Cup on penalties after a confident display in the penalty shoot out following a goalless 120 minutes – which they just about edged.
The Red Devils made all the early running and a free kick from Ronaldo, a long shot from Darron Gibson and a fantastic piece of improvisation from Rio Ferdinand all resulted in the ball going narrowly over or wide from long distance, while Nani was the only United player to really test goalkeeper Gomes with a 20 yard drive.
Tottenham pushed on towards the end of the first half with Aaron Lennon showing his football equivalence of a toothless Yorkshire Terrier – plenty of running and effort but no real bite at the end of it, save for a shot in the second half which United keeper Ben Foster saved magnificently.
Anderson made his return from injury coming on for Danny Welbeck and immediately added a dynamism to the midfield, regularly carrying the ball over long distances or finding unexpected spaces, while Paul Scholes' good form continued as the Ginger Prince sprayed 50 yard pass after 50 yard pass all over the pitch.
With a quarter of the game remaining Chris Foy made a big call by booking Cristiano Ronaldo for diving after a challenge from Ledley King just inside the area. Clearly this was a case of the Madeira magician's reputation preceding him and his dive last week against Blackburn will have done him no favours in this instance. Replays showed contact was made and the debate will go on, do Ronaldo's previous wrongs make this incorrect decision right?
Anderson had a 20 yard drive comfortably handled by Gomes and the best chance of the entire game came with 30 seconds of injury time after 90 minutes remaining, Ronaldo cutting in wickedly from the left and driving with real menace. The ball for once evaded the Spurs keeper but smashed against the post and bounced back into play.
United were shorn of Wayne Rooney due to a virus and Sir Alex Ferguson opted to leave Berbatov out altogether – this left the team with little aerial threat and the decision to replace Gibson with Ryan Giggs for extra time showed that Fergie was looking to win the tie with incisive passing.
The extra period provided little in the way of chances – just one clear cut for each side, Foster doing well again to deny Bent and Evra's speculative shot astonishingly flying over the crossbar.
With penalties looming Redknapp brought on Bentley and O'Hara (who had missed last years triumph after being dropped by Ramos).
Ryan Giggs was first up and his penalty cannoned off the same post Ronaldo had hit earlier, only this time the ball whipped into the back of the net. United's good fortune, and O'Hara's unfortunate relationship with the Cup continued as the youngster's strike was superbly saved by Ben Foster.
Tevez scored, as did Corluka, and when Ronaldo exorcised his Champions League demons with a successful strike from 12 yards Bentley knew his penalty was crucial. The expensive summer signing fluffed his lines, though, as his shot went wide of the post, and it was left to Anderson to have the chance to win the Cup.
United fans had already seen Anderson's coolness under such pressure when he converted a sudden death penalty in the Champions League, and the man himself appeared to have little concern as he casually knocked the ball past Gomes to claim the trophy for Sir Alex's troops.
The manager himself remained cool on talk of an unprecedented quintuple, but one thing that cannot be denied is that after this triumph and with such a commanding position in the league, United are on the verge of at least the second most successful season by an English side ever (the first being United's treble side of 1999), regardless of whether they win the European Cup or FA Cup.
Source: (Yolkie)