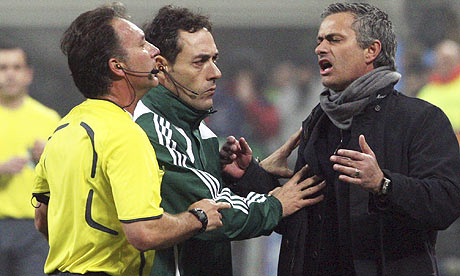 They will change more than us. We will play the same way we do in our championship, 4-4-2. We have no fear to admit this. United will not play like they do in the Premiership. They will go more defensive. I don't think they are coming here to play eye to eye, to try to win the game here
The above quote isn't the ramblings of a madman, more so Internazionale's manager Jose Mourinho – who didn't quite get the old prediction right on the night. United put in an awesome first half performance and for the life of me can't understand how we didn't hit the back of the net. The dominance was there for all to see in the way United controlled the game through good slick passing and closing the Inter players down. The only Inter player that put in a good performance in the first half was Cambiasso whilst Mourinho's 'World's best player' looked like he was glued to the San Siro turf.
Fergie will be disappointed that United couldn't capitalise on their dominance and will be ruing the missed chances. However, he will be confident that we will be able to see them off at Old Trafford. Vidic will be back for the game and hopefully we'll have some more cover at the back. Great performances from United, a Champions of Europe performance.
Mourinho tactics
When Mourinho was at Chelsea, everyone was in awe of the man in terms of his tactical nous and the ability to change a game if needed. Unless, I was watching a different game last night, Internazionale only had one thing in their locker – smash it up to Ibrahimovic or Adriano whilst Stankovic would lurk to support. I know Chelsea were direct at times with Drogba – but Chelsea played more football than that surely?
To top it all off – Mourinho switches to a 4-3-3 but with three strikers rather than two wingers and a target man – completely ignoring the fact that United's wide men were in space all night. There is no doubting is man management skills, however his signings Mancini and Quaresma have failed whilst Muntari was pretty poor last night. Maybe the 'special one' is joining the 'Rafas cracking up club' perhaps?
Well played Darren Fletcher
To put in a good performance in the San Siro in a massive European Cup tie is something any footballer should be proud of – to do it after hearing your fiancee was held up at knife point whilst scumbags raided your house – is even more amazing.
It was terrible to hear that Fletcher's fiancee and two children where held up on Monday evening as Darren left for Italy. He must have been feeling so many things at the time and many people would have just got on a plane back home.
Fletcher put in a superb performance last night, he really did. His passing was good, he covered ground, put tackles in and generally hurried Inter's play. He may not be the most glamorous of players, however he is a vital player in United's squad and when he plays he shows what a good footballer he actually is.
I used to always get asked 'What does Ferguson see in that guy?' and the more blunt 'Fletcher is shit' (well thats more of a statement than a question) – however, I always felt the lad had and still has something. It is hard for a young footballer to break into the first team at a massive football club but I think that Fletcher has proved quite a few people wrong and it is no surprise that he had a great games yesterday alongside Michael Carrick in the centre of the park.