You may also find these links interesting: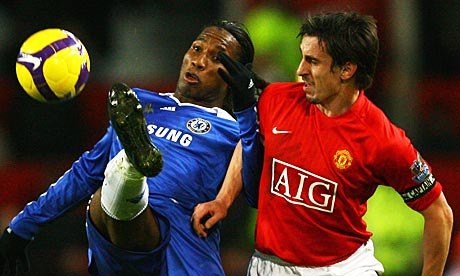 A dominating Manchester United performance saw the English and European Champions crush Chelsea 3-0 with goals from Nemanja Vidic, Wayne Rooney and Dimitar Berbatov.
After an abject display against Derby in the Carling Cup and a less than convincing league performance in recent weeks, the pressure was really on Sir Alex Ferguson to send his team out to perform – especially in the wake of Liverpool manager Rafa Benitez's incredibly nonsensical outburst on Friday.
Fergie's team selection was met with some sceptiscm due to the decision to start with Ryan Giggs and Darren Fletcher in the centre of midfield – however, the selection of the 35 year old mercurial Welshman was a masterstroke as the United legend was by far the best player on the pitch.
Chelsea have an incredible away record this season but offered little threat in a dull opening period that beat into life late in the first half – the Red Devils mustered some urgency and a clever quick corner from Rooney that was crossed by Giggs and scored by Ronaldo was disallowed by the officials. No danger, however, as the re-taken kick was duly flicked by Berbatov and headed in by Vidic in injury time.
The goal was due reward as Ronaldo had previously been manhandled in the box by Carvalho but was denied a penalty. The decision may have been as a result of Benitez's refereeing rant on Friday but was nonetheless incredible.
The lead was no more than United deserved and it prompted Chelsea to bring on Anelka at half time – but the Blues performance was even worse in the second half, and when Evra's cross was finished by Rooney, the result was no longer in doubt.
Late on, Ronaldo's wide free kick was met by Berbatov to inflict a 3-0 deficit on Chelsea, though it was no more than the champions deserved.
Sir Alex responded to Benitez's rant as "ridiculous" in his post match interview but he will be far more content with his sides impressive statement than the state he worked the Liverpool coach up into.
Source:(Yolkie)