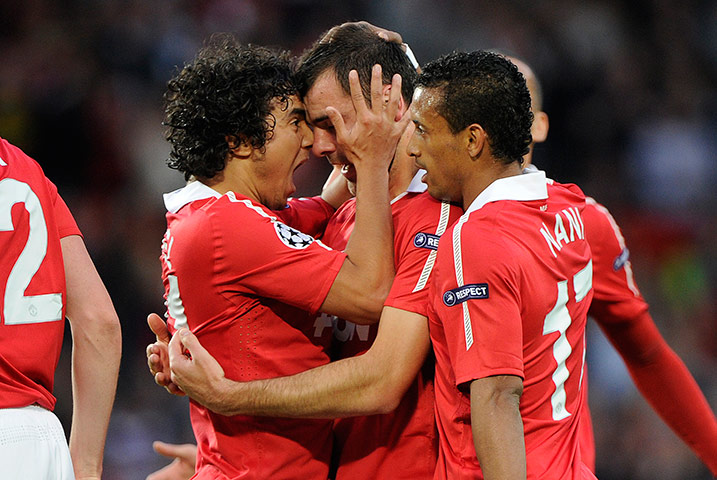 AUTHOR: – Stretford-end and Doron
Manchester United booked their place in the final of the Champions League later this month at Wembley. They'll face Barcelona, the side who beat them in the final in Rome in 2009. This is will be an impressive third final in four years for United now. Sir Alex Ferguson chose to rotate his United team with a key game coming up against Chelsea on Sunday. The players produced a good performance with goals coming from Valencia, Gibson and two for Anderson as they saw off any threat that FC Schalke posed. Here we discuss the talking points of the match and welcome both sets of fans to contribute to the events.
Talking Points
Darron Gibson
Darron Gibson is synonymous with the word 'shoot'. A trusty whack of the ball from 20+ yards with ferocity is kept out by few goalkeepers when it's on target. He does however have more to his game however we seldom see him fulfilling the potential he's always had. His selection is often coupled with a restricted role, like against Everton recently, however tonight he was given more of an important role in United's midfield. With Scholes sitting deep and Anderson playing high up to support Berbatov, Gibson was given the licence to patrol the midfield area and stamp some Gibson-esqe type of mark on the game.
Click on images to enlarge
Gibson heatmap
We shouldn't forget Gibson has been selected in big European games before – last year against Bayern Munich he was a surprise starter and he didn't let anyone down that day. His all-round contribution tonight was superb. His passing was accurate and telling both over short distances and over longer distances. There were aspects to his game that he showed tonight that fans rarely seem to get to see. His tracking back and strength to win the ball back was excellent, particularly in the first half when United were chasing to win the ball back off Schalke. Additionally his running with the ball was a welcome change; on various occasions he strolled forward beating men and importantly picking the correct pass at the end of the run.
Gibson was at the heart of United breaking deadlock in the game. He received possession somewhat unchallenged and with space in front of him, he could have been forgiven for running forward into it. Instead he spotted the excellent run made by Valencia inside the left back and fed the ball through accordingly. It was an outstanding spot and pass:
Gibson pass for the opening goal
The key part of his pass was making sure it was weighted properly – he could have easily over hit it and seen it run out for a goal kick or be claimed by Neuer. At the time, Rio Ferdinand tweeted:
"If Iniesta had passed that ball people would be salivating!"
It's hard to disagree with him. You can see the pass and opening goal in full below:
Gibson's contribution also brought him a much deserved goal – surprisingly it was his only shot of the game, once again highlighting that he can do more than just shoot. Whilst his shot may have been straight at Neuer it was hit low and powerfully. Neuer seemed to underestimate the speed at which it was travelling and wasn't down quick enough to make a routine save. You can see Gibson's goal below:
Gibson's brief foray into the Twitter-world last week saw it end as briefly as it started. Officially he left because 'he couldn't be bothered with it' but unofficially he left because of abuse and grief he got from United fans. Hopefully his performance tonight will go some way to proving that he can play a part at United and he's an important member of the squad.
Centre backs in control
Jonny Evans had only played 5 times in 2011 and for Chris Smalling this was the biggest stage he's performed on in his career to date. Their pairing together understandably had a few fans concerned – they were of course the partnership in the centre at the back when a rotated United side lost 4-0 at West Ham in the Carling Cup earlier in the season. Whilst neither is overly experienced, they were up against Raul, one of the great strikers of the past 15 years.
It's a huge compliment to both players that the boss had enough faith in them to start them in such an important game. They seemed to thrive on this, producing an excellent performance. There was a real maturity to both their games as they not only dealt with a lot of crosses, particularly from the right hand side in the first half; but also as they brought the ball out of defence well and used it effectively.
It's often been thought in the past that Evans and Smalling need one of Vidic or Ferdinand alongside them in order to help them through a game, however tonight proved that isn't the case. Granted there was an error that lead to Schalke scoring but it seemed unavoidable and unlucky rather than a glaringly obvious mistake. Smalling has now made 30 appearances in his debut season with 8 of them coming in the Champions League. It's vital he gets this experience aged so young and even more important he continues to learn and progress. For Evans, only recently 23, it was an important game too. He's had a relatively poor season but there is no doubting his potential – his performances in the past two years at the club have shown that he's certainly one for the future and tonight will have helped get him back on the right track.
Anderson two goals
Two goals in a season is pushing it, two goals in a single game is a miracle – but tonight, we witnessed our tiresome Brazilian midfielder notch up two goals in a Champions League match. Anderson has already scored in the tournament back in December against Valencia, which saw United draw level in a 1-1 draw. His first goal this evening saw him swivel after being on the floor following a block shot and smashing home a left footed drive passed the helpless Neuer. Berbatov setup a superb pass for Anderson to stroke home to make it 4-1 to United on the night and 6-1 on the tie.
I've always been a fan of Anderson since he signed in 2007 from Porto. His goalscoring hasn't been what is expected of a midfielder in his early 20s (Beckham scored 8 in 1995/96 aged 20, Scholes scored 14 in 1995/96 aged 21 and Giggsy scored 17 in 1993/94 aged 20/21), however his energetic runs from midfield and acceleration away from his marker following a pass are exceptional. Some of his cross-field passes this evening were exceptional, highlighting his vision and technique to execute the picture in his head. The screenshot below highlights some of these passes:
Talk will already turn to the side that Ferguson will field against Barcelona at Wembley and you can be assured that Anderson is a very possible candidate in a three man midfield, despite the impressive displays from Carrick and Giggs. He was withdrawn at half time in Rome back in 2009, with many citing his reluctance to track the devastating Iniesta as the main downfall in the opening goal for Samuel Eto'o. Anderson has had a good run of games this season and is definitely in contention for a start. Ferguson has used the Brazilian higher up the pitch to press the creative outlet in Europe this season. The diagram below highlights his average position tonight against Schalke, much further forward than both Scholes or Gibson.
United's squad rotation
There is always this inkling and seed of doubt when you see a line up that is nowhere near your strongest team, despite being 2-0 up from the first leg. United's 4-3-3 formation with a back four of Rafael, Smalling, Evans and captain O'Shea – a midfield trio of Scholes, Gibson and Anderson, with the two wide men in Nani and Valencia and Berbatov leading the line.
Ferguson has always sprung surprises out of the bag, for example in the 5-0 victory over Nottingham Forest in 1996, he dropped Andy Cole in favour of Paul Scholes, who notched a brace that day – only for Cole to come on a substitute in against Middlesbrough a week later to score the all important second goal to secure the league title (with Giggs adding a third later on). Gibson often receives the brunt end of criticism, unfair at times, for his performances, however his ability to get stuck in and vision were on show tonight. His pass to find Valencia for the opening goal was exceptional and although I do not think he will play a part in the final, he deserves praise for a decent performance, which included a trademark thundering strike.
Ferguson's team selection was no doubt influenced by the forthcoming fixture against Chelsea this Sunday, which will no doubt play a huge part in where the Premier League title will go. Many sceptics would look at the likes of Anderson, Gibson and Evans and wonder how they would emulate previous United players in the form of Scholes, Keane and Gary Neville, however on nights like this – it is clear to see why Ferguson has faith in his squad. Another European Cup final, Ferguson's fourth of his United career, means even greater competition for places, a headache that any successful manager will always welcome.
Looking ahead to Barcelona
Ferguson may have jokingly stated that he would have preferred to be drawn against Brechin City rather than Barcelona on May 28th (wouldn't we all), however there is no doubt that the manager will look to avenge the defeat in Rome two seasons ago. United's gung ho approach could have proved successful had Pique not blocked Park's effort early on. Once Eto'o scored for the Catalan's – there was no looking back. Barcelona rightfully won that night, with United's early dominance not paying off, Wayne Rooney a shadow of his usual self on the left hand side and of course Cristiano Ronaldo aiming to win the trophy all on his own before his departure to Madrid.
We will be doing some detailed tactical pieces over the next few weeks, whilst also looking at previous ties with Barcelona – including the 2-1 victory in the Cup Winners Cup in 1991, the 4-0 drumming at the Nou Camp three years later and of course the 1-0 victory at Old Trafford in 2008. There will be many debates over the next two weeks: Do you man mark Messi? What formation will Ferguson adopt? Do you defend deep, keeping your shape, and block the intricate triangles in between the midfield and defence or do you play Barcelona at their own game and press high up the pitch? Any question you want to be debated, feel to drop in the comments and we will take a look.
Match Conclusion
United came into this tie with a 2-0 lead from the first leg in Germany. With a big league game against Chelsea on Sunday, Sir Alex Ferguson decided to make 9 changes to his side from the team that lost to Arsenal at the weekend, only Van der Sar and Nani kept their places.
FC Schalke started on the front-foot keen to try and get an early goal. Farfan had an effort from 25 yards which went narrowly wide of goal. That was though all Schalke could offer in the early exchanges as United quickly got a grip on the game. As Schalke gave the ball away it worked it's way to Gibson in the middle and he threaded through an Iniesta-like pass to Valencia who, one-on-one with Neuer slid it underneath the onrushing goalkeeper to give United the lead on the night. Five minutes late it was two and Gibson this time was the scorer. Anderson's clever flick to Valencia allowed him to law the ball off to Gibson on the edge of the area. The Irishman's shot was low and powerful but Neuer should have comfortably dealt with it, instead he could only divert it into the goal via the post. United went in at half time with the scores at 2-1 though, Jurado finished very well after the ball broke free in the United area.
The second half was a much more subdued affair on the pitch but in the stands the United fans went through the whole songbook recalling many legendary players both past and present. A wonderful save from Neuer kept Anderson off the scoresheet and then Smalling saw his goal ruled out for offside. Anderson did eventually score, a good run and cross from Nani fell to Anderson who after getting up and holding off a defender spun and shot low into the goal – in truth Neuer could have again done better. Anderson incredibly got another goal just four minutes later. A good run from Berbatov was spotted by Valencia and he unselfishly squared the ball to Anderson to tap in. Four nearly became five late on but Owen's excellent effort was saved by Neuer.
United progressed through to the final winning 6-1 on aggregate, the largest winning margin in Champions League semi final history. They'll now face Barcelona at Wembley on the 28th May in a repeat of the 2009 final.
Before that though, United have to try and win a record 19th league title. There next game is on Sunday 8th May when they host Chelsea at Old Trafford.
AUTHOR: – Stretford-end and Doron