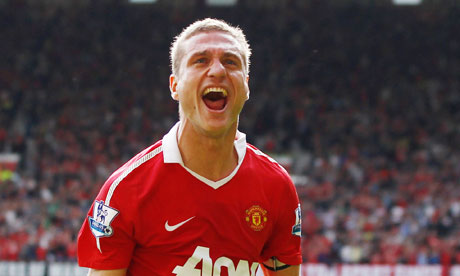 AUTHOR: — Stretford-end
Manchester United are on the brink of a historic nineteenth league title after beating Chelsea 2-1 at Old Trafford. Javier Hernandez and Nemanja Vidic scored for United, whilst Frank Lampard got a goal back midway through the second half. United took the game to Chelsea early on and opened the scoring in the first minute through a well taken Javier Hernandez strike.
United looked a different side to the cautious approach taken at the Emirates last Sunday, with Ji-Sung Park, Antonio Valencia and the age defying Ryan Giggs the star performers. United now only need a single point in the last two matches, against Blackburn Rovers and Blackpool, to win a record nineteenth title. Below we discuss the Talking Points from the game and welcome comments from both fans.
Talking Points
Ji-Sung Park
"He is on there to sell shirts" or "He is a good worker" are two of the backhanded compliments you may hear in the media when assessing the potential impact of our number thirteen since his arrival from PSV in 2005. Park was exceptional yesterday, both on the ball and off the ball. He broke up play all of the pitch making twelve tackles (double the amount compared to the match against Arsenal the week previous), whilst he played higher up the pitch (than at the Emirates) and notched up an assist for Hernandez. Park rarely stays wide in games in comparison to 'wide players' gone by, including Valencia and Kanchelskis. As we all know, this isn't due to indiscipline – but because of the fact his high energy levels allows him to close player down and add an extra player in the centre of the park for teams that operate using a 4-3-3.
Below you will see a screenshot of open play yesterday just under the ten minute mark. The ball is on the air and is about to be taken down by Park, who then passes to Carrick. Notice the three Chelsea midfielders up against a midfield trio of Park, Carrick and Giggs – with a monumental amount of space on the left vacated by the industrious Park:
The move break down, which sees Lampard break towards the United goal – with support either side. Park works back to tackle Lampard and send the ball out towards United's right hand side, which is then being chased by Mikel and Malouda. Notice Park is already up on his feet hunting down the ball:
Park has no right to win that ball, especially against Mikel, who was selected to break up this type of incident and retain possession. Park's vision, work rate and anticipation was all on show as the Korean won the ball to break away and pass to Rooney who brought out a superb save from Cech:
This was the case for the whole of the first half, Chelsea being restricted to play in the centre of the pitch. Hurried and pressured into making mistakes was largely down to Park moving in from the left hand side to enforce a three man midfield. The example below highlights that even when Chelsea are comfortable on the ball, Park's immediately hurries and presses. The first screenshot shows Cech on the ball playing a pass to Michael Essien in the middle of the park:
Now, any midfielder reading this will know of the position the Essien finds himself in the screenshot below. He has numerous passing options (1) Back to Mikel, (2) Back to David Luiz (3) Round the corner to the left to Lampard (4) Right to Ivanonvic, whilst he can also put his foot on the ball and turn, although is probably concerned with Carrick's position and of course the roaming Park:
Essien ends up hitting the top of the ball in a poor pass back to Mikel, which arguably was the easiest option. Before he has even made contact with the ball, Park is gambling on intercepting the ball or at worst putting pressure on Mikel to rush his pass:
Park latches on to the ball, intercepting it from Mikel who then proceeds to bring the Korean down and give United a freekick:
The dotted red line highlights the movement of Park from left to right, whilst the blue circle highlights how far away Mikel is from the ball before bringing Park down. It is a small incident in the grand scale of things, however this type of work rate and intelligent movement (remember, this isn't just aimless running) helped United to unsettle Chelsea. United will no doubt need this type of energy against a better footballing side in Barcelona come May 28th, so it will be fascinating to see how United line up that evening. We will of course cover that in more detail, but this is for a different blog.
Park's movement is very different to the more pacy and stronger Valencia, who gave Ashley Cole – a more attacking outlet than Ivanovic – the run around for most of the afternoon:
Park was exceptional the whole afternoon yesterday and for me is certain to start against Barcelona on the 28th May. I could never understand when other fans would place him in the 'average' player bracket and is only in the side to sell shirts. In comparison to previous wingers over the years, he may not have the obvious quality on the ball that Beckham, Kanchelskis or Ronaldo had, but could you have seen Ronaldo working collectively for the team to close down Mikel or Essien? That point isn't to state that Park is better for United than those wingers, as all players have different roles and responsibilities, but to highlight that his workrate, vision and anticipation is just as important for United.
United's shape
Formations and styles of play are sometimes overplayed or over complicated. There is no doubt that your average football fan is more tactically astute nowadays as football continues to evolve, however United's 'starting shape' can be classified as 4-4-2 or 4-4-1-1 with Wayne Rooney operating in the hole behind Javier Hernandez. Chelsea setup at Old Trafford for the Champions League game in Ancelotti's trademark 4-3-2-1 formation, however it was more 4-3-3 yesterday.
One thing that is always branded about is the use of Wayne Rooney as a centre midfielder. Now, there is no doubt that I think he could play there, as he can play wide right, left, through the middle – however, you would lose something from his game if you don't allow such a talent the freedom to operate in the space between the opponents midfield and defence. Take a look at the chalkboard below regarding the average position of Wayne Rooney and Frank Lampard:
There is no doubt that Wayne Rooney takes up more attacking positions than Lampard, however the space 'in between the lines' is quite similar, indicating that Rooney's freedom allows him to drop deeper than he did last season (where he played as a lone striker on many occasions) into a position where I believe he is most dangerous. So in response to the 'Rooney can replace Scholes' arguments, I still stand firm that Rooney is best when operating in the hole behind the front man. Hernandez and Rooney are linking up extremely well and there is no doubt that the movement and intelligence of the Mexican allows Rooney to pick his passes as highlighted in the screenshot below:
We see the following example below week in week out. Rooney drops off in between the lines to pick up the ball from a Giggs pass. Notice Park has come inside and that Rooney is in acres of space:
The evergreen Giggs is already on the move following the pass to Rooney, which in turn opens up space for Rooney. Rooney has the option to pass back to Giggs, either as a one two or when Giggs runs into space (the white dots highlights the eventual movement from Giggs). He can also knock the ball to Hernandez or Valencia hugging the right touchline:
Chelsea's natural movement to close Rooney down (who Ancelotti had praised earlier in the week) meant that space opened up for Valencia on the right hand side:
This eventually led to the Lampard 'handball' incident (see next Talking Point), however I just wanted to note that one of Rooney's greatest attributes is being able to find space in this type of area and using his vision to switch play or create a chance. He would be able to knock balls from deep if playing in the centre of the park, however I feel he is much more effective in the number ten role.
As mentioned earlier, United started off as 4-4-1-1, a close relation to the standard 4-4-2. When United didn't have the ball, Valencia and Park tucked inside to bolster the midfield, which turned into a 4-3-1-2 when Giggs had ventured forward to influence play higher up the pitch:
An obvious observation is to conclude that when Chelsea had the ball, United made the pitch narrow, when United broke Valencia and Park sprinted to the wings, the bigger talking point is that will Fergie go for this setup against Barcelona? A week ago, I was calling for a 4-3-3 following the lacklustre performance against Arsenal (a more similar side to the La Liga Champions than Chelsea) – however, Park, Giggs and Valencia were exceptional yesterday and similar performance will be needed at Wembley is United are to lift a fourth European Cup crown. We of course do not want to jump the gun before finishing the domestic campaign – although, i'm sure Sir Alex Ferguson was weighing up his potential selection headache following the midfield performance.
Howard Webb & United chances
I think Howard Webb is a top referee and was rightly awarded the World Cup final last season. However, Webb got a number of decision wrong yesterday, despite the unfounded myth that he favours United. Frank Lampard handled in the area whilst Didier Drogba and Branislav Ivanović were lucky to stay on the pitch. Add in Terry's tackle on Hernandez and Vidic's tackle on Kalou – and we have a number of talking points regarding potential incidents (both of which were softer than the handball). Below is the handball by Frank Lampard that wasn't given:
That for me is a clear penalty and I can't for the life of me understand why Webb didn't give it, or more importantly – why the linesman (who had a superb view) didn't give it? There was a very similar incident at Stamford Bridge in 2007/08 when Carrick handled in the box. Chelsea were issued the penalty and Ballack scored from the spot. I understand if you're not sure regarding a decision, but for that is pretty stone wall, don't you think? Rooney and Hernandez had a number of good chances to add to United's tally, which was reflected in Ferguson's post match comments. Fergie, also revealed that Hernandez had exceeded all expectations and is now only three goals short of a 25 goal target – set by Paul Scholes:
"Hernandez has exceeded all expectations. He's a real threat. The boy is keen to learn the game and perceptive to information. When he came at first we thought 'give him a year' but he has taken all the chances. I remember after Paul Scholes had seen him in training, he said the lad would get 25 goals for us as a sub. He's not quite achieved that but there are three games to go!"
Match Conclusion
United were worthy winners in a match that all but handed the club a record nineteen title win. Ferguson's gamble in the week to rest a number of first team players obviously paid off no end, with the league leaders looking a lot more energetic and alert than their opponents. Ji-Sung Park was outstanding, Antonio Valencia demonstrated again his importance in the side – pinning back Ashley Cole for a second time this season – and Ryan Giggs was 'marvellous' – a quote from Sir Alex himself. Rooney and Hernandez continue to shine, whilst the defensive trio of Ferdinand, Vidic and Van der Sar look a lot stronger than two seasons ago.
Chelsea played a lot better in the 2-1 defeat in the Champions League, however United had a goal cushion – which changes the dynamics of the game. United's early dominance ruffled Chelsea, who never really recovered. Van der sar did have to make a few good saves, from Kalou in particular, but Cech was more busier of the two keepers – whilst, Alex had to clear a Rooney effort off the line. United were worthy winners, both in the game and for league title – a point reiterated by the gracious Carlo Ancelotti. United now travel to Ewood Park to face Blackburn Rovers, who are fighting for Premier League survival. If United can avoid defeat, the Reds have a chance to win a record nineteen title.
Talking Points: Manchester United 2-1 Chelsea

,