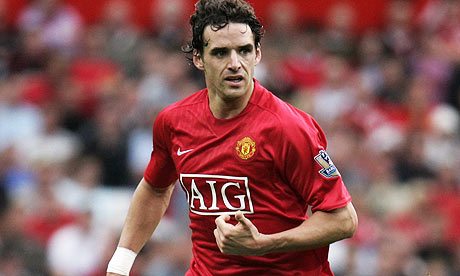 AUTHOR: – Doron
The somewhat inevitable news that Manchester United won't be offering Owen Hargreaves a new contract has been announced by the Daily Mail. His four year stay at the club will come to an end when his contract expires next month and he'll have to find a new club to try and resurrect his career.
Hargreaves time at United has been rocked by awful knee injuries and attempted returns to the team. Back in September we were able to report on the good news that Hargreaves was progressing well and that he had returned to training. He was a surprise starter against Wolves in November but was subbed off after 6 minutes with a hamstring injury.
When he was seemingly close to playing again in March, he suffered another set-back. This time an unfortunate shoulder injury suffered in training. Today, the Daily Mail report that he won't be offered a new contract and will subsequently be released on a free. The story carries this quote from Sir Alex Ferguson:
"This has been a difficult decision knowing how hard the lad has worked to win back his fitness. But we have made it in the hope he will be able to resurrect his career elsewhere."
He joined in the summer of 2007 and played a key role in the club's league and European double with an infamous free kick against Arsenal and a penalty scored in Moscow. However knee problems he'd suffered at Bayern Munich deteriorated badly and he's missed almost a full three seasons of football now. In his four seasons he's managed only 39 appearances and question marks will now appear about whether he will return and play again for any team at all.
United fans have long since adopted Hargreaves as some kind of cult hero and despite not offering a contribution for the past three years, many will still miss him being at the club. Only four months ago this blog took a look at Hargreaves as our 'forgotten man'. We considered whether he'd ever be able to return, sadly any hope is now seemingly lost. How big a loss has he been for United? Do you think he will ever play again? Do you believe this was the right decision not to renew his contract?
AUTHOR: – Doron