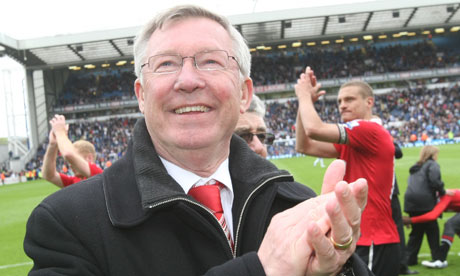 AUTHOR: – Doron
A record breaking 19th title was clinched at Ewood Park on Saturday. The game itself was a forgetful affair for United fans with the full time whistle kicking off celebrations in the away end. For Blackburn though, it was an important point won as they attempt to survive in the league. Here we discuss the talking points of the match and welcome both sets of fans to contribute to the events.
Talking Points
Blackburn defending
Understandably, post-match the majority of the focus was on United, however for our opponents, Blackburn, this was a huge point gained as they now travel to Wolves next weekend. Wolves are level on points with Blackburn (40), both sides are just one point away from the relegation zone.
Blackburn set up with just one striker and with Phil Jones shielding their back four. Despite United not playing particularly well, just about every attack was repelled by an organised defence lead by captain, Chris Samba.
Click on images to enlarge
Blackburn vs. Man United heatmap*
*United's heatmap is only until the 73rd minute when Rooney scored, it is otherwise incredibly skewed by the passing across the back for that ensued during the remainder of the game
N'Zonzi vs. Giggs heatmap*
As shown, Blackburn were prepared to sit deep with their three man midfield. They played 52% of their passes within their own half. By comparison, United were only in their half when 38% of their passes were made. Ferguson had said pre-match on Friday that United would go for a win and they put Blackburn on the back foot territory wise, however they were unable to turn that dominance into chances. This was mainly due to resilient and well-drilled defence (see chalkboards below). Giggs and N'Zonzi lined up opposite each other in midfield – considering the latter was part of a three man midfield with license to break forward knowing Phil Jones was behind him, their positioning is in comparison incredible. N'Zonzi made 59% of his passes from within his own half whereas Giggs made 73% of his passes in the Blackburn half.
Blackburn tackles (41) with Martin Olsson leading the way with 9
Blackburn clearances (38) with Chris Samba leading the way with 8
Blackburn interceptions (30) with Phil Jones leading the way with 6
In Samba and Phil Jones, Blackburn certainly had two star performers both with crucial blocks, interceptions and clearances. Martin Olsson should also be credited for his display. United went attacking with both Valencia and Nani selected. However, Valencia struggled to have the same beating of Olsson that he had against Ashley Cole only last week. Olsson was supported by other Blackburn players ganging up on Valencia but the attacking fullback fulfilled his defences duties with aplomb.
It was a point won for Blackburn – they blocked 5 Man United shots on goal, throwing their bodies in front of players in order to get a vital point in the relegation battle. The result was perfect for United but could be almost as important for Blackburn's season.
Tomasz Kuszczak
Does the name Jan Tomaszewski mean anything to you? For younger readers it may seem like a made up name in Pro Evolution that you'd assign to a player with '99' for every attribute going, however it is indeed the name of a famous Polish keeper that Brian Clough once famously labelled a 'clown'. Tomaszewski stopped England from qualifying for the 1974 World Cup Finals, however Tomasz Kuszczak nearly stopped United winning the title on Saturday with his clown like antics. Our Polish deputy, who will no doubt leave the club at the end of the season, has a stinker of a game and nearly cost United two goals with his hesitance and lack of concentration. Below are two screen shots highlighting his erratic display.
Kuszczak Mistake 1: Carrick back pass should just be booted into touch –
Kuszczak Mistake 1: Kuszczak hesitates and fails to clear his lines and needs Vidic to help out–
Kuszczak Mistake 2: Kuszczak receives a back pass from Rio Ferdinand–
Kuszczak Mistake 2: David Hoilett gambles and closes the keeper down but is a good distance from the keeper–
Kuszczak Mistake 2: The keeper is now in trouble as he hesitates to clear and Hoilett is closing in–
Kuszczak Mistake 2: Both players end up on a heap on the floor with United awarded a goal kick for the challenge–
Although the goal was not his fault, his calamitous attempt to divert Emerton's cross come lob combined with his Almunia style ball collection highlighted his inadequacies as a top class goalkeeper. How on earth could a player of his calibre replace a legend like Edwin van der Sar? Although I have no doubt that Ferguson has a player in mind (whether it be De Gea, Stekelenburg or Lloris), but I think it is fair to say that Kuszczak is not that man. A nightmare of a game that could well have cost United.
Champions again!
A record low away points was secured in the Premier League years for United – just 25. In fact it was the worst ever away form of a Premier League winning team at an average of just 1.32 points per game (source: Opta). Yet, whilst that's an obvious concern it mattered little to the 7000+ travelling fans at Ewood Park.
A record breaking 19th title was secured as United became the most successful English club ever. On an individual level, Ferguson and Giggs won their 12th titles whilst for Scholes it was his 10th. Players such as Fabio, Valencia, Chicharito, Smalling and Owen will all be getting their first ever winners medals.
It's been a strange campaign – United were being written off by the majority of the footballing media before the season had even started. As Chelsea ran away with an early lead, bookmakers were even offering odds as long as 10/3 on United to win the league as November started. A run of good results saw United close on on a title lead though and on January 1st they were top with games in hand. Despite defeats at Wolves, Chelsea, Liverpool and Arsenal, United saw off Chelsea last weekend to all but confirm the title.
After 92/93 this will probably go down as the most special for United fans. Breaking Liverpool's record means so much to the club and its supporters. This season has encapsulated so many of the characteristics that makes United such a special club – the hunger, the desire and the never say die attitude have brought late goal after late goal. Regardless of whether the media believe the best footballing side haven't won the league, the team that comes top is not only usually the most consistent side but the most deserving.
Match Conclusion
Sir Alex Ferguson chose not to shuffle the majority of his side that beat Chelsea. Fabio kept his place at right back whilst Evans was chosen to start at left back after he replaced O'Shea there last weekend. In the midfield Nani came in for Park in what was an attacking move. As hinted, Edwin van der Sar was rested with Kuszczak given a rare start. Blackburn chose to start in a 4-1-4-1 formation with Roberts as the sole striker and Phil Jones protecting the back four.
Both teams started cautiously with possession being thrown away however it was United who created the games first meaningful chance. Rooney's cross was met by Nani's header however it hit the bar and fell to safety. Kuszczak looked shaky in goal and mis-judged a Carrick back-pass to nearly allowed Roberts the opportunity to score. Blackburn's goal unsurprisingly came from a Kuszczak error – he failed to deal with a cross and allowed Olsson to fire in a cross which was well finished by Emerton. Blackburn sensed United were shaken and pressed for a second goal but to no avail. The best United could come up with before the break was a Chicharito should that Robinson was able to save.
Despite being sent out early for the second half, United still struggled to create an opening. Instead it was Blackburn who should have got their second. Scorer nearly turned provider as Emerton's cross was headed onto the post by Emerton. It came just after Scholes had come on for Fabio with Valencia drafted in as a right back. Scholes's introduction did at an assurance to United though and they started to build up more pressure on Blackburn again. Finally a chance game – Giggs's wonderful pass set Chicharito through on goal, despite going away from the net he touched the ball past Robinson who brought him down. After a minute consulting with the linesman, Dowd awarded a penalty. Rooney slammed the ball into the net and a title was just over 15 minutes away. Nani could have even grabbed all three points but he failed to convert Rooney's cross.
Berbatov was thrown on as a late substitute but had little chance to impress as United saw out the last 12 minutes in a boring fashion passing the ball about amongst the midfield and defence. Blackburn were happy to let them do this despite the boos from their own fans – a point was good enough for them. At full time, the players and staff swarmed onto the pitch and after a brief huddle in the centre circle, celebrations ensued in front of the away fans – a 19th title was won.
United's next game is home to Blackpool in the final league game of the season on Sunday 22nd May.
AUTHOR: – Doron