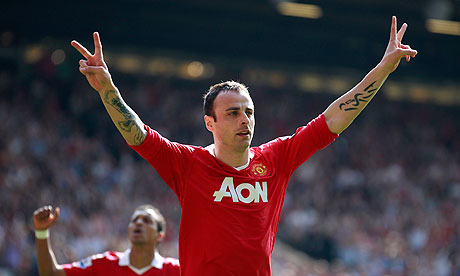 AUTHOR: – Doron
Until Arsenal beat Blackpool yesterday, United had temporarily opened up a 10 point gap over their nearest challengers. Saturday's 2-0 win over Fulham could best be described as 'routine' and 'lackadaisical' – nevertheless, it's one more game chalked off and only six more remain now in the league.
Talking Points
Squad rotation
Sir Alex chose to make 8 changes from the United side that won at Chelsea on Wednesday. Two were enforced – Rooney (suspension) and Rafael (injury); otherwise key men were given the weekend off – Van der Sar, Ferdinand, Giggs, Carrick, Park and Chicharito. Providing Rafael is fit, it looks likely that the side that started at Chelsea will once again start at Old Trafford tomorrow.
Despite many fans and the media believing United's squad isn't 'good enough', few teams could make 8 changes from a Champions League XI and still put out an experienced good side. United's depth is as good as any other team in the league – with at least two full or U21 internationals fighting for every position. Importantly, with injuries and suspensions this year, rotation and full use of the squad has been required. With two big games coming up in the next week, getting the team right against Fulham was vital.
Tomasz Kuszczak
Pre-match news broke online that Kuszczak had stated he'd be leaving United this summer. Sky Sports have quoted him as saying:
"I'm definitely leaving the club. My time in Manchester is coming to an end. I've worked hard for five years but I never played as much as I wanted. It's a shame the manager didn't really give me a chance. I always believed I can be Edwin van der Sar's successor. Unfortunately, Sir Alex has decided differently. Even though I played many games, I spent most of my time on the bench."
Tomasz was though selected to start the game with Edwin rested for Chelsea having had a minor groin issue. In fairness to Tomasz, he did little wrong all game. There was one dodgy moment when he dropped a cross but otherwise he was solid, producing good saves early on from Kakuta and Dembele. In the second half he produced a stunning save from Gudjohnsen, which really hasn't received anything like the attention or praise it deserved:
Click on images to enlarge – (apologies for poor quality)
Kuszczak's save from Gudjohnsen.
As good as his saves were, there is evidence to suggest that Kuszczak doesn't instil his defenders with much confidence. Regular viewers of United will see that Edwin is regularly a part of the play – the centre backs often pass the ball back to him as if he was an 11th outfield player due to his excellent ability with the ball at his feet. However on Saturday, neither Smalling nor Vidic once passed the ball back to Kuszczak:
Smalling and Vidic passing
There is of course a good potential reason for this. Fulham were somewhat lacklustre themselves and rarely was the United defence troubled too much. Yet this has never been an excuse for not getting Edwin involved in the open-play and merely serves to highlight a lack of confidence in Kuszczak's ability with the ball at his feet and highlights this well-documented weakness in his game.
Casual United
It was a hot day and with United somewhat strolling to a 2 goal lead after 32 minutes the team appeared to be casual in their play with little energy, a low tempo and almost no enthusiasm. Sir Alex agreed, saying post-match to MUTV:
"I don't think that was a job well done at all – it was casual and lackadaisical in all areas of the team… but winning is the name of the game"
Lacklustre football is characterised by sideways passing – keeping possession easily without being ambitious. The United line-up originally looked like a genuine 4-3-3 with Nani and Valencia more as forwards than midfielders – however as the game wore on, both got considerably deeper which isolated Berbatov up front. Berbatov's movement during the game was good but Fulham often tried to play a high defensive line which somewhat neutralised Berbatov, who, as we know is better dropping deep and picking the ball up there.
Despite being generally accurate in their passing, Gibson and Scholes emphasised the sideways movement of United's play more than anyone else:
Gibson and Scholes passing
United's central midfield has simply been efficient this year – doing the job required which has been consistently solid in winning the ball and getting it out to the wingers. However, with three men deployed centrally and not really supporting the lone front-man with much energy it became crowded and United's game became simplistic. In fairness, the job was already done before half time and there was no need for energy to be wasted on trying to score more when there are big games coming up but it made for a quiet afternoon both on the pitch and in the stands.
Wingers
Whilst it was the centre back pairing of Vidic and Smalling that was rightly singled out by Ferguson for special praise, United's wingers were once again the key to victory. Both Nani and Valencia were sporadically dazzling and like the rest of the team they were rarely at their most clinical however they won the match for United.
Nani is now up to 18 assists for the season having been credited with setting up both the goals in the game. He is 7 goals clear of a host of players in 2nd place with 11 assists. No player in the league has influenced more goals than he has this season, 27 (18 assists and 9 goals).
The first goal, scored by Berbatov came as a result of some good dribbling from Nani and a good interchange of passes with Anderson before Nani laid the ball off to Berbatov. It was a sign of an ever present maturity in his game – in previous years he'd have probably attempted to take the ball on himself.
The second goal was again made by Nani and should have been scored by him too. He pounced on a long ball and out wide, rounded the goalkeeper, cut back in and attempted to chip the ball into the goal in a very casual manner. A Fulham defender was able to block it with his head but the ball only fell to Valencia who had an easy finish.
With Giggs, Park, Valencia and Nani all fit and playing well, United have excellent options out wide – the area throughout history that United have been most dangerous from.
Match Conclusion
United made 8 changes to the side that won away at Chelsea midweek with important returns for O'Shea and Anderson from injury as well as Scholes who hadn't played in three weeks due to suspension.
It was Fulham who started the better of the two sides with Gael Kakuta looking lively on his first league start. It was Kakuta and Dembele who forced Kuszczak into some smart saves low down to his left early on before a lucky ricochet off Paul Scholes saw Zamora clean through on the right but he could only fire aimlessly wide. United soon clicked into life though, lead by Nani – on 12 minutes, Nani went on a run beating two men before playing an intricate one-two on the edge of the Fulham area with Anderson that allowed him to slip in Berbatov who finished expertly. Replays of the goal show Berbatov was ever so slightly offisde when the ball was played, however his 21st league goal of the campaign stood and it was a lead that United hadn't really done much to deserve.
United started to play as if it was a pre-season friendly, the tempo fell and there was little energy about the football being played. Even so, after a clever run from Berbatov followed by a cut back to Anderson, the Brazilian should have scored his first league goal ever at Old Trafford – instead he managed to scuff his shot miserably wide. Nani had a half chance from a corner after a Smalling header but could only divert the ball wide. The second goal came just after the half hour mark – a long ball out to the left saw Nani beat Schwarzer in a race for possession – the goalkeeper had no need to be out there in the first place – Nani took the ball to the byline, cut back inside and attempted to chip the ball into an unguarded net however Aaron Hughes had got back in time to head the ball clear but only as far as Valencia who had a simple finish at the back post. Just before half time it was Hughes to the rescue as a cross was destined to find any host of unmarked United players until he cut it out.
The second half was something of a non-event. Anderson managed a good effort, as did Gibson but Scholes struck his own shot high and wide. At the other end, Kuszczak was called into action to make a splendid finger-tip save from a long range Gudjohnsen shot. Nani, Anderson and Valencia were all withdrawn late on and able to rest with big games coming up – Owen and Fabio got some much needed game-time as two of the replacements whilst Carrick was the final change. United strolled to a win, rarely out of first gear and rarely troubled by Fulham. The lead remains 7 points at the top of the table as Arsenal won yesterday.
United's next game is home to Chelsea in the quarter final of the Champions on Tuesday 12th April.
AUTHOR: – Doron