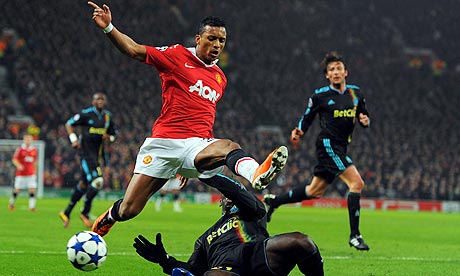 AUTHOR: – Stretford-End and Doron
Manchester United booked their place in the last eight after a nervy 2-1 victory over French Champions Marseille at Old Trafford this season. Neither side shone in the 0-0 draw two weeks ago in the South of France, so it was key for United to get a early grip on the game. The opener came in the first five minutes when Javier Hernandez latched onto a left footed Wayne Rooney shot come cross. The Mexican was on the score sheet again on the 75th minute, before an own goal from Wes Brown gave United a nervy final ten minutes. Here we assess the talking points of the game and welcome any comments from both sets of supporters.
Talking Points
More injuries
Just as the club looked to be turning a corner with recent injury problems, trouble struck again tonight. First O'Shea, stretching to keep a ball in and play a cross, looked to have pulled his hamstring. He was replaced at right back by Rafael after 26 minutes – Rafael was originally left out as Ferguson was worried about the size of Marseille's team.
Young Rafael, would only last until the 69th minute though. He too looked to have pulled his hamstring and was replaced by his twin brother, Fabio. Injuries in the defence leave the squad looking thin in that department. Nemanja Vidic has a calf strain, he wasn't risked in the game and won't be at the weekend either if he's not fit. Rio Ferdinand is starting to train again but isn't ready to return whilst Jonny Evans is training but is still a doubt for the weekend. It means that right now only four defenders are fit – Fabio, Smalling, Brown and Evra – the back four that ended tonight's game.
Of course this isn't as bad as some of the games last year. Infamously, United lined up away at Wolfsburg with just Erva as the only recognised defender – Carrick and Fletcher played in a back three with him. Similarly, 11 days later at Fulham United lined up with Evra as a wing back, and De Laet in a three man central defence with Carrick and Fletcher.
There was some good news though, Nani was able to play just over an hour with the aid of large "old-school" shin pads, and Valencia, his replacement got another valuable thirty minutes. Michael Carrick, who had been a doubt for the game played the full 90 minutes and had a really excellent game – he was the most accurate passer on the pitch. Ferguson has also expressed his hope that Park will be available this weekend to bring United up to a full compliment of wingers again.
United next play Bolton this weekend and after that, there is a two week break due to international fixtures so players will have a chance to recover ahead of a trip to Upton Park at the beginning of April.
Wayne Rooney
Wayne Rooney's performance against Arsenal on Saturday was singled out for praise on our talking points. Once again, it's only right that he's rightly lauded today. Since recovering from a minor injury and starting away at Spurs on the 16th January, Rooney has started every league game (9 including the Spurs game), every Champions League game (2) and one of the three FA Cup ties. With Liverpool away being the exception, four of the last games Rooney has started with Chicharito.
Since playing alongside Chicharito, Rooney's form seems to have improved. He's been deployed slightly deeper, in the role we used to see him play when he first arrived at the club. Chicharito's clever movement on the shoulder of the last defender creates space for Rooney to operate in. The result of Rooney having a little more space and time has been stunning.
Tonight, Rooney was pinging balls across the pitch with deadly accuracy. He was slipping balls through and linking up play so well. Further, he was seen bursting forward to try and get onto the end of crosses. There was a real purpose about his play. His touch can still improve but there were moments of great skill that in past games seem to have eluded him.
It was Rooney who got the game going tonight (see below). In the middle of the pitch he volleyed a wonderful pass out wide left to Giggs before running full pace to make sure he could receive the return ball. Despite the ball bobbling off his shin, he was still able to pick out Chicharito for a tap in with a cross.
It seems like many times this season the press have said "Rooney's back", however this most recent run of form is much closer to the old Wayne Rooney than anything else we've seen this season. With Berbatov and Chicharito contributing so much already to the season, it's bad news for other teams that Rooney is starting to find some rhythm.
Hernandez – Signing of the Season?
Javier Hernandez has now scored sixteen goals in thirty three games (including 3-1 victory in community shield over Chelsea) so far this season. That is a phenomenal return for a player that has been used sparingly this season – until a couple of weeks ago. In 2011, Hernandez has notched up nine goals – compare that to Rooney (7) and Berbatov (5) – and it is quite clear that the young Mexican is deserving of his first team chance. A brace against Wigan was rewarded with a start against Chelsea, however United failed to take advantage of a dominant first half and Hernandez looked a subdued figure in the second half (before being substituted). Tonight his movement, pace and clinical finishing helped United to a 2-1 victory over a physical Marseille side.
Hernandez cost a reported £7million from Guadalajara in the summer of 2010. Below is a table highlighting the league goals for some of the top transfer from last summer and the recent January transfer window:
I've also put together a chart comparing him to some of the top marksman across Europe:
Now just a couple of things to point out. The transfer fees are from www.soccernews.com, but lets not make this into a debate about how much a certain player costs (for example I thought Villa was £33million, not £40million and Van der Vaart was £8million not £10million) – its a rough estimation. All of the appearances and goals are taken from the extremely useful ESPN website. Also, some players in the list aren't strikers (Van Der Vaart and Krasic for example), however if they are a second striker or a winger – I think they are worth the inclusion.
Glad I got that out of the way – so Javier Hernandez has a goal scoring ratio of a goal every two games, a stat only bettered by David Villa, Mario Balotelli (who has played less games and cost over four times as much) and Rafael Van Der Vaart. Even though he has only started nine of those 20 appearances he has a better goals per game ratio than Robinho (who has started 20 games) and Darren Bent (who has started all 27 of the games he has featured in). That is a superb return for player who is making his debut in a European League. Might be a bit pointless comparing him to the top scorers in Europe (Ronaldo and Messi's records are absurd to be honest), however he isn't too far off Ibrahimovic (who cost £57million two seasons ago from Inter to Barca) – which demonstrates the impressive return United have received so far on the transfer.
Hernandez is really starting to find form, which will be vital in this title, European and FA Cup run in. His pace is frightening at times and gives us a different option to Dimitar Berbatov. His constant pressing and hounding of players creates panic in the defensive backline, which in turn forces long balls. His main strength is that he comes alive in the box, either with a darting run to the front of back post with impeccable timing that disorientates the most competent of defenders. Both goals tonight demonstrates his clinical side – anticipating where the ball would fall from Rooney's 'cross', which getting ahead of the defender to meet Ryan Giggs' right sided cross.
A superb signing, a superb striker, fans favourite – and could well play a massive part in the run in for trophies.
Match Conclusion
Manchester United had a simply task ahead of them tonight, win and they were through to the quarter final stage of the Champions League. To the surprise of many, top scorer, Dimitar Berbatov was again left out as the Rooney/Chicharito pairing was again favoured. Also missing out was Nemanja Vidic, the club captain picked up a calf strain. It took just five minutes for Ferguson to be proven right by his forward pairing. Rooney fizzed a volleyed pass out wide to Giggs before receiving the return ball and playing a low cross in for Chicharito to tap home unmarked at the back post. Just minutes later, Marseille should have been level as Gignac side-footed high and wide when put clean through.
United were dealt a blow when O'Shea had to go off injured with a pulled hamstring. Following the substitution there was confusion in the United defence as to who should be marking who and Diawara headed wide from a corner when he was totally free. United could have easily been given a soft penalty just before half time as Taiwo's legs tangled with Chicharito's in the box but the referee gave nothing.
The second half continued like the first. Both sides enjoyed spells of possession but it was arguably the French side who looked more dangerous. Gabby Heinze on his return to Old Trafford headed wide before United were dealt a second injury blow. Rafael, like O'Shea, injured his hamstring and was replaced by Fabio. Van der Sar was forced into a good save by Cheyrou before Chicharito doubled the lead. Clever play by Valencia enabled him to slide in Giggs down the right; his low ball in was met by the Mexican striker who made it 2-0 with a neat finish.
United only had to hold out for a further 15 minutes but they didn't. With seven minutes to go, Wes Brown headed in a Lucho Gonzalez corner and scored an own goal. A nervy final few minutes were seen out by United as Marseille struggled to threaten. United won 2-1 and progressed through to the quarter finals for a 5th consecutive season.
Marseille deserve a lot of credit for battling so well over the two legs. Certainly this wasn't the easy tie that many fans and members of the media thought it might be when the draw was made.
United's next game is at home to Bolton in the league on Saturday.
AUTHOR: – Stretford-End and Doron